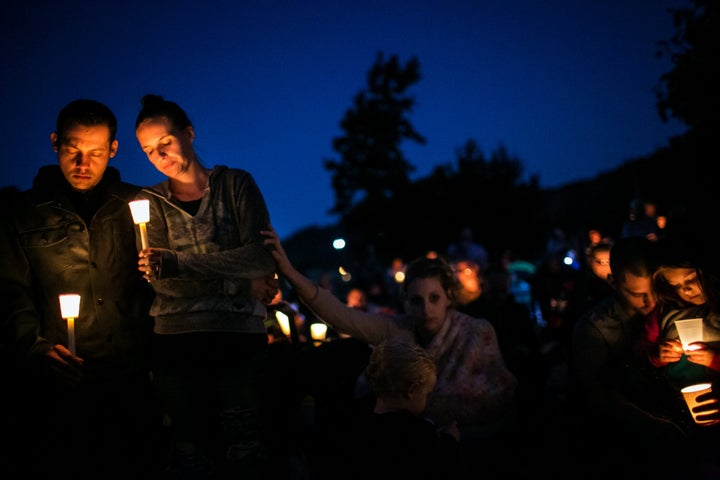 Colin Goddard was immersed in a work call when he heard the news: There had been another mass shooting, this time at a community college in Oregon.
A survivor of the Virginia Tech shooting in 2007, the deadliest school massacre in U.S. history, the news hit him in the gut.
"The word I use is deflate, that's the best way to describe the physical sensation that happens," said Goddard, who now works as a policy advocate for Everytown for Gun Safety, a gun violence prevention group. "As much as you think you've made progress, you're organizing, you're building things, it feels like you're all the way back to square one."
"The moment it happens, after the first tweet or the first Facebook message goes out, it's like a wave that comes and keeps crushing you, and you have to force yourself to stand back up," said Caren Teves, whose son, Alex, was killed in the 2012 Aurora movie theater massacre. "It happens so often that if we weren't getting used to carrying this weight, we would never get off the floor."
Trauma specialists say news coverage of mass shooting events can be exceptionally distressing for some survivors. Frank Ochberg, a clinical professor of psychiatry at Michigan State University, said survivors with post-traumatic stress disorder may see symptoms recur or intensify, including nightmares and flashbacks, fear, anger, loss of capacity for positive emotion and avoidance of others.
For some survivors, a reminder of trauma may also act as a call to action to get involved.
In the hours following a shooting, Dougherty finds herself glued to the television, emotionally identifying with the family members who are going through the life-altering loss that she knows all too well. "I want to acknowledge what just happened to these people," she said.
After a few days, her heartbreak turns to anger, which she then channels into action. It's a cycle that now, three years after her sister's tragedy, has become depressingly familiar.
Elana Newman, a professor of psychology at the University of Tulsa who studies journalism and trauma, said wanting to bear witness to another's pain as a form of honoring their experience is a common reaction.
"It happens so often that if we weren't getting used to carrying this weight, we would never get off the floor."
But for many survivors, she said, obsessively watching news reports and being exposed to repetitive images and audio from a shooting can exacerbate their symptoms. The key, she said, is finding a balance.
"The typical advice we give to people if they are suffering from some kind of traumatic distress is to be mindful of how much they can tolerate, and at what cost," Newman said. "I would say to everyone, particularly survivors, if you find yourself compelled to watch every minute, that probably means you need to shut it off a little bit. And if you find yourself running in the other direction, it probably means you need to approach it a little more."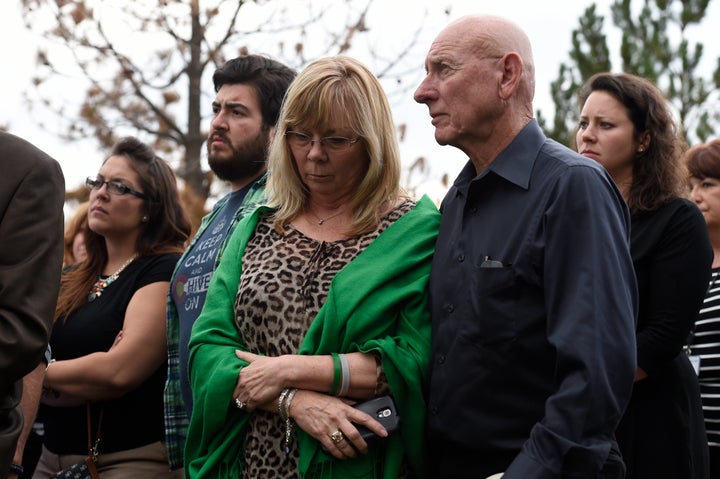 When Sandy Phillips, who lost her daughter, Jessica, in the 2012 Aurora movie theater massacre, heard about the shooting in Oregon, it was her cue to reach out to other survivors. But first, she broke down and cried.
"All the PTSD that you suffer from your own shooting, it brings it right to the forefront," she said. Once she recovered from her initial reaction, she starting calling and texting survivors of other shootings to see if everyone was okay. "We hang on to each other when these things happen," she said.
Phillips said she counteracts her feeling of helplessness by being vocal on social media and doing interviews. "It helps to get out there and say, how long are we as Americans going to let this continue?" she said. "What's the magic number?"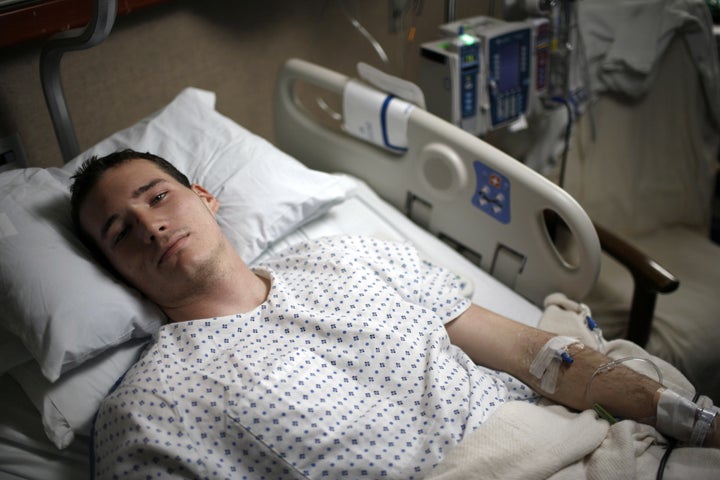 Steven Marans, a professor, psychoanalyst and director of the National Center for Children Exposed to Violence at Yale, said it's important to remember people can recover from trauma.
"We've learned a great deal about some of the circumstances, both in terms of social support, early identification and approaches to treatment, that can help people avoid the development of longer-term, more entrenched post-traumatic disorders or difficulties," he said.
Goddard, who is in an unusual position as both a survivor of gun violence and a frequent spokesman on mass shootings because of his position at Everytown, has spent the years since Virginia Tech learning how to stay healthy while engaging with potentially triggering events.
On the day of the Oregon shooting, he turned down multiple requests to appear on national television. He needed to check out a bit. That night, he turned off the news. Instead, he watched football and called his dad.
The next day, he was ready to get to work.
"After a period of wanting to be by myself, I get to the point where I want to put out a message and say it's doesn't have to be this way," he said. "People are paying attention to this issue again. There's an opportunity to grow support."
Popular in the Community