Bruce Ure lay on the ground and watched bits of AstroTurf bounce around him. It reminded him of the way a rainstorm rolls in, with big splats ricocheting off the ground — except these were bullets.
A few minutes earlier, the deputy police chief of Seguin, Texas, had been relaxing in the hospitality tent of the Route 91 Harvest Festival in Las Vegas. His friend J.R. Schumann worked for the concert's sponsor, Sirius XM, and treated Ure to the opportunity of a lifetime: three days of hanging out in the exclusive, artists-only section beside the festival's main stage, not far from the glittery-gold Mandalay Bay Hotel.
As Jason Aldean took the stage around 9:30 p.m., the friends chatted about what they would do for the rest of the evening. Then Ure heard the first pops. "What a jerk," he said. "Someone is setting off fireworks." Schumann said he didn't think they were fireworks, but Ure, confident that his 40 years in law enforcement meant he could identify gunshots, thought the sound was too high-pitched.
Then came a burst that left no doubt about what they were hearing. "Gun! Get down!" Ure screamed, throwing himself to the ground. He heard a shot land close to his head and felt a sharp pain in his right hand. When he saw the inch-long gash, he figured he'd been hit by shrapnel. He wondered why shots kept coming closer and realized the shooter was somewhere above them. At that point, his training kicked in; he yelled to the people around him to use the tour buses as a shield, to tuck down behind the tires.
He noticed there were two kinds of gunshots: a series of crisp staccato, then a switch to something more muffled. He decided the group should make a run for the exit during the next round of muffled shots. He later learned that was when the gunman switched windows, firing away from the artists' tent and directly into the crowd. The moment he heard the switch, he bolted.
As Ure neared the exit, he saw a young man lying on the ground, bleeding heavily. Ure thought he was dead, until he saw the man's face. He picked him up and, with the help of an ex-Marine, carried the man out of the venue. Ure got a clear look at the man's thigh, which was gushing blood, once they put him down. It looked like he'd been hit in the femoral artery, the thick vessel that carries blood to the lower part of the body. Unless they stopped the bleeding, the young man would die within minutes from blood loss.
It was a rare day that Ure wasn't wearing a belt. But the injured man, a 27-year-old Canadian named Zach Belitsky, had one on — not a big Western-style belt like many of the concertgoers, but a sleek leather belt about one-inch wide. A perfect tourniquet for the thigh, Ure thought.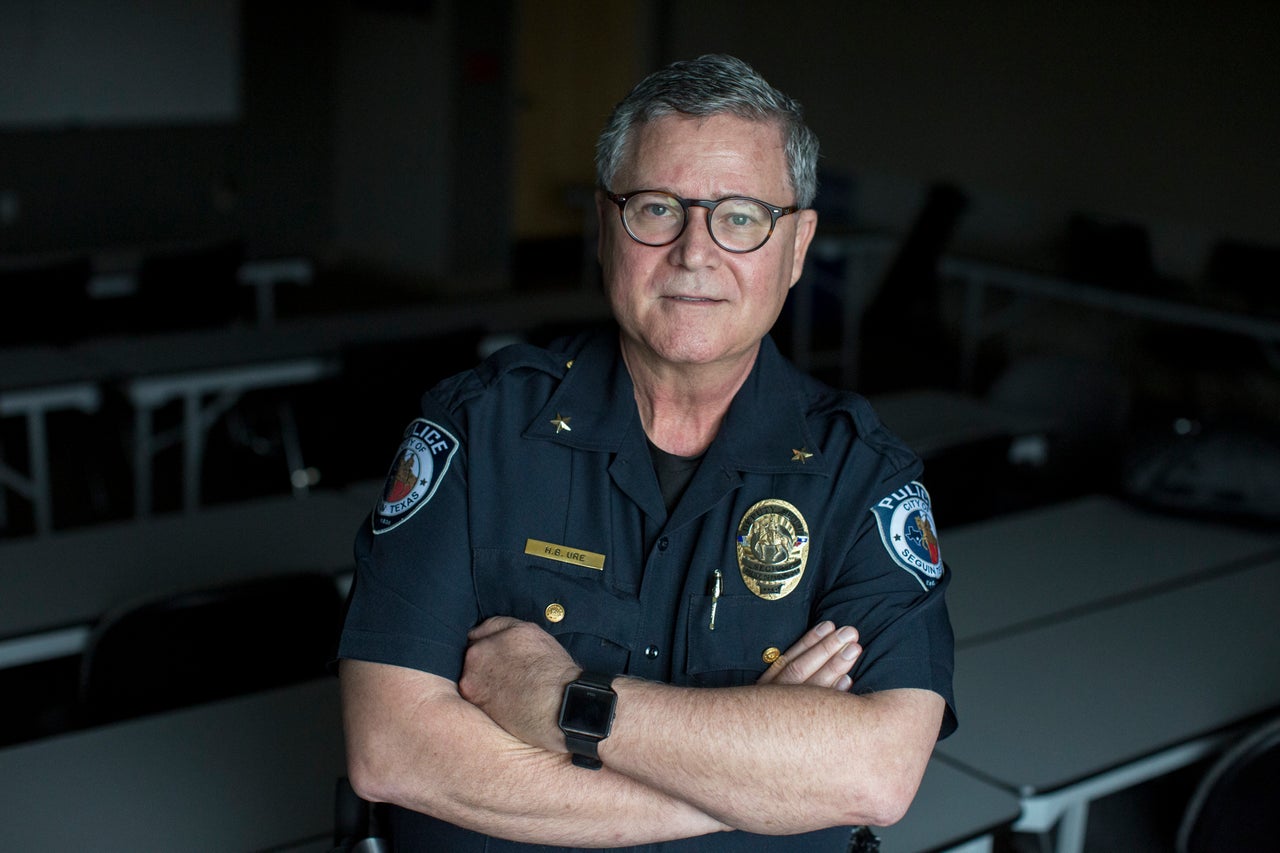 Ure put the tourniquet on as high as he could, just like he'd been trained to do, and pulled it as tight as he could. "I said to him, 'It's just you and me until we get to the hospital.'"
This may sound like an example of chance: a young man with the misfortune of getting shot at a country music festival, and the good luck that a bystander who knew what to do was there to help him.
But it is also a story about design. Ure knew exactly what to do because he'd recently been trained in the techniques to triage major blood loss. A person quickly losing blood will die in minutes. But if first responders and civilians can intervene, the injured stand a chance of survival. Ure is one of at least 300,000 people who have been trained in a technique a group of trauma surgeons began evangelizing after a gunman slaughtered 20 children and six adults at Sandy Hook Elementary School five years ago this week.
More than 1,800 people were killed and over 6,200 were wounded in mass shootings between 2011 and 2016, the last year for which figures are available. The pace of shootings has far exceeded the political will to do anything that might prevent them from happening in the first place ― which means more Americans now rely on bystanders like Ure to save their lives.
The word 'tourniquet' comes from the French "tourner," to turn. Nearly 350 years before Ure fashioned a tourniquet out of a belt on the grounds of a country music festival, a French army surgeon, Etienne Morel, described using a tourniquet at the siege of Besançon during the Franco-Dutch War. It was the first recorded instance of such a device being used to stop blood loss on a battlefield.
In his history of the tourniquet, surgeon and retired U.S. Air Force Col. David R. Welling writes that both the North and South used tourniquets during the American Civil War. But they weren't always used properly; applying one in the wrong place or at the wrong time, or too loose or too long, could lead to unnecessary limb damage or loss.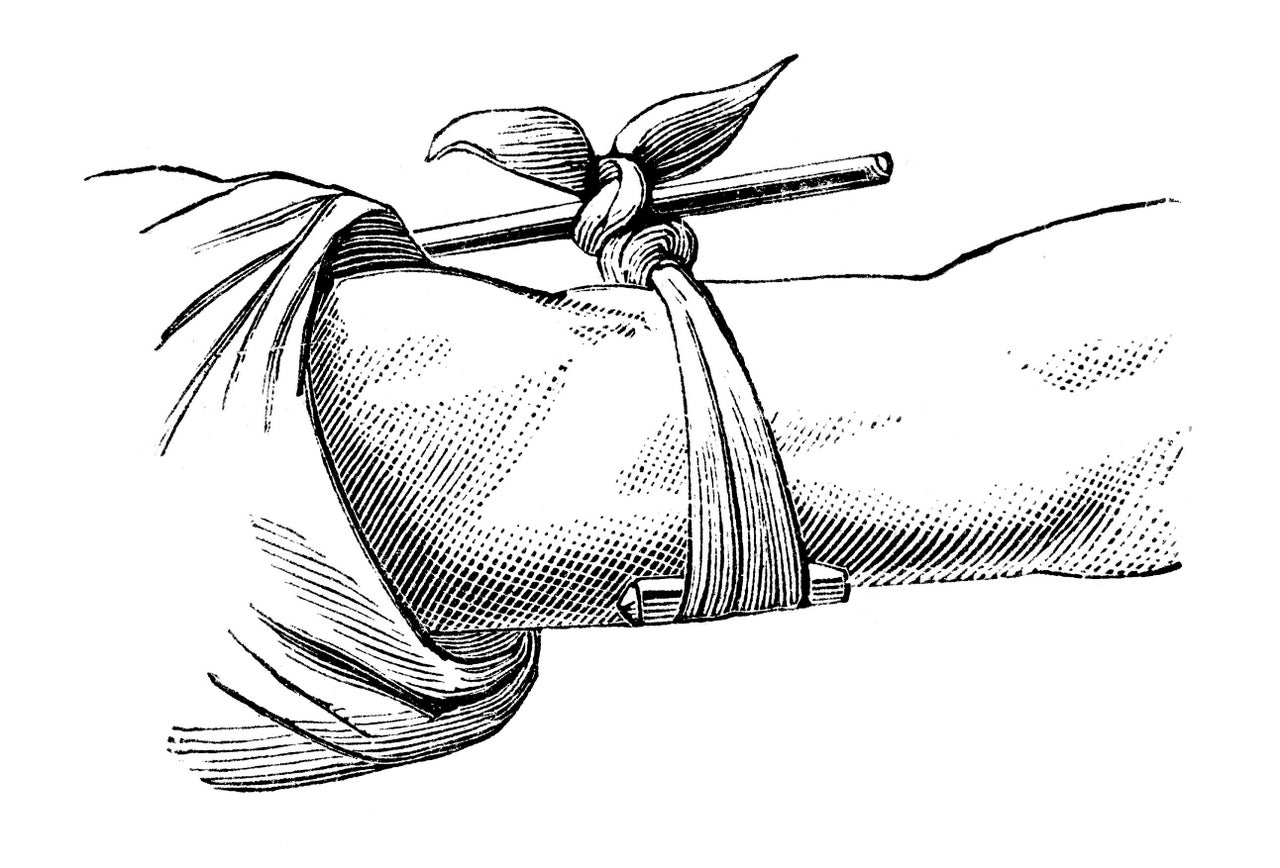 World War I did nothing to boost the reputation of tourniquets. By then, the complications of improper use were evident, prompting physicians writing in the United Kingdom's Royal Army Medical Corps Journal to report, "We are inclined to think that tourniquets are an invention of the Evil One." More harsh critiques followed tourniquet failures in the Spanish Civil War and World War II. Even as late as 1992, tourniquet use was strongly discouraged in both military and civilian courses on pre-hospital trauma care, out of fears they caused damage to limbs.
But in the mid-1990s, the American military began to change its approach to care of soldiers injured on the battlefield. There was a new focus on trauma care in the field, zeroing in on things like tourniquets, bandages and dressings. These devices could stop or slow life-threatening bleeding from a limb, the leading cause of preventable deaths among U.S. combat casualties during the Vietnam War. More military doctors and medics began to argue that tourniquets, when used properly, could spare lives and limbs. By 2005, with the wars in Iraq and Afghanistan in full swing, the U.S. Army advocated the use of the tourniquet as a "stopgap" measure in combat, and began issuing tourniquets to soldiers.
John Kragh, an orthopedic surgeon and researcher for the Army, was deployed to Ibn Sina Hospital in Baghdad, Iraq, in 2006. On his first day, he noticed a soldier brought in with a tourniquet tied around a limb and saw an opportunity to continue his research on tourniquet use with firsthand examples.
Over the next seven months, he and two nurses studied what happened as soldiers and combat medics got better at applying tourniquets in the field. In what is now a frequently cited study of modern tourniquet use, they reported that none of the 232 patients who received tourniquets lost limbs because of them.
"Big bleeding is bad. And if you can stop it, that's good," said Kragh. "And if you can stop it quickly, that's better."
"The pace of shootings has far exceeded the political will to do anything that might prevent them from happening in the first place ― which means more Americans now rely on bystanders to save their lives."
Kragh, who sometimes signs his emails "TEGOTUS" ― Tourniquet Expert Geek of the United States ― is a blunt-talking scientist who may know more about tourniquets than anyone else. In 1993, he was the battalion surgeon for the U.S. Army Rangers, the elite rapid-deployment unit, serving in Mogadishu, Somalia, when a young Ranger, Jamie Smith, bled to death — a story eventually made famous in the film, "Black Hawk Down." Since then, he's been laser-focused on learning how to stop bleeding and save lives with tourniquets.
He speaks quickly, rattling off information in complex sentences. But he's trained enough non-scientists in tourniquet use that he knows to slow down and simplify when his audience gives a thousand-mile stare. "The body doesn't give a crap where the bullet is coming at you from; it's how it goes through the artery or the bone or the limb, that's what makes a difference between living and dying risk."
Tourniquets are well-suited for the needs of the battlefield, explains Kragh. They serve three purposes: chaos control, because they buy time for medics in situations where they are dealing with multiple injuries; shock control, because some evidence suggests that if you can delay the onset of shock, you may be able to stop the mechanism of death; and bleeding control.
Kragh says the techniques pioneered on the battlefield should be put to use to save civilians as well.
"When you've got big penetrating trauma, lots of bullets, stuff like that, it's close to combat, it's pseudo-combat," said Kragh.
And when bystanders are taught how to treat injuries, just like in combat, they can save lives. "If you know what you're doing," Kragh said, "your performance is better than if you don't know what you're doing."
As Ure clutched the belt he'd fixed around Belitsky's leg, someone else called out to him, assuming he was a medic. A group carried two injured women over to Ure who were both bleeding from gunshots. Ure said what they needed most was a car to get the injured to a hospital. Someone managed to flag down a service worker in a white Toyota compact, and told him they needed to get to the nearest hospital. "That guy, the driver, he is the real hero," Ure insisted.
They managed to fit the wounded into the car, one in the front seat and two in the back. Ure squeezed in the back as well, holding Belitsky's leg across his lap and maintaining his grip on the belt. Ure told the driver that they needed a trauma center, not an ordinary hospital. They Googled to find the closest one.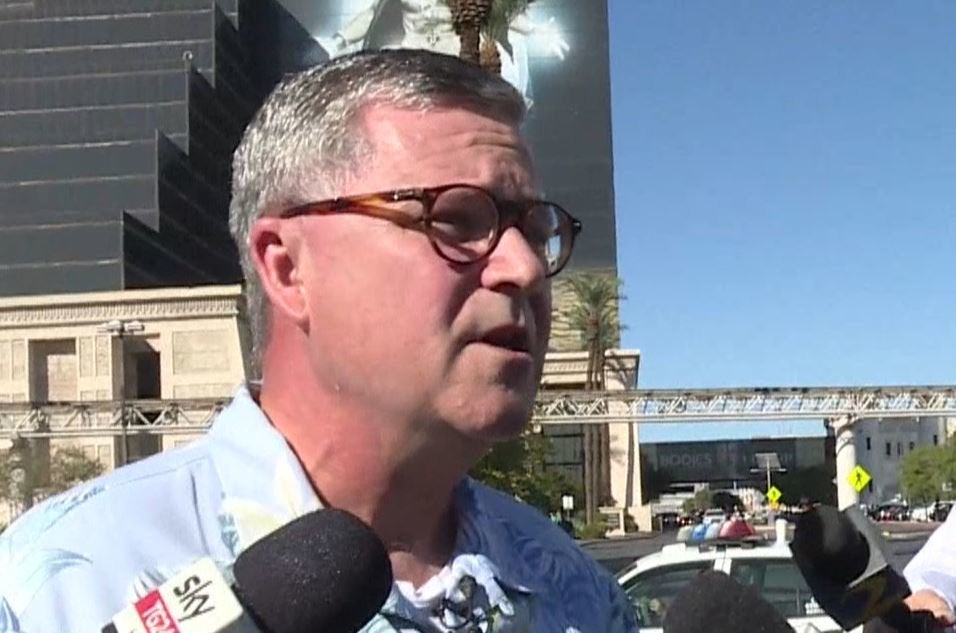 The driver stopped at the first traffic light, and Ure screamed at him to go through. "You're not going to get a ticket, I promise," he told the driver. They saw ambulances speeding past in the opposite direction, toward the concert grounds. There was no point in flagging one down, Ure figured. Dozens of other injured people needed help and their small group had a running start.
If the shooting at the Route 91 Harvest Festival in Las Vegas had happened five years earlier, the response would have been much different. Roles in mass casualty events then were distinctly defined: law enforcement responded to the immediate threat and secured the scene; emergency medical services were held back until it was deemed safe; and, it was assumed, bystanders stood by.
""The body doesn't give a crap where the bullet is coming at you from; it's how it goes through the artery or the bone or the limb, that's what makes a difference between living and dying risk.""
But that philosophy has started to change, largely due to the work of a group of trauma surgeons who became concerned that they couldn't save shooting victims if they didn't survive long enough to make it to their operating tables.
On Dec. 14, 2012, Lenworth Jacobs, the director of trauma and emergency medicine at Hartford Hospital, heard an active shooter situation was unfolding at Sandy Hook Elementary School in Newtown, Connecticut, nearly 30 miles away. As the nearest Level 1 trauma center to Newtown, Hartford Hospital and its staff were immediately put on alert. Jacobs and colleagues stood by, ready to receive scores of injured people.
"That made absolutely no sense to me," Jacobs said in October 2013, the first time I heard him describe events of that day.
"Then, pretty quickly, we heard there were 26 dead people, two injured people. That also didn't make sense," he said. "That is not how it works. It's usually the reverse ― there are a lot more injured people than dead people."
In order to understand what happened in the elementary school, the medical examiner asked Jacobs to review the autopsies with him. Jacobs described it as "the single most powerful thing that I have done."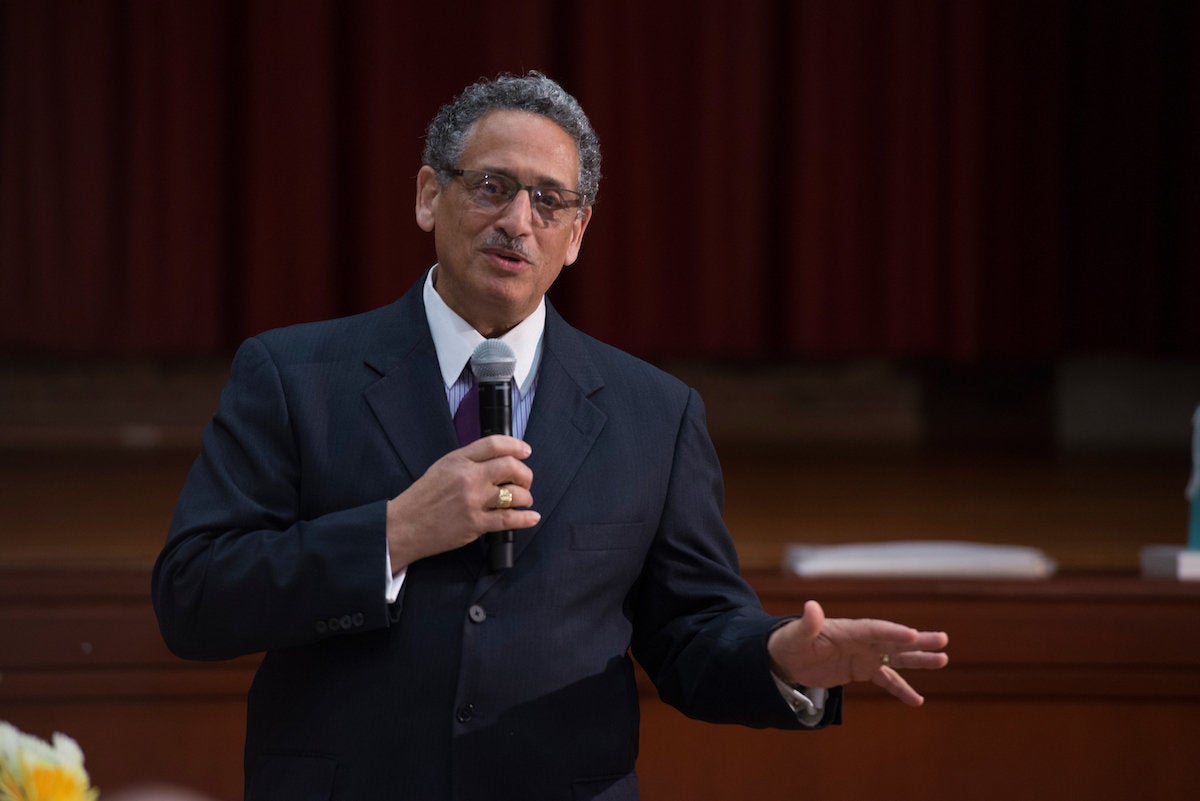 "A high-military-grade bullet shot point blank into anybody ― but especially little people ― is devastating," said Jacobs.
Jacobs wondered whether there was something else the medical community could do. If mass shootings could not be prevented ― if American politicians continued to offer thoughts and prayers in lieu of legislative solutions ― perhaps there was a way to make shootings less deadly by focusing on getting timely care to the injured.
"The focus has always been on the perpetrator," Jacobs said, "but patients are the most important people at the scene of an emergency."
Jacobs took his concerns to the American College of Surgeons, which established a committee to create a national policy on enhancing "survivablily" for mass shootings and other high-casualty events. At the committee's first meeting in April 2013, members agreed that stopping blood loss as fast as possible and quickly transporting the wounded to a hospital was critical to saving lives in mass-casualty shootings. No one, they believed, should die from uncontrolled bleeding.
The committee had just started their work when two brothers detonated homemade bombs near the finish line of the Boston Marathon, killing three people. The most iconic image of that day depicts three people pushing Jeff Bauman, bloodied and dirtied, in a wheelchair. Bauman, who'd been waiting for his girlfriend near the finish line, is holding his left leg with a makeshift tourniquet tied above the knee, while an emergency medical technician applies pressure to stop the bleeding in his right leg. It was graphic confirmation that bystanders could become first responders. Bauman ended up having both legs amputated, but survived — an outcome almost certainly the result of that intervention.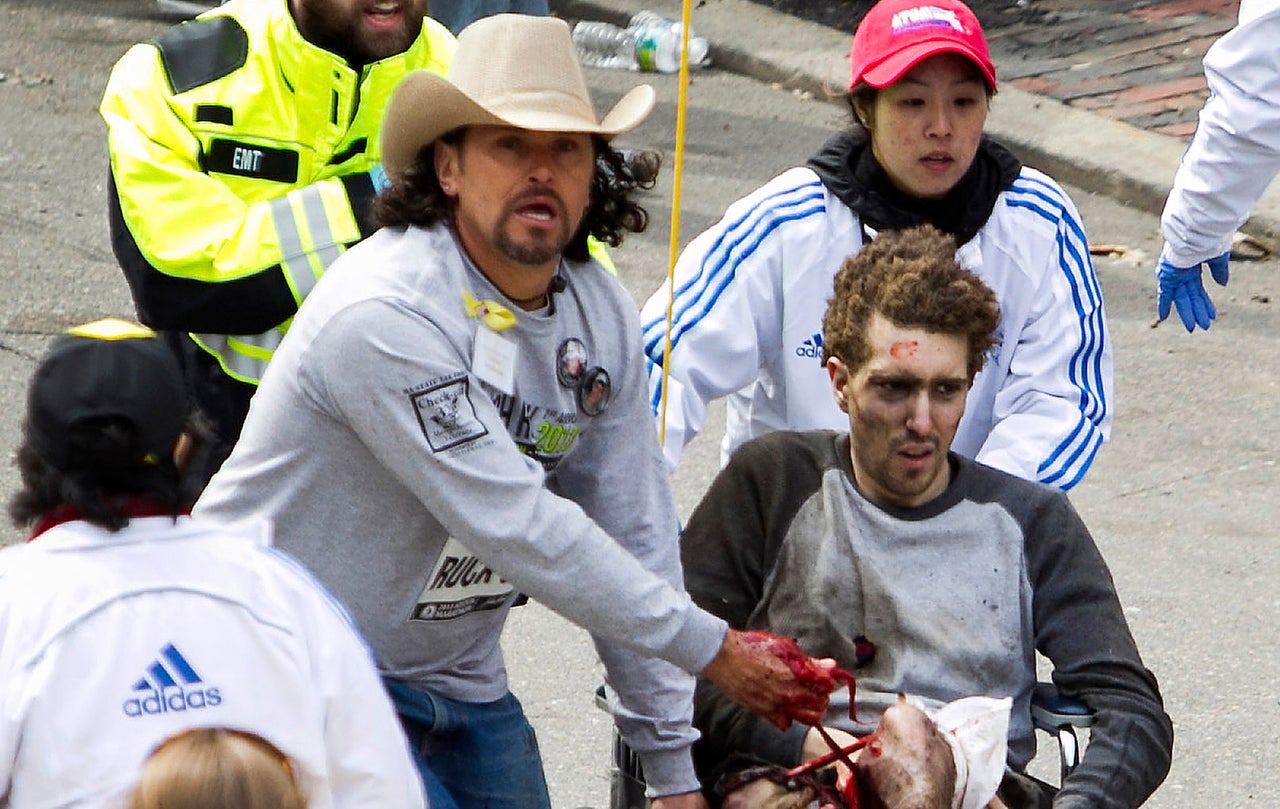 In the five years since Sandy Hook, bleeding control has become a major public health campaign in the U.S. The White House launched a "Stop The Bleed" campaign in 2015 with the backing of the Department of Homeland Security, the American Red Cross, and fire and police organizations. Bleeding control kits are being installed next to automated external defibrillators in places like airports and sports arenas, schools and ski resorts. Most police departments in the U.S. have now trained their officers in how to place tourniquets and apply pressure for someone with life-threatening bleeding; many have issued tourniquets for their members to carry on duty.
But the campaign is as much about ordinary citizens as it is first responders. No matter how fast EMS and first responders arrive on the scene, bystanders will be there first. So trauma surgeons now recommend that everyone be trained in using tourniquets.
Advocates liken it to CPR, a simple, life-saving method that anyone can learn. Instructors emphasize three steps: once you learn where a person is bleeding from, apply firm, steady pressure to the bleeding site with both hands; apply pressure using clothing or bandages; if the bleeding doesn't stop, place a tourniquet two to three inches closer to the torso from the bleeding. Use two tourniquets if necessary.
Many local trauma centers now offer training, and it's included in first aid courses.
"The focus has always been on the perpetrator, but patients are the most important people at the scene of an emergency."
Raquel Forsythe, a trauma and acute-care surgeon at the University of Pittsburgh Medical Center, has helped train EMS and law enforcement officers in bleeding control throughout western Pennsylvania, and secured funding from the university to place small bleeding control kits ― containing tourniquets, hemostatic dressings, gloves and compression bandages ― in every public school in the region.
Even though the public health campaign grew out of concerns about mass violence, she says, the skills are more often put to use in response to car accidents or cycling falls.
"I actually trained one of my daughters on her Pokémon stuffed animal because it was a little less threatening than the training leg," Forsythe said.
There is already strong evidence that increased use of tourniquets is saving American lives. In a study presented in October at the annual meeting of the American Association for the Surgery of Trauma, surgeons reported that tourniquet use on injured civilians before they arrived at the hospital corresponded with a nearly six-fold decrease in mortality. The finding was based on a study of more than 1,000 patients admitted to Level 1 trauma centers in Texas between January 2011 and December 2016. Of these, 17.6 percent had received a tourniquet prior to hospital admission.
Pedro G. Teixeira, a vascular surgeon and associate trauma director at Seton Medical Center in Austin, Texas, who led the study, has no doubts about the benefits of the public health campaign. More and more patients are arriving at his hospital's emergency department with tourniquets already in place. When a student with a hunting knife slashed one person to death and injured three others at the University of Texas at Austin last May, a police officer brought in one of the injured whose significant laceration had been controlled with a tourniquet. The officer had participated in one of the first classes in bleeding control put on for the university's police.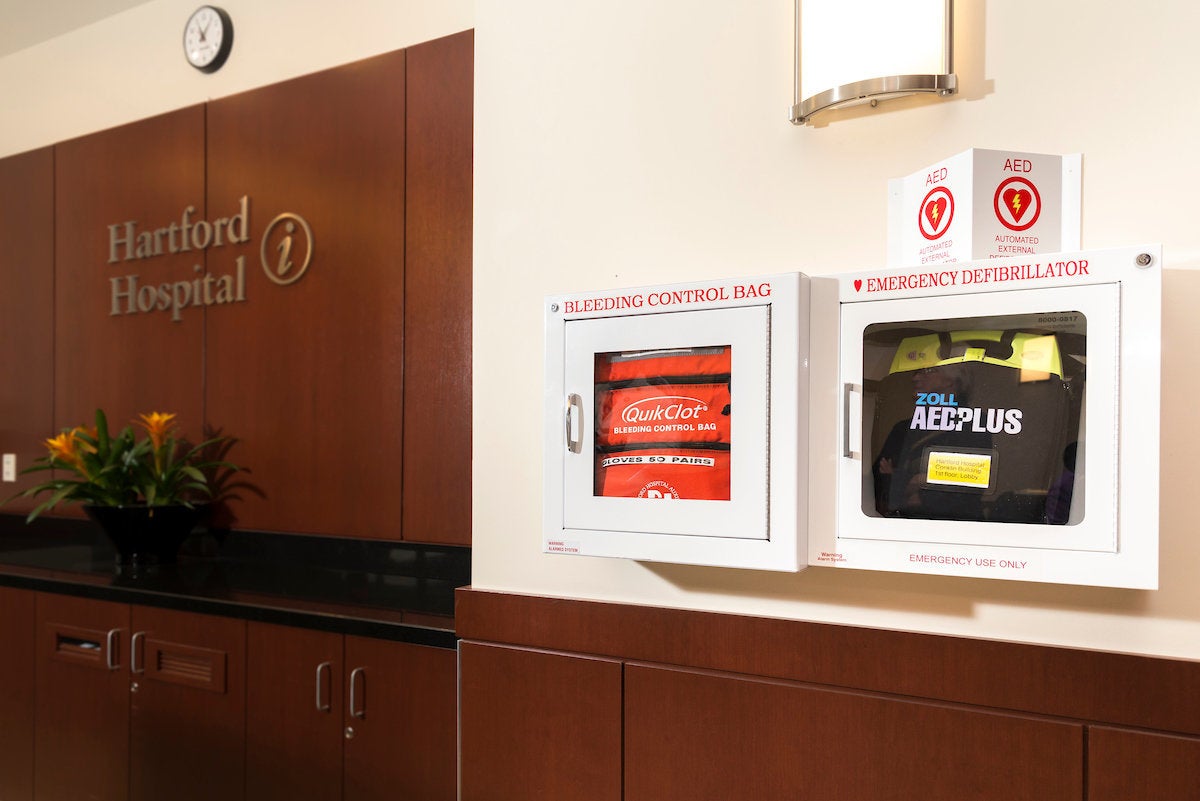 "To teach this is to be able to multiply our ability to care for people even when we aren't there yet," Teixeira said. "It allows them to survive long enough to get to the hospital where the technology and the knowledge we have currently is impressive."
"There are a lot of things here we can do," he continued. "But if the patient doesn't get to us, we are very limited."
On the night of the Las Vegas shooting, Alexander Eastman, a Dallas trauma surgeon and a lieutenant with the Dallas Police Department, was in a Cleveland hotel room prepping for a talk he was to deliver the next day about active shooter preparedness. Eastman has led the push to train law enforcement officials in bleeding control and to have all officers equipped with a tourniquet. He couldn't sleep after hearing the news.
The images from the Mandalay Bay brought back memories of July 7, 2016, when an army veteran opened fire on police patrolling a Black Lives Matter rally in Dallas. Eastman had been "in the middle of mayhem downtown."
He said every possible response to stress in human beings was on display: "I saw panic, I saw resolve, I saw people running, I saw people hiding and everything in between." That night still affects him deeply.
The number of Las Vegas victims helped by fellow concertgoers was "amazing," Eastman said. Still, he feels frustrated that the efforts to improve survival in mass shootings are not enough.
An average of 93 Americans are killed by gun violence each day, according to the public interest group Everytown for Gun Safety. That's thousands of people who have died in the two and a half months since the shooting in Las Vegas, and most of them did not attract the same headlines or public outcry for solutions as the Mandalay Bay tragedy.
"To teach this is to be able to multiply our ability to care for people even when we aren't there yet."
Some trauma surgeons have criticized Stop The Bleed as myopic, saying it doesn't go far enough; that the campaign should be a starting point to lobby for legislative solutions to America's gun problem, not an end in and of itself.
Harvard Medical School surgeons Peter T. Masiakos and Andrew L. Warshaw, writing in a letter to the editor of the Annals of Surgery in May 2017, argued that medical professionals have a responsibility to advocate for methods that would prevent these gun violence injuries in the first place.
"We must neither accept the inaction of our government to pass comprehensive firearm injury prevention legislation nor allow the restriction of our ability to do research on firearm injuries, while nearly 3 times as many American citizens are killed each year in this epidemic than they are by AIDS and the cost to care for these victims has exceeded the budget of the U.S. Department of Education," they wrote.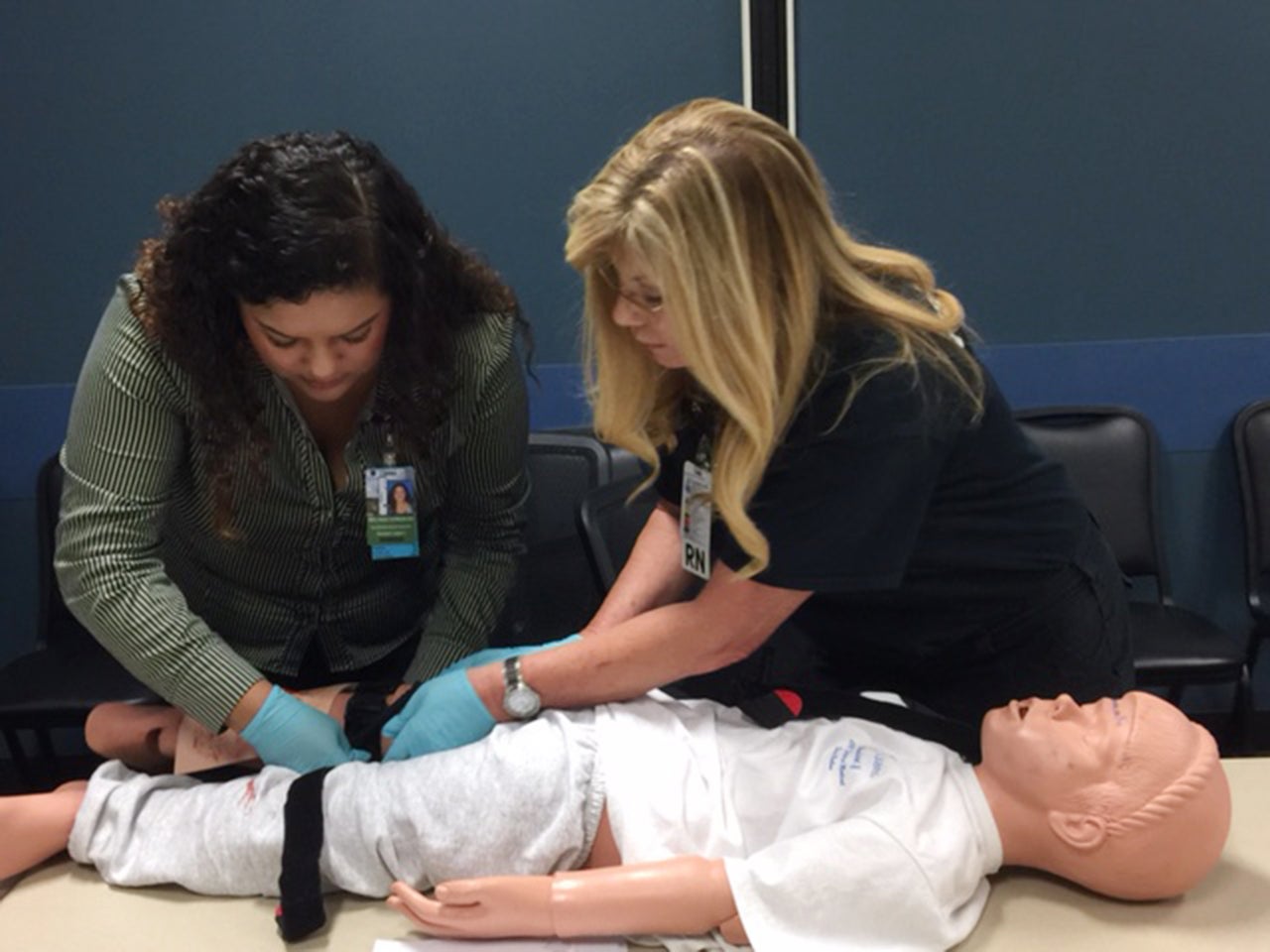 Eastman says programs like Stop The Bleed that help people respond to gun violence are effective at improving survival, but he also thinks they fail to address the root causes of gun violence. He's adamant that more evidence-based research, and funding for that research, is necessary for creating data-driven policies.
"I just don't understand, and this has given me some difficulty personally, what it takes to compel my fellow Americans to action on this topic," said Eastman. "A bunch of kids dead at Sandy Hook, a bunch of police officers dead in Dallas, a bunch of peaceful people dead at a club in Orlando, San Bernardino. Now we have 500-something people injured in Las Vegas at a country music concert. I mean, what does it take to compel people to realize that this is a public health problem worthy of our best scientists and political effort to make it go away?"
Ure witnessed "a lot of terrible tragedies in which people died at the hands of others" in his four decades in law enforcement. But he'd never been in the line of fire himself until Las Vegas.
When he trained as an emergency medical technician in 1977, he was taught to use a tourniquet as "a last ditch effort." He later became a firefighter and then a police officer. He'd taken a short course on bleeding control at a police conference three months before the concert, and has carried a tourniquet on his gun belt while on duty ever since. That training was at the front of his mind as he clenched the belt tied around Belitsky's leg in the back of a tiny Toyota as it sped to the hospital.
Both Belitsky and one of the injured women began to lose consciousness. Ure tried to ask them questions, afraid someone would pass out before they arrived. "What's your name? Are you allergic to any medications?" he asked. Ure repeated their answers back to himself. "I was trying to get as much information as I could."
They finally pulled up to the ambulance bay of the University Medical Center of Southern Nevada. Ure told the staff he couldn't let go of the tourniquet attached to Belitsky's leg, knowing he would likely die within a minute without it in place. Ure held on until Belitsky was ushered into surgery.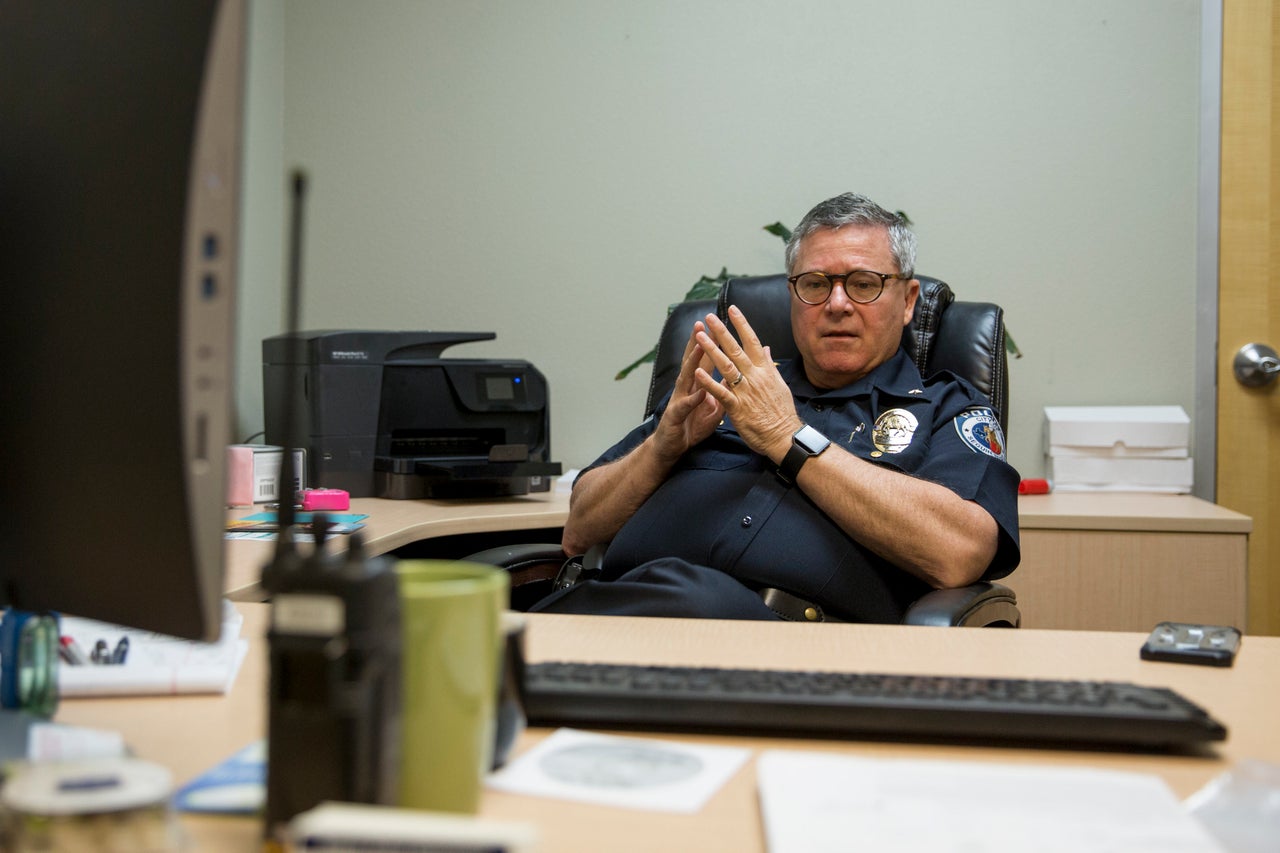 Ure wasn't sure what to do with himself next. He wanted to know what happened to the three injured people he'd arrived with, but the hospital was jam-packed. He had no idea how long he would have to wait for news about Belitsky's surgery. He didn't even know his full name or phone number. Ure decided to hitchhike back to the concert site to find his friend.
The scene was similar at many of the 17 hospitals in the Southern Nevada Trauma System. Hundreds of victims were arriving in private cars and ambulances.
"What does it take to compel people to realize that this is a public health problem worthy of our best scientists and political effort to make it go away?"
Scott Scherr, the medical director at Las Vegas' Sunrise Hospital, a Level 2 trauma center, was at home when he received the text about a mass casualty incident. By the time he arrived at the hospital less than 15 minutes later, the ambulance bay was packed. Within 90 minutes, 200 patients arrived in his ER, many with torn T-shirts and belts wrapped around arms and legs as tourniquets.
"Even people who had gunshot wounds in areas you can't tourniquet like the chest or the abdomen, someone was holding direct pressure with articles of clothing, or EMS using hemostatic gauze," he said.
It was a horrific, unforgettable night. Sixteen of the wounded who came to Sunrise did not survive. "But if it wasn't for the efforts that were made on scene by our citizens and our first responders, we definitely would have more loss of life and more loss of limbs," Scherr said.
A few days later, Ure received a call from Belitsky, who had tracked him down through news coverage. Their phone call "was the most humbling and rewarding experience I've ever been through in almost 40 years of law enforcement," Ure said.
In a social media post, Belitsky said he felt incredibly grateful for the bystanders who'd risked their lives to save his.
The Las Vegas shooting has shaken Ure. Routine activities like walking into a grocery store make him uncomfortable. At a police conference a few weeks after the shooting, he jumped as someone near him practiced on a gunshot simulator.
But he's surrounded by a strong support network, and he has already planned more trips with Schumann.
It's also made him an outspoken advocate for teaching bystanders the techniques that helped him save Belitsky's life.
"Shootings are going to continue to happen, and you just hope and pray that you are not there," he said. "But, if you are, you have to try to be as prepared for it as you can be."
Popular in the Community