"Mass: We Pray" purports to be a video game that lets you worship the Lord from your living room, according to the video trailer that's been distributed by Prayer Works Interactive.
The maker of "Mass: We Pray" explains the concept behind the game -- which is an elaborate hoax to promote the new Dante's Inferno game:
A family shouldn't have to wait until Sunday to worship the Lord. Now you can go to church every day without leaving your home. Participate in more than 24 unique and exhilarating Ceremonies. Be sure to try them all. The more you play, the more Grace points you collect. Then trade in your Grace points to unlock the Holy Mysteries.

The Prayer Works Interactive website shows off several "proprietary" devices that are supposedly to be used for Mass: We Pray, including a white plastic cross and a "kneeler" accessory designed after prayer kneelers in church pews.
Players can cross themselves, ring churchbells, swing the censer, and more using a "wireless CROSS controller" that "detects movement in three dimensions," according to the Mass: We Pray video and website. (see screenshot below)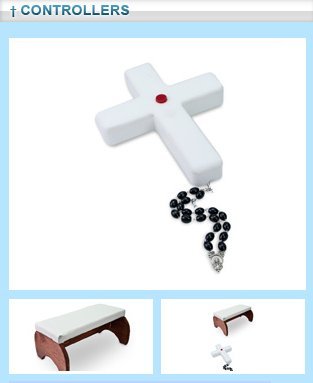 WATCH:
Popular in the Community