A Massachusetts law banning possession of bump stocks and other accessories that increase a gun's rate of fire went into effect on Thursday, making the state the first to enact such legislation in the wake of last year's deadly mass shooting in Las Vegas.
Bump stocks allow semi-automatic rifles to simulate automatic fire. The accessory replaces a standard rifle stock ― the piece that rests against the shoulder ― and harnesses a weapon's recoil to slide the gun rapidly back and forth onto the shooter's trigger finger, firing each time.
The gunman who opened fire on tens of thousands of concertgoers in Las Vegas last October had attached bump stocks to at least a dozen assault-style rifles, law enforcement officials said. He was able to shoot more than 1,100 rounds over the span of a few minutes, killing 58 people and wounding 422. More than 400 others were injured in the chaos caused by the shooting.
"We saw in Las Vegas the carnage, which far exceeded the carnage of any other mass shooting in U.S. history, and it made it very clear to me that there's no purpose whatsoever for a bump stock, other than killing a lot of people very quickly," said John Rosenthal, founder of Stop Handgun Violence, a Massachusetts-based nonprofit that advocated for the measure.
Bump stocks "should be banned, and I am proud of Massachusetts to be the first state in the nation to do the right thing," he said.
California and New York had banned the devices before the Las Vegas shooting.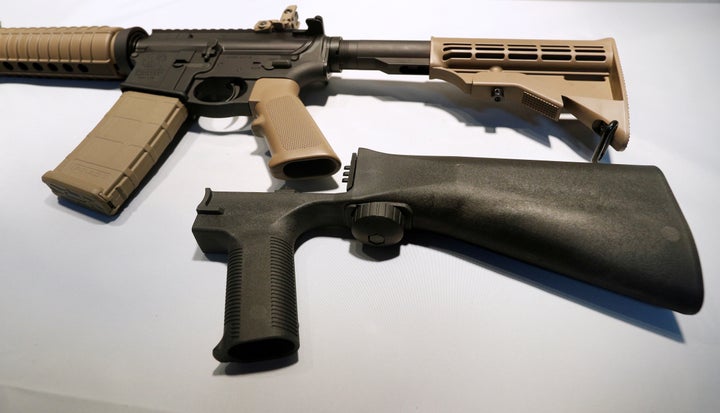 In Massachusetts, anyone found in possession of a bump stock or other similarly banned equipment will be subject to prosecution, with sentences ranging from 18 months to life in prison. The law also prohibits accessories known as trigger cranks, which it defines as any device that "repeatedly activates the trigger of the weapon through the use of a lever or other part that is turned in a circular motion."
The measure exempts "any weapon initially designed and manufactured to fire through the use of a crank or lever."
Sales of both bump stock and trigger cranks have been banned in Massachusetts since the legislation was signed into law in November.
Although automatic firearms are strictly regulated under a 1986 federal law, the Bureau of Alcohol, Tobacco, Firearms and Explosives has determined that the statute doesn't cover bump stocks or trigger cranks because the items aren't technically "machine guns" ― defined as weapons that fire multiple rounds with a single pull of the trigger.
Lawmakers in Congress have introduced legislation to outlaw the devices. But gun rights groups and GOP leaders, including House Speaker Paul Ryan (R-Wis.), have instead called on the ATF to re-examine whether it can regulate them under federal law. The agency is considering what additional action it can take and is expected to announce a final decision in the coming months.
Meanwhile, at least 15 states and a number of local jurisdictions have taken taken up proposals to ban the devices following the Las Vegas shooting, according to the National Conference of State Legislatures.
As the first state to officially ban bump stocks amid the recent push, Massachusetts has emerged as a flashpoint in a predictably contentious debate over how the prohibition will be enforced.
Prior to the law's enactment, the Massachusetts Executive Office of Public Safety and Security had sent all 400,000 of the state's licensed gun owners a notice informing them that they had until Feb. 1 to turn over bump stocks and other restricted devices to law enforcement.
"It was very well publicized in Massachusetts and we expect people to, number one, know about the law, and number two, comply with the law," said state Rep. David Linsky (D), who authored the bump stock ban measure.
"Police departments have been working with the Office of Public Safety to develop a protocol for the destruction of any weapons that get turned in," he added. "People have had several months now, because they knew this ban was coming, to either give away or sell their items to someone out of state who could legally possess them."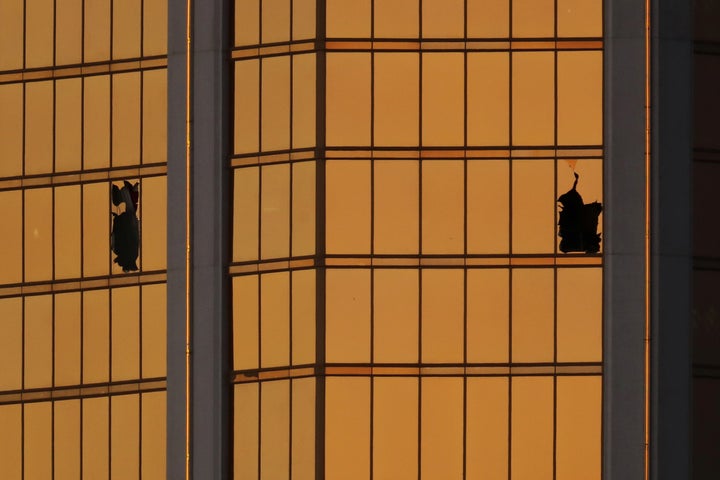 It's unclear how popular bump stocks have been in Massachusetts. Although the state has some of the nation's strongest gun laws and keeps comprehensive records of firearms sales and transfers, its statutes didn't cover these sorts of accessories.
Bump stocks "tended to be a novelty item" among Massachusetts gun owners, Linksy said, adding that he didn't think there were many around the state.
A representative for the Massachusetts State Police didn't immediately respond to a request for information on the number of bump stocks that had been turned over ahead of the deadline.
Bans on certain types of weaponry often evoke fears of government confiscation, or "gun-grabbing," among firearms advocates, but Linksy said police wouldn't be going door to door to proactively enforce the law.
"It will be a law enforcement issue the same way if someone is found with contraband of some other sort," he said.
Gun rights groups have cried foul over the law's lack of compensation for owners who surrender their bump stocks. Some gun rights organizations have floated the possibility of suing over the payment issue.
Other gun rights activists say they understand the frustration, but don't necessarily see the devices as worth fighting a legal battle over.
"They're not used for any sporting purpose, they're not used in hunting, they would be impractical for self defense. ... They're toys," said Brent Carlton, president and co-founder of the Massachusetts-based gun rights group Comm2A. "But the fact of the matter is people spent money on them, they own them, they presumably have a property interest in them."
The state is prepared to defend the law if activists do end up filing suit, said Linsky.
"Some of what I'll call the extremist gun groups out there are calling this confiscation or calling it a taking without compensation, but if they really believe this, there's a court system that is ready, willing and able to hear this challenge," he said.
Popular in the Community