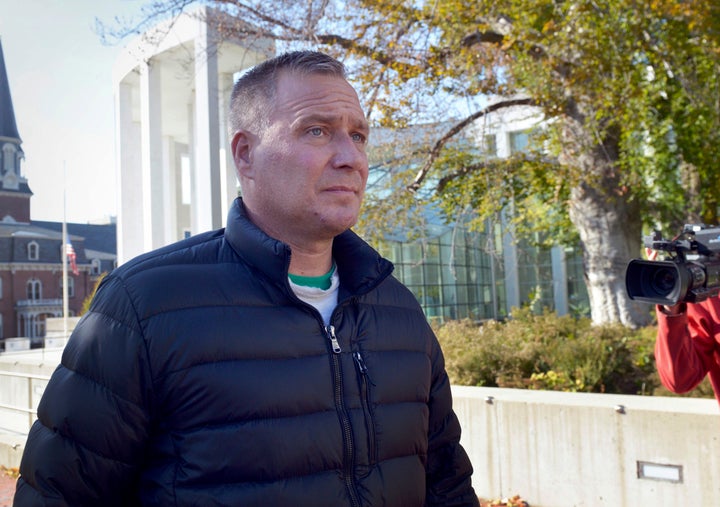 A police officer and a former narcotics detective with the Springfield Police Department in Massachusetts are facing federal charges for allegedly beating and spitting on two Latino teens during an arrest in 2016.
Officer Gregg A. Bigda, 48, was charged with three counts of violating the civil rights of arrestees and one count of obstructing justice by writing a false report, according to a release from the Department of Justice. Detective Steven M. Vigneault, 48, who resigned in 2016 following the incident, was charged with one count of violating the civil rights of an arrestee.
Both men have denied the allegations and could face 20 years or more in prison.
The Springfield Police Department did not immediately respond to a request for comment.
On the night of Feb. 26, 2016, Vigneault left an unmarked police car running outside a pizza restaurant while he went inside to get food, according to news site MassLive. When he returned the car was gone, taken by a group of teenagers who drove around for four hours before police apprehended them, reports said.
Police dogs then allegedly bit the boys and officers allegedly kicked them in the face while they were handcuffed, according to The Washington Post. Bigda interrogated the teens without their parents present and without reading them their Miranda rights, the new indictment claims.
Part of the interrogation was captured in a 30-minute recording, which was posted to YouTube, showing Bigda threatening to beat up and kill one of the teens.
Bigda allegedly said he would "beat the fuck out of" one of the teens and plant drugs on them.
"I'll stick a fucking kilo of coke in your pocket and put you away for 15 years," he allegedly threatened.
He also allegedly kicked and spat on one of the teens, a 14-year-old boy, and told him, "Welcome to the white man's world," according to the indictment.
Springfield officers have long faced claims of misconduct ― from false reports to beatings ― forcing the city to pay millions in damages, according to The Boston Globe.
The videotaped interrogation of the teens in 2016 was one of several recent incidents that finally prompted a DOJ probe into the police department, along with an alleged 2015 beating of four black men by off-duty officers.
"Badges and guns do not come with the authority to ignore the Constitution or the rights of others, and those who violate it will be held accountable," Harold Shaw, a special agent in charge of the FBI's Boston field division, said in a statement.
Daniel D. Kelly, Vigneault's attorney, told reporters outside the courthouse on Wednesday: "There is a tendency to rush to judgment in cases like these. We would ask that the public not rush to judgment."
Support HuffPost
The Stakes Have Never Been Higher
Related
Popular in the Community