LOWELL, Mass. ― For many public health experts, Massachusetts' near-universal health insurance coverage makes it the gold standard for access to care. It's the last place in the country where you'd expect to find a spike in HIV cases alarming enough to pique the interest of the federal government.
But despite robust local health systems, the industrial cities of Lowell (population 110,000) and Lawrence (population 80,000) ― just 9 miles apart near the New Hampshire border ― have both seen a surge in new HIV cases among people who use intravenous drugs.
Between 2015 and 2018, there were 129 new HIV cases linked to drug use in the two cities, according to preliminary results from a joint investigation by the Massachusetts Department of Public Health and the U.S. Centers for Disease Control and Prevention. By comparison, from 2012 to 2014, an average of just 41 cases of HIV linked to injection drug use were diagnosed per year in the entire state of Massachusetts.
The report found that major factors that contributed to the outbreak, many of them outside the reach of traditional health care, are small-scale versions of nationwide trends.
Most notably, local stakeholders told investigators that Lawrence had a local illegal fentanyl manufacturing operation, which made the synthetic opioid ― an efficient vector for HIV because its short high leads to more frequent injections ― both pervasive and cheap. Meanwhile, rampant homelessness disrupted treatment for those most at risk. And even though community leaders in Lawrence and Lowell pushed for clean needle exchanges, a known method for stopping infectious disease spread, they only did so after the outbreak began.
As fentanyl spreads across the U.S. and drug use patterns evolve, other areas of the country with this same constellation of risk factors should take note.
"This tells us we cannot rest on our laurels," said Thomas Stopka, an infectious disease epidemiologist and assistant professor at Tufts University School of Medicine. "There are potentially other communities that are at great risk as well. HIV can and is raising its head again in places where risks align."
If the outbreak had happened in a less aggressively surveilled state ― Massachusetts has one of the best HIV and hepatitis C surveillance systems in the country ― it likely would have been much worse, according to Amy Nunn, executive director of the Rhode Island Public Health Institute.
"This may be forecasting what could conceivably happen around the country," said Nunn, who was not involved in the investigation.
Tracing An Outbreak
Staff at the Greater Lawrence Family Health Center were used to seeing one new HIV case each month, only a fraction of which were drug-related. Some months, they didn't see any new cases at all. But in 2016, the center diagnosed five new cases in June and July. It didn't slow down from there. By the end of the year, the state's health department had gotten involved and had recorded 23 new HIV diagnoses among people using injection drugs in the two cities.
By 2017, those diagnoses had more than doubled to 52 new cases.
Prior to the outbreak, HIV had been declining among all at-risk groups in Massachusetts. And nationally, only 9 percent of all HIV diagnoses in 2016 were linked to injection drug use, according to the CDC's National HIV Surveillance System.
"HIV can and is raising its head again in places where risks align."
The uptick of 2016 and 2017 might not seem dramatic on paper, but it's well outside the norm. Concerned state health department staff called in backup from the federal government, including a rapid response team of Epidemic Intelligence Service officers ― "disease detectives" from the CDC who swoop in at the behest of local authorities to help investigate urgent public health problems.
Over the course of a five-week investigation this spring, this joint local-federal task force interviewed law enforcement, homeless services, members of local government and people who injected drugs. Other task force members worked in the laboratory, collecting specimens and doing RNA virus sequencing to trace the movement of the virus through the community.
The team presented their initial findings on July 24.
"The most striking finding was the sheer number of cases," said Stopka, who attended the meeting. The fact of the 129 newly diagnosed cases "definitely caught a lot of folks' attention and really spoke to the great need in terms of a response." Sixty-seven of the 129 cases were previously diagnosed instances of HIV that investigators now understood were linked to the current outbreak.
The majority of cases were among white men between the ages of 20 and 39, and 90 percent of them had also been infected with hepatitis C at some point in their lives. Hepatitis C infection tends to correlate strongly with injection drug use.
"It's a significant outbreak," said Dr. Charles Alpren, a CDC officer who investigated the outbreak. Still, he stressed that it's important to consider local context.
"Why here? Why now?" he asked. "That was very much one of the things we were looking into — what makes Lawrence and Lowell different?"
'It's Spreading Around Like Wildfire'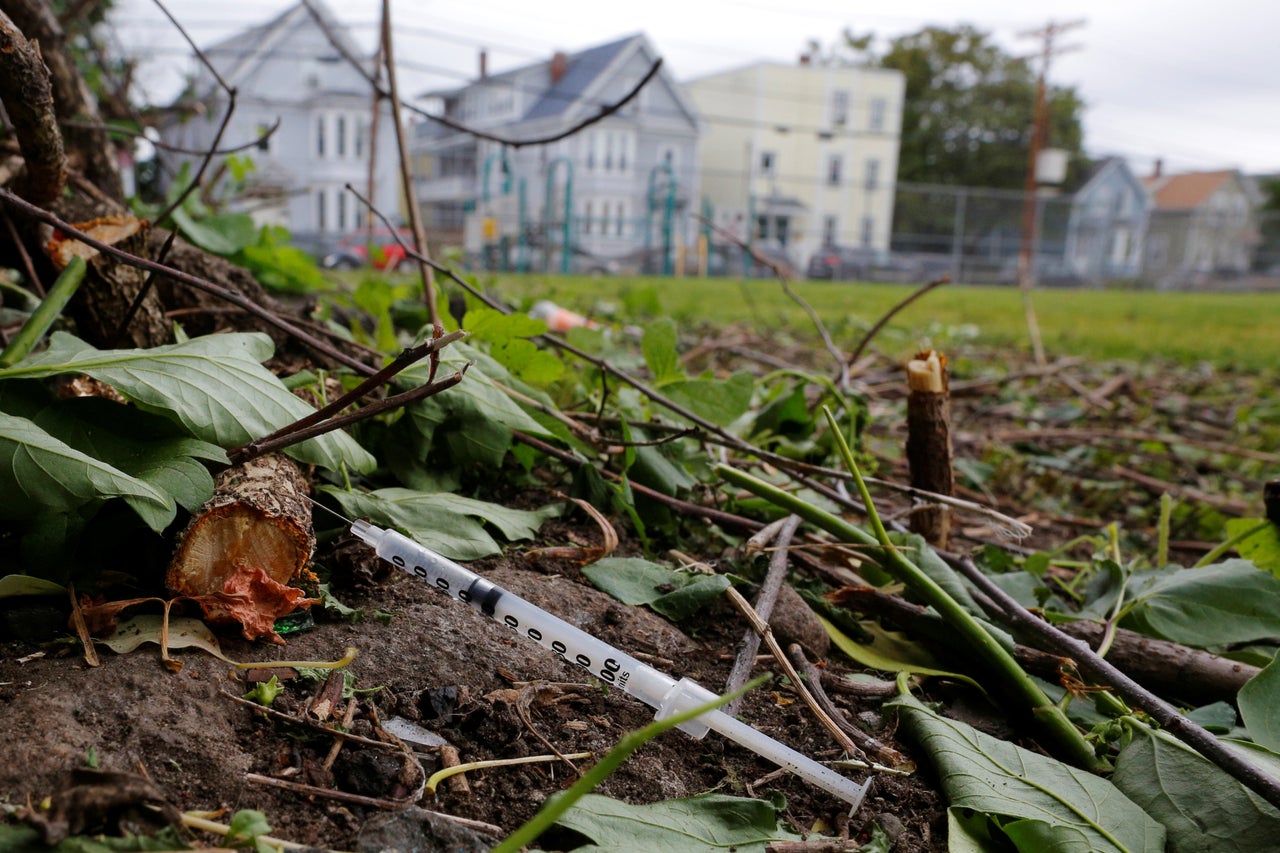 People with the biggest risk factors for HIV, like men who have sex with men, might get tested two to three times per year. But Dr. Alysse Wurcel, an attending infectious disease physician at Tufts Medical Center, said that until the current outbreak hit, young people injecting drugs didn't automatically trigger HIV testing for local doctors, in part because they hadn't been seeing cases for 15 or 20 years.
Indeed, investigators found that local HIV testing had decreased in recent years and wasn't routinely being offered in local emergency rooms or jails.
Diagnosing a young man in the hospital with HIV ― a man who had been tested for the disease only six months prior ― changed Wurcel's perspective. "You need to test more than you think you do," she said.
Wurcel pointed to a research letter published in JAMA in June, which found that 12 percent of people who injected drugs were unaware they had HIV. Among the unaware HIV-positive group, 77 percent reported not having had an HIV test in the past year. Of those who weren't tested, 45 percent had visited a doctor but were never offered an HIV test.
The continued stigma of HIV also makes people who use drugs ― an already stigmatized group ― shy away from testing.
"We all use," Mark, a tanned 29-year-old with a tattoos and a thick Boston accent, told HuffPost in May. "We all know the other one has it. We don't tell each other. People will lie right to your face about having it. It's spreading around like wildfire."
Mark, who preferred to go by his first name, was diagnosed with HIV four months earlier, after a girl he was dating revealed her HIV-positive status to him when she became pregnant.
"People think you can look at somebody and tell what somebody has," he said, squinting into the sun as he stood in a small square near the Merrimack River in Lowell. "It don't work like that."
Mark contemplated suicide when he learned he was HIV-positive, he said. An HIV diagnosis is life-changing, but experts say that once the initial shock wears off, many people with addiction see their diagnosis as a wake-up call, and seek treatment.
"I'm healthy, I feel good. I stopped using. I don't do heroin no more. I don't do cocaine no more. I smoke weed and I drink," he said. "But I'm still screwed for the rest of my life."
Keith Wade, 40, who lives in Lowell, nodded along as Mark described what it was like to contract an infectious disease from a partner he trusted.
"I caught hepatitis from using needles," Wade said. "It's horrible. That's why I don't [inject] no more."
Both men felt frustrated by their peers' refusal to get tested. Many people would rather live with an undiagnosed infectious disease and risk passing it on to others than suffer the stigma of a diagnosis, they explained.
"I was undetectable in three months. I can have kids and everything and I don't have to worry about them getting it. But it's still hard to find somebody," Mark said. "People are like, 'Oh, you're dirty. I don't want nothing to do with you.' It really hurts."
"They'd rather nobody know and keep spreading," he said.
Cheap Fentanyl And A Crisis Of Homelessness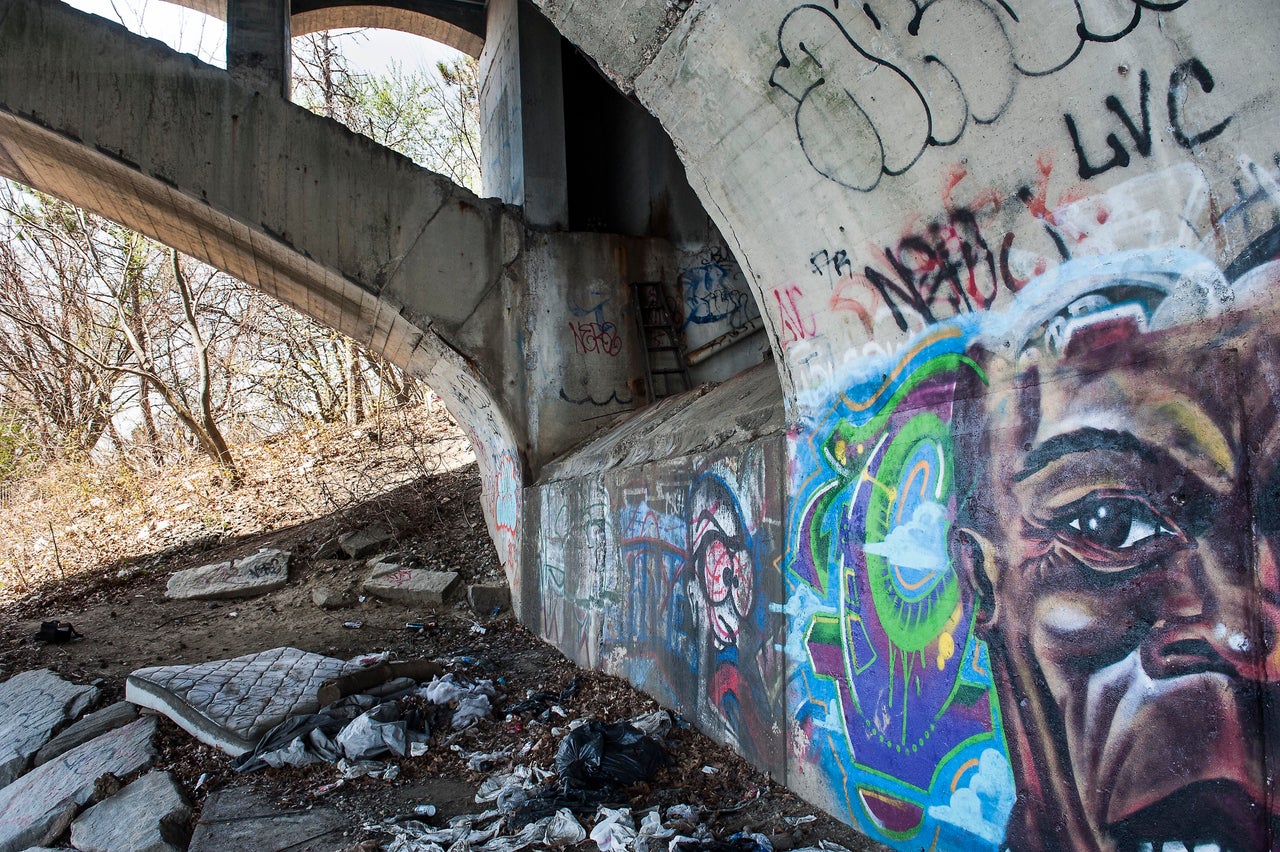 Fentanyl, the potent synthetic opioid that surpassed the deadliness of prescription opioids, contributing to nearly 20,000 deaths in 2016, is particularly prevalent in New England. And Massachusetts has one of the highest synthetic opioid-related death rates in the nation, third only to New Hampshire and West Virginia.
While Lawrence reportedly had its own production hub, cheap white powder fentanyl is typically imported from China or Mexico and used to cut more expensive drugs, like heroin or cocaine, to improve profit margins and to trigger a more intense, fast-onset high. For now, fentanyl-laced heroin is more prevalent east of the Mississippi because it closely resembles the white powder heroin that's widely used in the region. It's harder to mix fentanyl into the black tar heroin commonly found west of the Mississippi.
Fentanyl's short half-life means that the drug kicks in quickly and fades faster than a heroin high. To stave off withdrawal, people who use fentanyl might have to inject up to eight times a day, while people who inject heroin would typically inject two to four times daily to avoid withdrawal. Injecting more frequently means there's a greater temptation to share needles if clean ones aren't readily available through programs like needle exchanges.
Lawrence's reported illegal manufacturing operation made the drug so cheap to buy there that many people in the area have turned to injecting pure fentanyl. To give a sense of scale, local production makes buying illicit fentanyl three times cheaper in Lawrence than it is in Lowell, and five times cheaper than buying fentanyl 30 miles to the north in Manchester, New Hampshire.
Complicating matters is the high homeless population in Lawrence and Lowell. Homelessness in Lowell nearly doubled between 2005 and 2017, according to the Department of Housing and Urban Development. HUD did not report city-specific data for Lawrence, but roughly 700 of Massachusetts' 17,565 homeless individuals reside there.
And CDC investigator interviews confirmed what's visually evident by walking along the cities' Merrimack River, which is dotted with deserted sleeping bags, old clothes, liquor bottles and the occasional used needle: Everyone the investigators interviewed who reported injecting drugs had been homeless at some point during the previous year.
"Everyone the investigators interviewed who reported injecting drugs had been homeless at some point during the previous year."
Homelessness "breaks up consistency and it makes sustaining care and continuity of care harder," Alpren said, noting that incarceration, also highlighted in the report, similarly has the potential to disrupt HIV care and treatment.
For Judy Lethbridge's clients at Lowell Community Health Center, many of whom are unstably housed, finding an affordable place to live is a pressing daily concern. Even with a housing voucher, rents in Lowell and in Massachusetts at large aren't affordable, explained Lethbridge, the center's quality coordinator. Often the vouchers that are available fall short of rent prices. Many times, the only neighborhoods that people with vouchers can afford are in the core of where local drug use happens. That structural instability makes keeping up with health services like addiction or HIV treatment nearly impossible.
"It's particularly difficult to keep housing if you're using, and it's difficult to take your medication if you're homeless," Lethbridge said. "It's all intertwined with the drug use."
A City Without A Needle Exchange Is 'Setting Up For Disaster'
Massachusetts is one of the few states that provides state funding to syringe service programs, but neither Lawrence nor Lowell had a state-authorized exchange before the outbreak. The ad hoc exchanges that did exist were not robust enough to counter the effects of fentanyl use.
"They may have had underground syringe service programs, but they did not have supported, funded, fully staffed syringe service programs," Stopka said. "That's true about many small cities throughout the country. That's setting up a situation for disaster."
Needle exchanges are a positive step toward reducing the spread of infectious disease from a public health point of view. But Mark stressed that people who use drugs often feel a sense of urgency to get high immediately ― especially if they're going through withdrawal ― and increasing clean needle exchange hours would only make so much of a difference. When you're addicted, Mark explained, you're willing to suspend disbelief momentarily about a partner or friend's health status.
"People just don't care," he said. "When it comes down to it, if you've got a bag in your hand and somebody next to you's got a dirty needle, you're not going to run and find a clean one."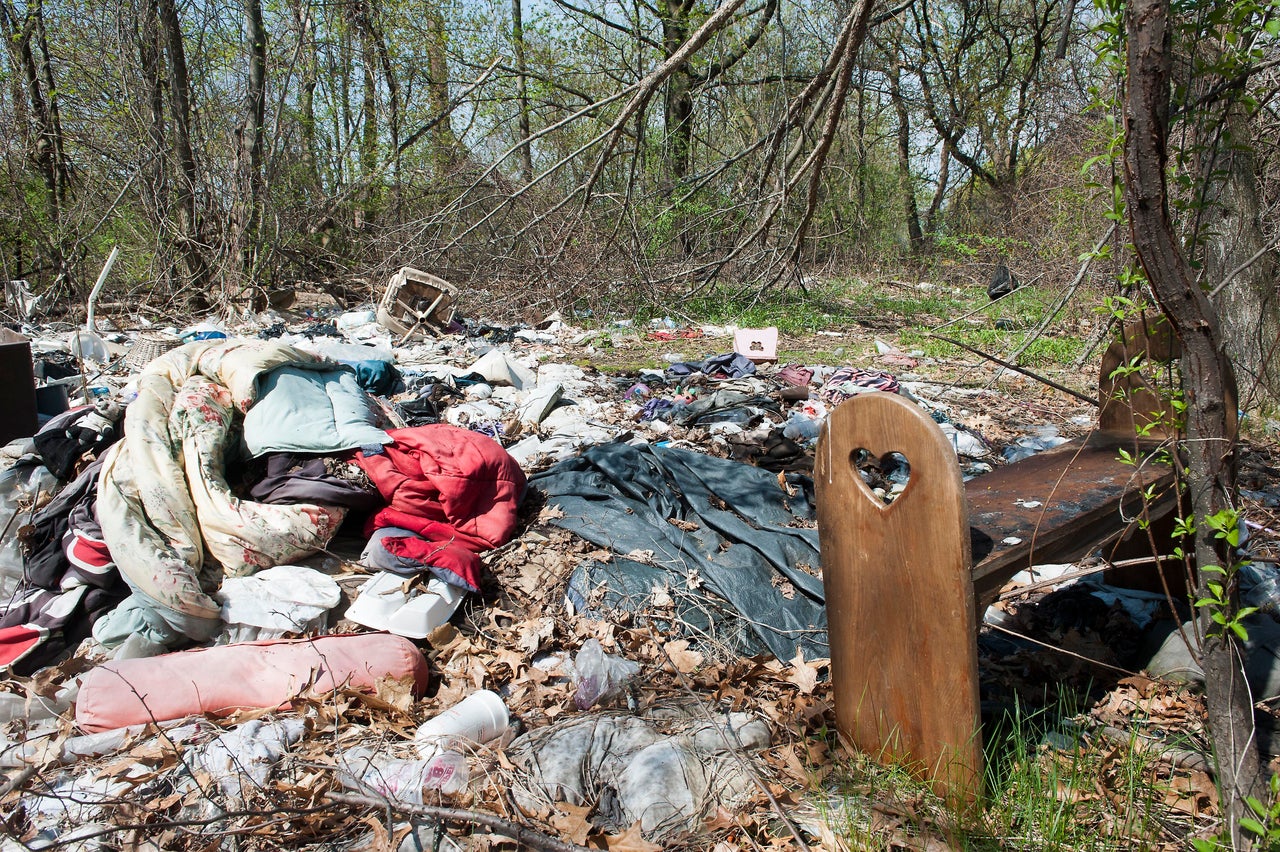 Still, there are advantages beyond the equipment itself. Stopka stressed that syringe exchanges provide a valuable link between doctors and people who use drugs.
"For many people in the throes of addiction, this is their only contact with public health services and health care services," he said. "It's essential for these programs to be in place."
The state health department authorized Lawrence's formal needle exchange after the 2016 uptick in HIV cases, and Lowell voted to authorize its own exchange in June. But neither exchange was fully established at the onset of the outbreak.
Even now, there's a huge unmet need for clean needles, according to the report. The hours of the current exchanges are limited, and more syringes need to be distributed to discourage people from reusing and sharing needles. That's like the rest of the country, where geographic, financial and social barriers to opening and running exchanges mean that far fewer people have access to clean needles than need them.
The Rest Of The Country Needs To Prepare
The case of Lawrence and Lowell isn't the first large-scale drug-related HIV outbreak in recent years ― that distinction goes to Scott County, Indiana, where an HIV outbreak ballooned to more than 200 newly diagnosed cases in 2015. The culprit there was Opana, a prescription opioid that, like fentanyl, has a shorter half-life than heroin. In response, the CDC released a list of 220 counties most vulnerable to an HIV outbreak due to drug use in 2016. The bulk of the hot spots were clustered in Kentucky, Tennessee, West Virginia and Ohio.
No counties in Massachusetts made the CDC's list, suggesting a myopic focus on rural risk factors at the time.
"Scott County shook everybody pretty hard," said Jon Zibbell, a senior public health analyst at the nonprofit research group RTI International who worked on the CDC's vulnerable counties assessment.
"When it comes down to it, if you've got a bag in your hand and somebody next to you's got a dirty needle, you're not going to run and find a clean one."
Zibbell said that some of the indicators the group used to determine which counties were vulnerable, such as race, may have skewed the results toward capturing rural areas with the same vulnerabilities as Scott County, and overlooking more urban localities.
"Doing that eclipsed all these other urban areas that were also at risk for an HIV outbreak," he said.
Even at the time, Dr. Alfred DeMaria, a former Massachusetts state epidemiologist, thought focusing on rural counties would miss a swath of at-risk suburban and urban areas. "They were all places that looked like Appalachia," said DeMaria, who helped lead the investigation this spring. "There are big issues in Lawrence and Lowell, and huge disparities, but they're not exactly rural."
Zibbell thinks it's time for a follow-up assessment that looks specifically at vulnerable urban counties.
"We tend think it's just rural areas that have limited access to syringe exchange programs," said Regina LaBelle, who worked in the White House Office of National Drug Control Policy during the Obama administration. LaBelle noted that Lawrence and Lowell's nascent syringe programs were reactions to an uptick in HIV cases.
"Unfortunately, we tend to solve yesterday's problems rather than looking at how to prevent outbreaks such as this," she said. "Now there's an urgency to open it but unfortunately, too late for those who have been infected."
"Lack of access to sterile syringes is paramount," Stopka said. If people are injecting drugs in communities that don't have reliable needle exchanges or pharmacies selling clean needles, they'll likely be reusing and sharing syringes. The groundwork is then laid for an outbreak.
"If it can happen in Massachusetts, which has all the support in the world and all the services in the world, it can happen anywhere," Lethbridge said.
CORRECTION: A previous version of this story said that of the 129 new HIV cases linked to drug use in Lowell and Lawrence from 2015 to 2018, 67 were diagnosed in 2018. In fact, those 67 cases were previously diagnosed instances of HIV that investigators in 2018 were able to link to the current outbreak.
Need help with substance abuse or mental health issues? In the U.S., call 800-662-HELP (4357) for the SAMHSA National Helpline.
Related
Popular in the Community