Massachusetts already has the nation's strongest gun laws and lowest firearm death rate. But its lawmakers recently boosted the state's commitment to an emerging form of gun violence prevention, providing $10 million for programs specifically designed to stem the bloodshed in communities where shootings are most common.
Moved in part by gun-related tragedies over the past year, the state legislature approved a funding bill in October that included initiatives that seek to prevent school-based gun violence. 
But statewide data showed that shootings in schools were only a small part of the overall gun violence problem among young people. In fact, shootings take their largest toll among those who had dropped out of school or already graduated, state Rep. Andy Vargas (D) told HuffPost.
"We're averaging about 70 gun deaths a year for 16-to-24-year-olds, but all of those are happening in our neighborhoods," Vargas said. "We needed to ensure that the funding we put forward respected the facts, and the facts were that gun violence has been happening in our neighborhoods for a long time. If we really want to address it, we have to go into the places where it's happening."
Beginning next year, the $10 million will be awarded to nonprofit, community-based organizations that work with out-of-school individuals ages 17 to 24 who have been identified as high-risk.
With the new funding, Massachusetts has cemented its status as a leading state supporter of gun violence prevention and intervention programs tailored to urban communities, which bear the brunt of the 13,000 firearm homicides and 60,000 nonfatal shootings in the U.S. each year.
There's broad recognition that 70 gun deaths a year among young people in Massachusetts means that we can and should do more.

Massachusetts state Rep. Andy Vargas (D)
Programs addressing this violence vary in cities across the U.S., with some dating back decades. They typically work by reaching out and providing services to small groups of individuals who are most at risk, either as victims or perpetrators of the violence, said Mike McLively, director of the Urban Gun Violence Initiative at the Giffords Law Center to Prevent Gun Violence.
"What we're learning from the data is that unlike mass shootings, where it's fairly hard to predict who that person is going to be, when it comes to day-to-day shootings it's much easier to figure out who is at highest risk of participating in that kind of violence," he said. "It's always a very small subset of the population of a city ― generally dozens or at most a few hundred people, even in a pretty large city."
While many of the most popular policy responses to gun violence revolve around access to firearms, far fewer look at the demand side to determine why someone is picking up a gun to settle a conflict in the first place, McLively said.
Strong gun laws are important, but trying to address gun violence with those policies alone is like trying to control drug use simply by banning substances without providing resources for prevention or treatment, he said
The results from programs such as those Massachusetts is financing suggest they're an effective way to reduce shootings and other violence. And through their intervention, they also save taxpayer dollars that might otherwise be needed by the health care or criminal justice systems.
Despite the growing wealth of data backing this approach to gun violence prevention, Massachusetts is one of just six states that currently invests in these efforts. California, Connecticut, Illinois and New York have offered funding in the past. Earlier this year, lawmakers in Maryland set aside at least $5 million in future grants for the programs.
Massachusetts has already seen particular success with its Safe and Successful Youth Initiative (SSYI), a community-based strategy that links nonprofits, mental health providers and law enforcement to provide outreach to youth in cities with elevated levels of juvenile crime.
In Lowell, Massachusetts, the SSYI program at the United Teen Equality Center (UTEC) begins by identifying proven-risk youth with the help of local police. UTEC "streetworkers" then get in contact with those individuals.
The program is designed to target root causes of violence, working with those who enroll in it to improve employment and educational opportunities, obtain secure housing and access to mental and behavioral health services. UTEC even runs its own cafe, mattress recycling program and catering and food service business, all of which provide jobs to its clients.
SSYI appears to be paying dividends in Lowell. Enrollees have shown significantly decreased recidivism rates. And the city has seen substantial declines in shootings, firearm-related criminal activity and gang-related crime. 
Geoff Foster, UTEC's organizing and policymaking director, said he's excited about the injection of new state funding, and hopes it will allow UTEC-Lowell and other SSYI sites to expand their operations.
"UTEC's focus on reducing violence among proven-risk young adults has shown us the true success of using a public health approach to best reduce gun violence," Foster said in a statement to HuffPost. He applauded the state's continued work "to never allow youth violence to be seen as something normal."
To Vargas, the legislature's support for these community-based programs shows a willingness to focus on possible solutions that tend to receive less national media attention.
"There's broad recognition that 70 gun deaths a year among young people in Massachusetts means that we can and should do more," said Vargas.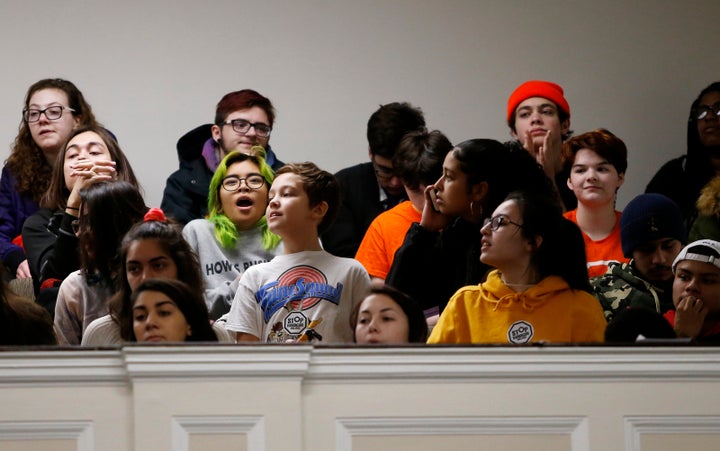 Concerns about gun violence in schools are warranted, especially in the wake of the February mass shooting in Parkland, Florida, Vargas said. That's why he and his colleagues also allocated another $7.5 million to support mental and behavioral health services in the public school system.
But there also was a consensus among legislators that they needed to take a more multi-faceted, evidence-based approach to dealing with the gun violence problem, Vargas said.
"We need to do what we can within our schools, but as with any investment of public money, we also need to ensure that we look at the data, look at the facts and see who's pulling the trigger, why they're pulling the trigger ... and whether or not we're missing them" with services, he said.
If more states were to follow Massachusetts' example, they might begin to see the same sort of success in combating gun violence, said McLively, the Giffords Law Center official.
"If the whole country looked like Massachusetts, we would look much more like the other developed nations that don't have as big of a problem with gun violence," he said. "The problem is that most states in the country don't look like Massachusetts."
Calling all HuffPost superfans!
Sign up for membership to become a founding member and help shape HuffPost's next chapter