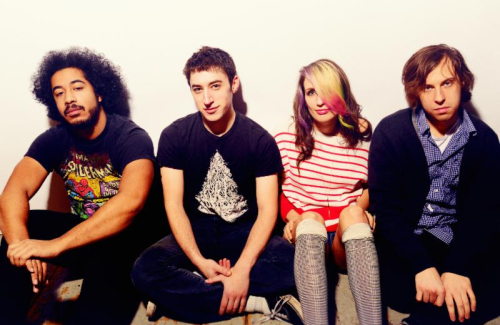 (Photo Credit: Shervin Lainez)
Speedy Ortiz sounds like everything that was good about indie rock from around the mid 1990s to the turn of the millennium, but without the excessive pop sensibilities. There's a sultry nuance of lead vocalist Sadie Dupuis that lends a soulful touch in their music; it's not exactly catchy, but their melodies are more engaging to their listeners, and an individuality exists between each of the songs on their new album Foil Deer.
There's a maximal approach to their music; there's a distinct clarity between Dupuis vocals with every note, every riff and every drum kick of their songs, creatively setting themselves apart from the flock of lo-fi and noise-bases bands.
With Foil Deer, the songs have a bit of optimism about getting over past relationships that turned sour, but there's a calm vitriol about it all; like a bit of a lyrical eye-roll to it all.
No need to compare Speedy Ortiz to any band from the past. They definitely have their influences, but they make it their own. Throughout Foil Deer, you here the 90s post grunge ideals, but also with slight tinges of other things like might not have been so much planned by the band. Dupuis has a voice that could easily have been coupled with the production of old school trip hip-hop producers, and that nuance alone stays in the back of your mind while listening to Foil Deer and lends of a new perception of Speedy Ortiz. That's just one example of their almost intangible dynamics.
When listening to Speedy Ortiz, you can't help but not only hear the music they give you, but also hear the potential of what they can become. The little things about Foil Deer lend to ideas that can help grow this band into something great.
Speedy Ortiz will play the UFO Factory (2110 Trumbull) in Detroit on 6/4. They'll be joined by fellow Allston, MA indie rockers Palehound and Philly based songwriter Alex G. For more information on the show, visit ufofactory.com. For more information on Speedy Ortiz: speedyortiz.com.
Popular in the Community