"This is a momentous occasion," said Massachusetts State Treasurer Deborah Goldberg, from her seat within the cramped but exuberant Massachusetts contingent at Philadelphia's Wells Fargo Center.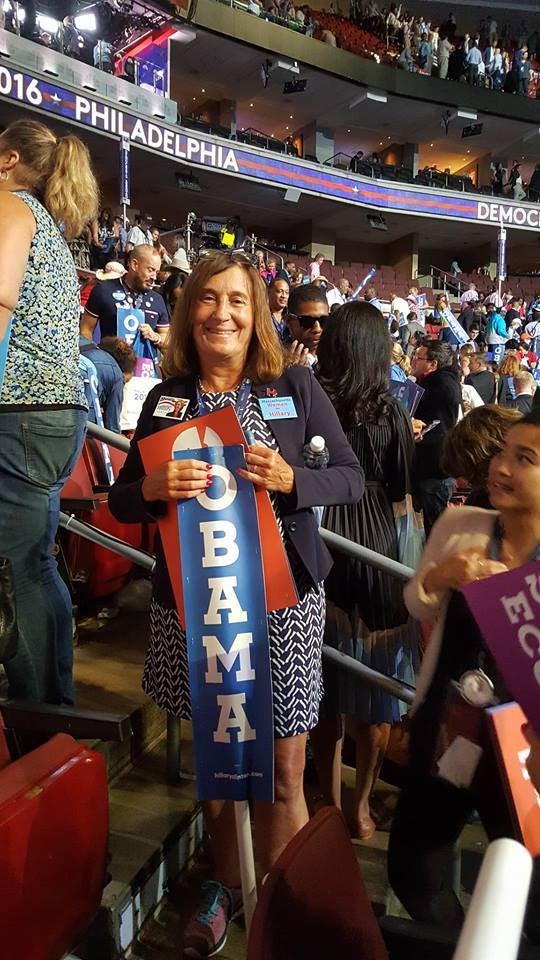 Goldberg's parents and grandparents, the Rabinowitz's, or Rabbs, founded the Stop & Shop supermarket chain. The family has longtime roots at Congregation Kehillath Israel in Brookline, where the male members continue to uphold a 30-plus year tradition of carrying the Torah on the High Holidays. Goldberg's husband, Michael Winter, was born in Ramat Gan in Palestine, where his parents had fled during World War II. They relocated back to Vienna after the war, where they tried unsuccessfully to resurrect the family's prewar clothing business, finally emigrating to Dorchester, Massachusetts, where they operated several laundry shops.
"We of the Jewish faith have always supported strong women, going all the way back to Ruth and Miriam, and Deborah, the judge of Israel, for whom my parents named me," added Goldberg, who spoke at the Massachusetts Delegate breakfast and attended an Emily's List gathering, among other events.
It was Massachusetts Senate President Stanley C. Rosenberg's third convention. "As Jews, our faith is built on a number of key pillars: community education, fairness, and equality," he said. "Hillary Clinton has embodied all of those important pillars in her lifetime of work."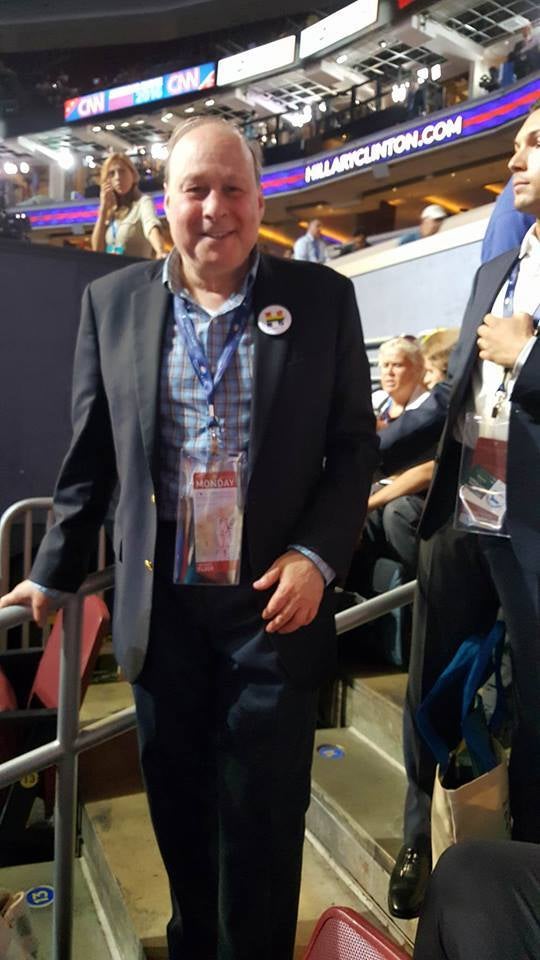 Rosenberg, a foster child who founded and co-chairs the Massachusetts Legislature's Foster Kid Caucus, entered politics when a rejection from Yeshiva University ended his rabbinical aspirations.
A few rows over sat former Massachusetts Governor and 1988 Democratic Presidential nominee Michael S. Dukakis, with his wife, Kitty, who is Jewish and the daughter of the late renowned BSO violinist and Boston Pops conductor Harry Ellis Dickson. "I just want to see Trump's tax records," said Dukakis.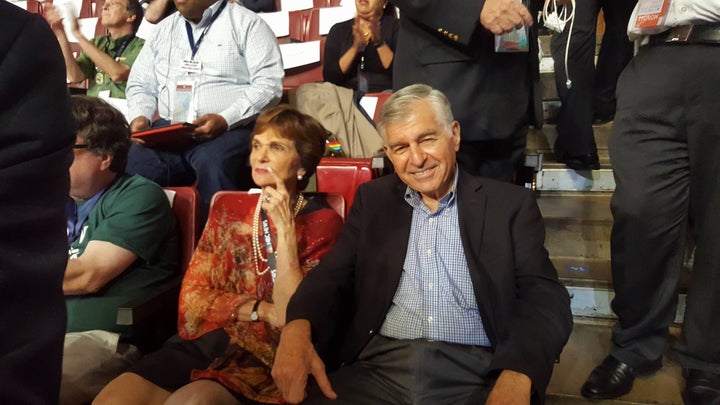 "The choice in this election is critical," said Massachusetts State Rep. Ruth B. Balser. "We Jews know what it means, in terms of the values we care about."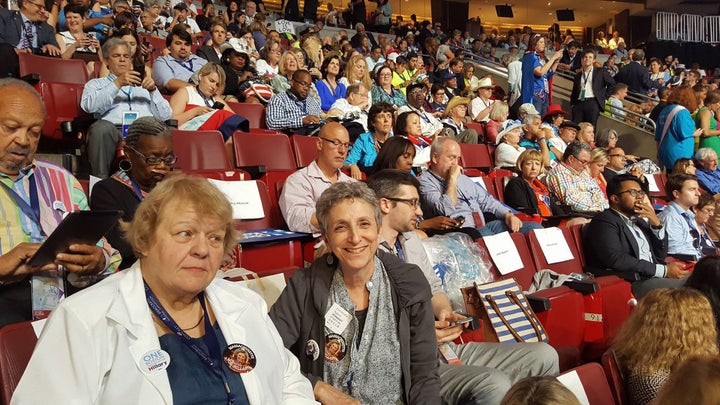 Balser, who has been a member of the American Jewish Congress, the Jewish Alliance for Law and Social Action, the Jewish Community Relations Council and New England Region Friends of University of Haifa, described the situation for voters in November. "On the one hand, we have a Republican candidate who is about fear and hate and bigotry, and on the other side, we have Hillary Clinton, who believes in what we believe," she said: "An America that's inclusive, that will restore the middle class, one where people will be treated fairly."
Massachusetts State Sen. Cynthia Stone Creem hopes that years of women fighting for various causes — working women, stay at home moms — are finally coming to fruition in this election. "My mother, Ida Stone, was a lawyer who was very active in women's issues, and she did live to vote for me each time I ran for the Massachusetts Senate," recalled Creem, who cosponsored a state resolution, approved last year, that condemned anti-Semitism and called for increased anti-bias and Holocaust education. Creem was also named Legislator of the Year by the Southern Poverty Law Center in 2010.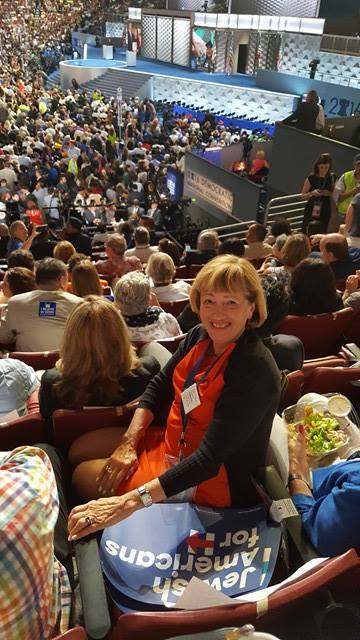 "I'm a Bernie delegate, and I'm still with Bernie," said Steve Leibowitz, a resident of Brewster, on Monday. "He's still a candidate, there will be a roll call, and he hasn't released anyone," he maintained. "Obviously, you want to win, but I tend to vote for the Democratic nominee, and I will vote the party," Leibowitz continued. "I've been a Democrat all my life, but in this election, I will probably focus more on local progressive candidates."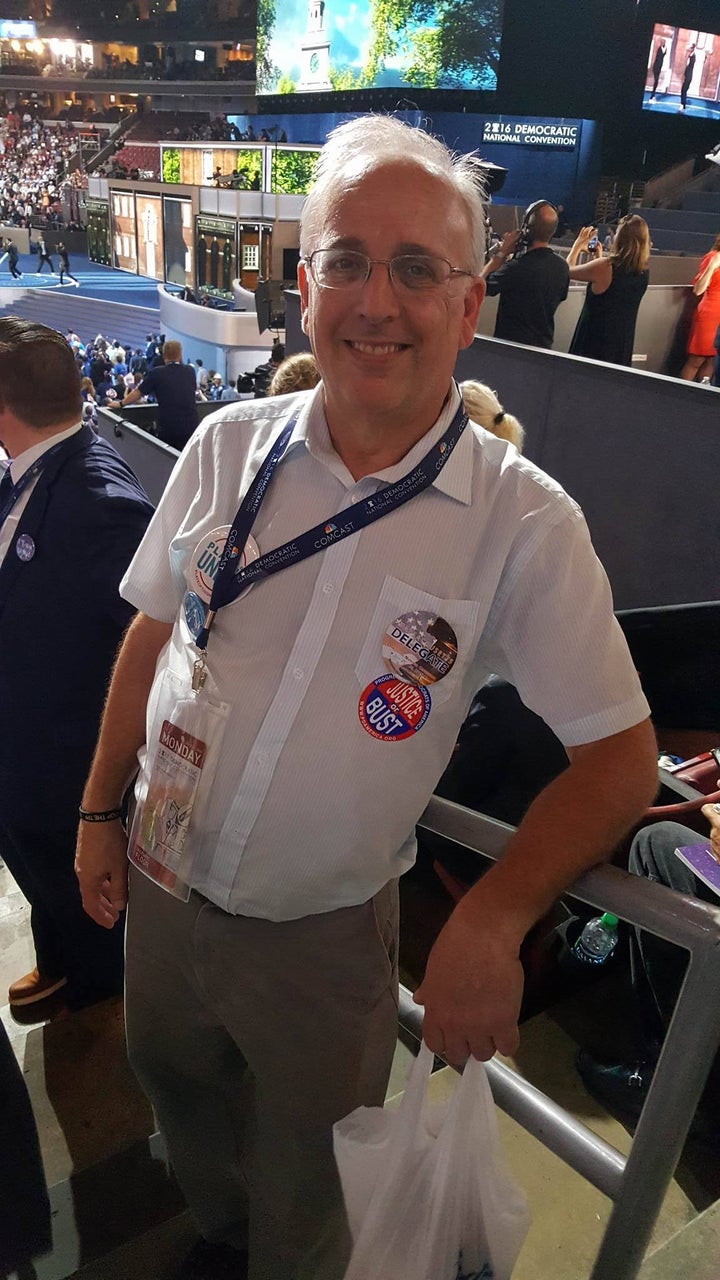 "Seeing Hillary break the glass ceiling is very meaningful to me, because it wasn't always easy to be a lawyer, or to be in politics, in my mother's day," said Creem.
"We Jews care passionately about economic inequality, health care, reproductive rights, education, and so many more areas of social and racial justice," said Cindy Rowe, who is Chair of the Brookline Democratic Town Committtee and active at Temple Israel in Boston. "Anyone who cares about preserving our rights, and expanding opportunities, needs to work to elect Hillary Clinton as our next President," she said.
While in Philadelphia, Rowe was able to catch a gathering with the progressive Jewish group Bend the Arc at the Jewish Museum, and a Tuesday after-hours party sponsored by Senator Elizabeth Warren.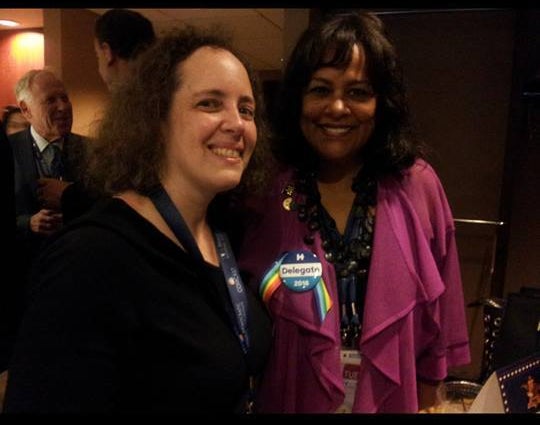 Massachusetts delegates and honored guests included Steve Levine of Worcester. How does one become an honored guest? "By working for the Democratic City Committee of Worcester, as well as for Massachusetts Democratic State Committee, for many national Democratic campaigns," he said. Levine, a former auto dealer, is a member of AIPAC and of Temple Emanuel Sinai of Worcester.
"Hillary is so good for Israel," he said. "She has a relationship with Prime Minister Netanyahu, and she understands the strategic importance of the bond between the U.S. and Israel. We know we can count on her, and Israel knows she can count on her, to defend the security of our only democratic ally in the Middle East," he added.
"She understands that, according to AIPAC, over 85 percent of the money the U.S. gives to Israel comes back to the United States in investments," said Levine, who touted several Israeli achievements: "The robot that killed the Dallas attacker was created in Israel. And ReWalk, groundbreaking cell phone and stem cell technology, and so many other critical advances come from Israel, which is also in the forefront of implementing irrigation relief measures in California, just as they did in the Negev."
Bryan Barash, who is Legislative Director and General Counsel in the Office of Massachusetts State Senate Majority Leader Harriette Chandler and a board member of the Jewish Alliance for Law and Social Action, was entrenched in the Massachusetts stands all week. "We must ensure that a man like Donald Trump is never empowered with the nuclear launch codes," he said, expressing concern regarding potential Supreme Court nominations as well.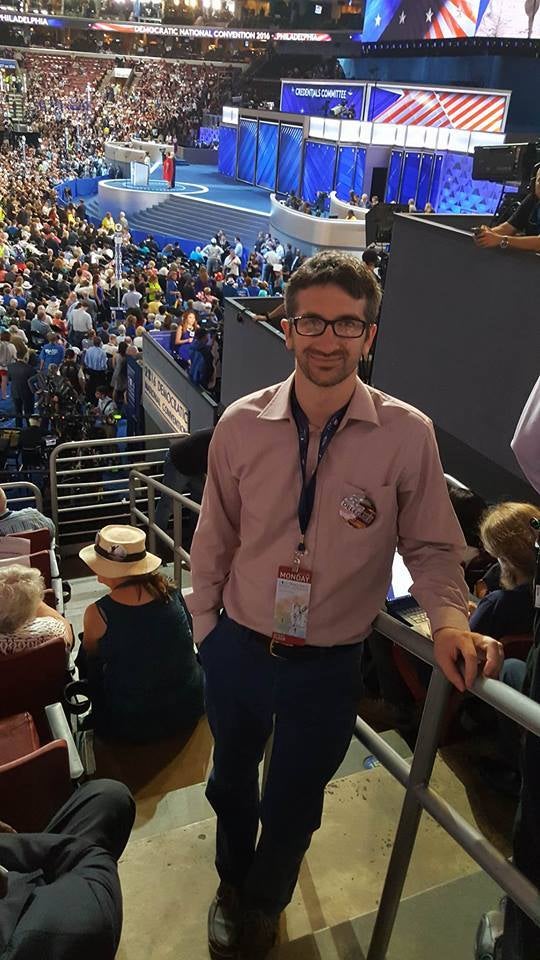 Clinton delegate Roberta Goldman of Shrewsbury, a former public school teacher, has also taught Holocaust education and other subjects at the Worcester County Jail & House of Correction. "I'm very concerned about the quality of education for all of our children and adult learners," she said. "Hillary embodies our best hope."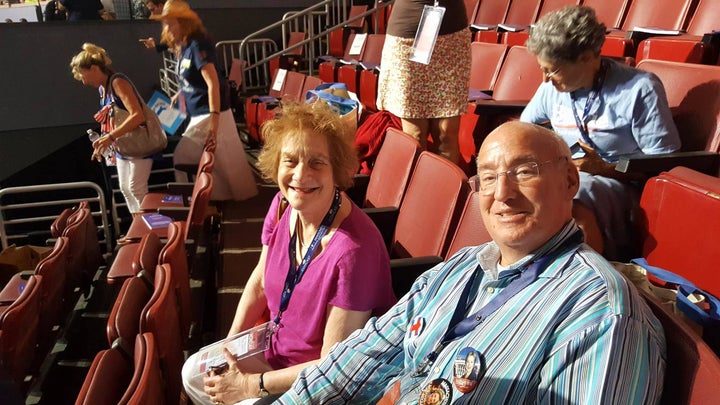 Rosenberg, the Senate President, said he was there for the duration of the convention. "I'm a proud member of the delegation party, and an elected official delegate," he said, explaining that that designation was not at the congressional district level, but statewide.
"We leave this convention united in opposing the forces of bigotry and discrimination," said Rowe. "As Jews, we understand all too well how dangerous this type of rhetoric can be. This election can reaffirm our democratic values, if and only if, people come out to vote for Hillary Clinton."
Levine believes that Hillary has the ability to unite the party. "We have empathy for Bernie Sanders' supporters, but we know Hillary will champion many of his causes, such as debt-free higher education, improving access to early education and child care, creating good, well-paying employment, bringing minimum wage up to a living wage, continuing health care for all, and tweaking it as needed, to make it even better," he said.
Goldberg also voiced particular words of caution for Jewish voters.
"For members of the Jewish community, this is a very critical election," said Goldberg. "When there is a candidate who promotes a platform of divisiveness, that is never good for the Jewish people."
Susie Davidson (@SusieDavidsonMA) is tweeting live from the DNC.