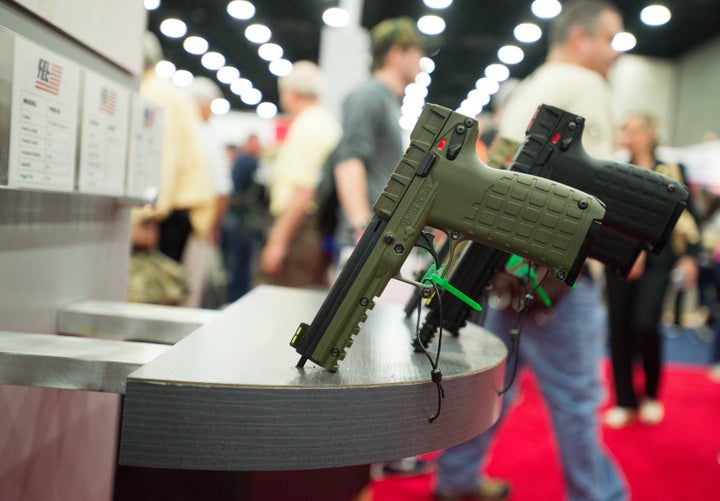 In response to the Parkland, Florida, school shooting last month that left 17 people dead, two Massachusetts state legislators filed a bill Thursday that could force the state pension fund board to pull investments from any company that profits off firearms and ammunition manufacturing.
"We take public safety seriously, therefore I felt we should not be investing public dollars in the companies that enable the violence we are trying to prevent," state Rep. Lori Ehrlich (D), one of the bill's authors, told HuffPost in an email. "We should not be protecting the state with one hand and enabling manufacturers with the other. It's both inconsistent and counterproductive."
The bill, backed by Ehrlich and state Sen. Cynthia Creem (D), charges the Massachusetts pension board, PRIM, with selling its shares in companies that make more than 15 percent of their revenue from manufacturing civilian firearms, gun accessories and ammunition. PRIM is responsible for investing $71 billion held in the Massachusetts state workers' pension fund. As of January, the fund held equity in six gun or ammunition companies, a total investment of just over $5 million.
The proposal is the latest effort by public officials to disentangle themselves from a variety of financial products that invest in large, publicly traded gun companies like Sturm, Ruger & Co., Vista Outdoors, a corporation that owns a number of firearms and ammunition manufacturers, and American Outdoor Brands Corp., the corporate holding company of Smith & Wesson.
Other states and municipal pension funds, such as in California, Connecticut, Florida, New Jersey and New York City, have already re-examined their investments in firearms manufacturers. But the Massachusetts bill is particularly symbolic, given that the state is home to Smith & Wesson, the nation's most prolific firearms manufacturer in 2016.
The new bill comes on the heels of a letter Sen. Elizabeth Warren (D-Mass.) sent in February to nine of the biggest shareholders in major gun companies, asking them to divest to pressure firearms manufacturers to take responsibility for the harm that arises as a result of their industry.
"Your company is in a powerful position," Warren wrote. "You have reaped significant benefits from your investment in gun manufacturers, but have done little to reduce the violence and murders caused by their products."
"I encourage you take action to ensure that the gun companies in which you invest are taking steps to reduce gun violence."
But despite Warren's assertion that divesting from gun companies could leverage investors' financial power to prod manufacturers like Smith & Wesson into being more responsible corporate citizens, it's not clear that the threat of a state pension fund pulling its holdings would provide enough financial motivation to force gun companies to change course.
Although Ehrlich's bill would open the door for divestment, it is boards like PRIM ― not politicians ― that ultimately make decisions about how pension holdings are invested. And their role legally obligates them to make investments that are in the best financial interest of the fund's beneficiaries. The behavior of the companies the fund invests in, even if some deem them to be unethical, are outside the scope of the board's assessment.
Should the new bill pass, the board will consult investment experts on whether it can replace gun stocks in the fund's portfolio without increasing the fund's risk or sacrificing its return. If the answer is no, the board won't divest.
""We should not be protecting the state with one hand and enabling manufacturers with the other."
Ian Lanoff, a partner at the Groom Law Group who advises on several state pension funds and was involved in the Massachusetts fund before it was folded into PRIM, said divesting from gun stocks might not be such a straightforward decision.
Lanoff pointed to his experience representing funds in the 1980s, when groups were trying to divest from tobacco. Replacing tobacco stocks seemed easy enough, but barely any investment experts would recommend divesting at the time. In the end, Lanoff explained, the funds that divested lost money, although it's unclear if the losses were because they couldn't adequately replace tobacco stocks or because they made poor replacement investments.
Gun companies only make up a tiny sliver of the total stock market, which means a pension fund should be able to divest without hurting beneficiaries, argued Dean Baker, a senior economist at the Center for Economic and Policy Research.
"The idea that the pension funds would suffer in any major way from not being able to invest in [gun companies] is ridiculous on its face," Baker said, noting that fossil fuels, a similarly controversial investment, make up a far bigger share of the market.
If Massachusetts does ultimately choose to divest from gun companies, it may not end up damaging Smith & Wesson's bottom line enough to get the company to change in any meaningful way. But even without outside political and financial pressure, the Massachusetts gun giant ― as well as other firearms manufacturers ― are already facing a steep stock slump. Smith & Wesson's value has fallen by 30 percent since President Donald Trump was elected in November 2016, and North Carolina-based Remington, which cut its workforce by one-quarter last year, is expected to file for bankruptcy as soon as March 18.
And while Ehrlich stressed that the proposed bill isn't intended to target Smith & Wesson specifically, she hopes it will send a signal to the gun industry at large.
"Their time is up to change their business model," she said.
Support HuffPost
The Stakes Have Never Been Higher
Popular in the Community