The entire police force in a Western Massachusetts town resigned this week after citing low pay, shoddy equipment and unreliable vehicles.
The Blandford Police Department, which consisted of interim Police Chief Roberta Sarnacki and three officers, collectively resigned on Monday. The former employees reportedly cited several grievances in a joint letter of resignation to Cara Letendre, chairwoman of the Blandford Board of Selectmen, which is similar to a town council.
"The town is asking officers to patrol in cars that have no a/c, no snow tires, and no four-wheel drive, on days that have been 90 plus degrees, and previously in blizzard conditions," reads a press release from the resigning employees. "Officers look pretty ridiculous patrolling with sweat dripping down their face."
Sarnacki and former officers Chris Anciello, Gage Terlik and Krysten Scapin signed the release.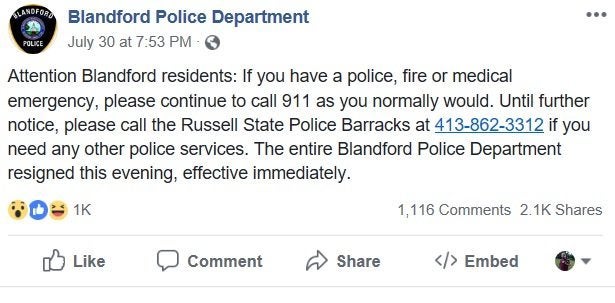 The four cited several other reasons for walking off the job, including nonfunctional radios, expired bulletproof vests and patrol cars with unreliable brakes.
"We are extremely embarrassed," they wrote. "Would you put your lives on the line in these conditions? I don't think so. They are asking us to do this … for $14 or $15 an hour."
According to the U.S. Bureau of Labor Statistics, the median hourly rate for a police officer in 2017, the year for which the most recent data is available, was $30.27 per hour.
"This was thrown at us last minute and we certainly didn't plan to not have a police department," Letendre said.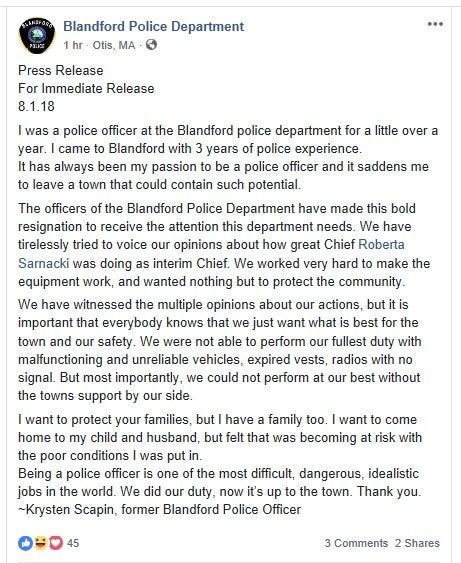 Letendre said the officers did not fully communicate their frustrations before they resigned. She added that the cruiser with the bad brakes was repaired recently. But she acknowledged the town has money woes.
"We just don't have the finances … small towns are struggling sustainability-wise," she told the Boston Globe.
The move left the town of roughly 1,200 residents without local police services. It's unclear how soon the town will replace its officers, or how many it will hire.
Officers from the Massachusetts State Police and Hampden County Sheriff's Office have agreed to temporarily patrol the area, according to Springfield's WWLP News.
"We have notified town officials that we … will assume any additional duties required in the wake of the resignations of local officers," state police said in a statement. "The residents of Blandford may be assured that the state police will continue to protect their community."
REAL LIFE. REAL NEWS. REAL VOICES.
Help us tell more of the stories that matter from voices that too often remain unheard.
BEFORE YOU GO