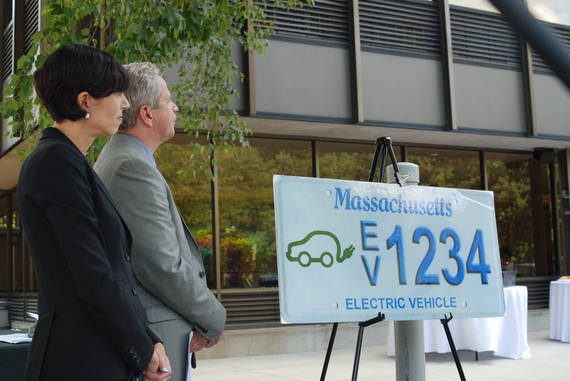 We know that some of the most important ways to get more electric vehicles (EVs) on the road are 1) provide consumers with incentives that will make EVs less expensive and more convenient; 2) get dealerships to actually make an effort to sell these cars; 3) get cities to promote EVs; and 4) get "butts in seats" by having people test drive the cars and experience them first-hand.
On Thursday, I joined Massachusetts energy and environmental agency leaders on a three-city tour promoting all of these topics. The events were held as part of the fourth annual National Drive Electric Week being celebrated in more than 145 cities nationwide.
Stop one was in Somerville, Massachusetts, where Mayor Joseph Curtatone celebrated his city's recent commitment to install public EV charging stations and bring 16 EVs to his municipal fleet. "Somerville is fortunate to have partners at the state... who are helping us strive for our ambitious goal of becoming a net zero carbon emissions city by 2050," said the mayor, who looked like he had fun test driving a Nissan Leaf and a Smart for Two at the event.
Massachusetts Department of Environmental Protection Commissioner David Cash congratulated Somerville and said that the Somerville project is being supported by MassEVIP providing $2.5 million in incentives to Massachusetts public and private entities, including municipalities, state fleets, and universities acquiring EVs and charging stations.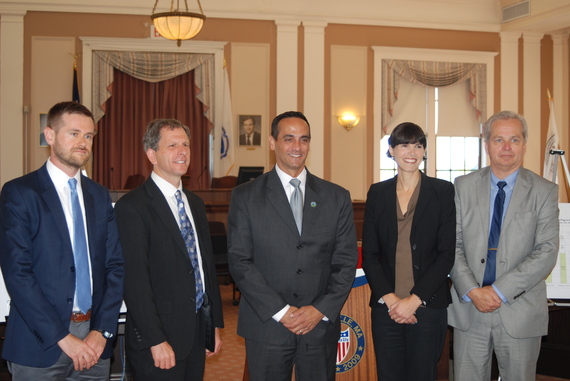 In June, Massachusetts Governor Deval Patrick announced a new EV rebate program that qualifies plug-in hybrid consumers -both those who purchase and those who lease -- for a $1,500 check. Full battery electric consumers qualify for $2,500. This is after the federal tax credit, which is worth up to $7,500. After three months, hundreds of Massachusetts consumers have applied for the rebate.
Stop two on our tour was the Nissan dealership in Marlborough, Massachusetts, which has sold more plug-in vehicles than just about any other dealership in the commonwealth. The dealership's Jim McCall told me he had definitely noticed a spike in interest in EVs among customers since the rebate was put in place, and that they are coming in already aware of many EV benefits. "Over the lifetime of an electric vehicle, owners can reduce fuel consumption by more than 4,000 gallons of gasoline, reduce fuel costs by thousands of dollars, and cut their reliance on foreign oil," said MA Undersecretary for Environment Martin Suuberg at the dealership event.
We hear over and over that dealerships aren't making an effort to sell plug-in cars -- that the new technology is something they don't want to spend time explaining to customers. Clearly this dealership has taken the time to train its staff and educate its customers about the benefits of plug-in cars. And they're smart. Customer satisfaction reviews for many models of plug-in cars are off the charts, and dealership and brand loyalty will surely go along with happy drivers.
The last stop on our three-city tour was a large office park in Wellesley, Massachusetts. "We are pleased to work with the state on this important program and install 16 EV Charging Stations at Wellesley Office Park," said Paul Crowley, Vice President and Managing Director, U.S. Asset Management, John Hancock Financial Services, which manages the property and received state funding to install charging stations.
Two women who drive their EVs to work at the office park, one with a Chevy Volt and one with a Smart for Two, shared with me how excited they are that they'll now get to charge their vehicles at work. Many of those attending the event on their lunch break ogled the cars on display --especially the Tesla Model S Steve Sanders had driven in--and considered how nice it would be to fuel their cars for free. Steve drew a crowd with his car and his enthusiastic stories about how much he loves to drive it and fuel it on sunshine -with the solar panels at his home. Just this month, Massachusetts' highest court issued a ruling that Tesla is able to sell its electric cars directly to customers without being part of the traditional dealership model.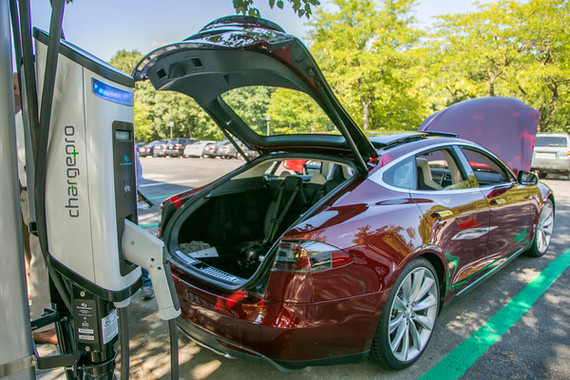 In conjunction with the three-city EV tour, which was organized largely by the MA Department of Energy Resources and the MA Clean Cities Coalition, Massachusetts Governor Deval Patrick said, "We are committed to deploying innovative strategies to reduce greenhouse gas emissions, bolster our energy independence and grow our clean energy economy. Our commitment, along with seven other governors, to getting [3.3 million] zero-emission vehicles in the eight states is a challenge I look forward to meeting, as it will have a strong impact on reducing harmful pollutants and promoting a more sustainable environment for future generations."
Massachusetts and all the other states have a long way to go to reaching the zero emission vehicle goals. In fact, Massachusetts alone will need to sell an average of nearly 27,000 plug-in cars per year between 2015 and 2025 to meet the goal. In the last year, it sold just over 2,000. But having doubled the number of plug-in car sales in the past year alone, Massachusetts is starting to charge ahead. And with continued and bolstered consumer incentives, investment in public charging infrastructure, education of the public, and partnership with business -- including car dealerships and large employers -- Massachusetts will go a long way.
Photo 1: example of MA EV license plate; Photo 2 from left to right: Oliver Sellers-Garcia, Director of Somerville Office of Sustainability & Environment, MA DEP Commissioner David Cash, Somerville Mayor Joseph Curtatone, Sierra Club's Gina Coplon-Newfield, and MA Undersecretary for Environment Martin Suuberg. Photo 3: Tesla about to charge up at Wellesley Office Park. First two photos courtesy of MA Dept. of Environmental Protection. Last photo courtesy of John Hancock Property Management.