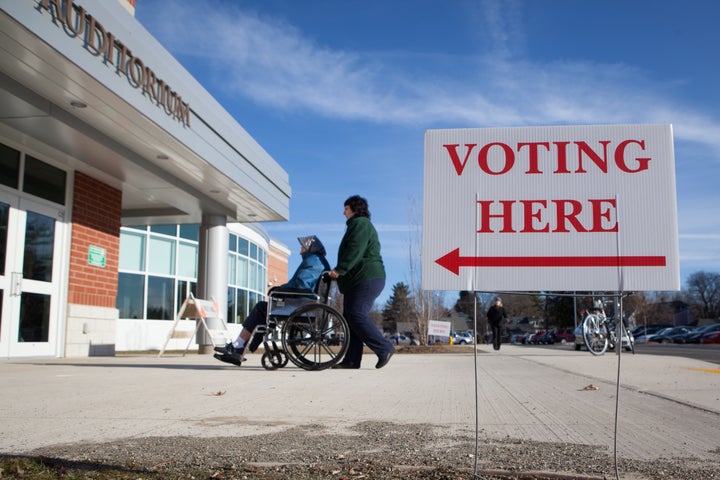 BOSTON (Reuters) - Massachusetts' top court on Monday upheld a state requirement that people must register to vote 20 days before an election, ruling in a case that could impact the ability of thousands of citizens to cast ballots.
The Massachusetts Supreme Judicial Court ruled in favor of the state's top election official by reversing a 2017 ruling by a lower-court judge who concluded the registration cut-off violates the state's constitution.
The 7-0 ruling by the court came in a lawsuit filed in 2016 by the American Civil Liberties Union of Massachusetts on behalf of two organizations, Chelsea Collaborative and MassVote, and several individual qualified voters.
The ACLU contended the 20-day restriction disenfranchises thousands of otherwise qualified voters. According to a brief the state filed, 34 states have deadlines requiring voters to register seven to 30 days before elections.
Justice Kimberly Budd wrote that while a registration blackout period could be so far from election day that it would interfere with voters' rights, the state had a rational basis to say it needed the 20 days to prepare for orderly elections.
"However, we acknowledge that, with the passage of time, voting regulations once considered constitutionally permissible may come to significantly interfere with the fundamental right to vote in light of conditions existing in contemporary society," she wrote.
Budd said that by imposing a voter registration deadline, the state's legislature has a continuing duty to ensure that the cut-off period was no further from election day than needed to conduct an election.
The ACLU did not immediately respond to a request for comment.
The decision reversed a July 2017 ruling by Suffolk County Superior Court Judge Douglas Wilkins that held that the 20-day cut-off violated the state's constitution.
Wilkins ruled that while Massachusetts could pass laws to ensure voter qualifications and election security, evidence presented at a trial showed no such necessity for the registration cut-off.
Secretary of the Commonwealth William Galvin, a Democrat who oversees the state's elections, appealed that ruling, arguing that the 20-day rule did not impose a severe burden on voting rights.
Galvin has proposed that the legislature pass a new law allowing election day registration. But lawyers for the state argued the issue of how to regulate registration should be left to the legislature to decide.
Galvin's office did not immediately respond to a request for comment.
(Reporting by Nate Raymond in Boston; Editing by Dan Grebler)
REAL LIFE. REAL NEWS. REAL VOICES.
Help us tell more of the stories that matter from voices that too often remain unheard.