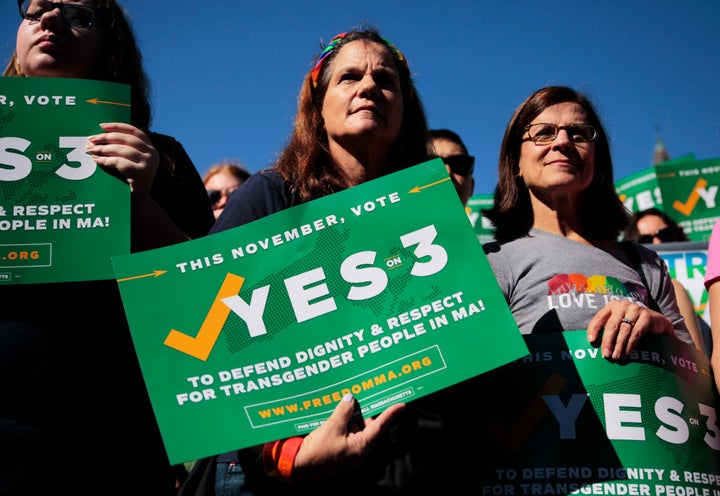 Massachusetts residents have voted to keep in place legislation that prohibits discrimination on the basis of gender identity, a major victory for the state's transgender community and their allies.
Bay Staters voted "yes" on Question 3, saving a 2-year-old state law that shields transgender people from discrimination in public places, including restaurants, hospitals and gyms.
The ballot question marked the country's first statewide referendum on transgender rights. Opponents of the anti-discrimination law have argued that it puts women at risk in public bathrooms. But a study released in September by the Williams Institute at UCLA School of Law contradicts that claim. It compared the number of crimes reported in public restrooms, locker rooms and dressing rooms the year the law was enacted and the year prior, and found no difference.
Transgender activists, including actress Laverne Cox, tirelessly rallied in support of the legislation in the weeks leading up to the midterms.
"Massachusetts has an opportunity to send a message to this administration, has an opportunity to send a message to the rest of the country that this is not who we are as Americans, that this is not who we are as human beings, that we respect the humanity of everyone," Cox said last month at a rally for the "Yes on 3″ campaign in Boston.
The vote comes on the heels of several anti-trans policies floated by President Donald Trump's administration, including barring trans soldiers from the military and narrowly defining sex so it would be determined by a person's genitalia at birth.
Transgender activists feared repealing the law could have triggered similar referendums in other states.
Chase Strangio, a transgender staff attorney at the ACLU's LGBT & HIV Project, reinforced how crucial the law's passage was to trans people in Massachusetts.
"For me, voting yes on 3 is a vote for my existence, it is a vote to affirm the truth of who I am," Strangio said during the "Yes on 3" rally last month. "This is really life or death."
Popular in the Community