Did you make it to Massachusetts College of Art and Design's epic 110th Fashion Show, "Illuminate"? One of the top art and design schools in the country, Massachusetts College of Art and Design (MassArt), held this year's show on Saturday, May 20th at MassArt Design and Media Center in Boston. How do I know it was epic? The school's reputation precedes them and this is is the third year I've had an opportunity to preview some of the senior collections.
When students enter the program in their first year, they immediately begin working on the collection they will debut when seniors. They can tweak as they go along but they must arrive at a theme and source for inspiration early on. They are asked to select five words that connect to their inspiration and ultimately translate into garments. "This gives them a structure to fall back on, a focal point and something to stand behind," says Jennifer Varekamp who, along with Cara Tuttle, works most closely with the seniors. During all four years students are mentored by dedicated and skilled instructors.
I'm always impressed by the high quality of student work but this year the depth of thought about each collection is even more intriguing than usual. In past years themes have included issues such as angst, healing, and transformation and are always well-pondered, mature and complex but also mostly self-involved. 2017's class, however, contemplates wide-ranging and more global concerns such as police brutality, women's rights and climate change. The sources of inspiration meld with their questions about the world and all its entanglements. Perhaps it is a commentary on the turbulent state of affairs, bewildering governmental structures and volatility of current day politics that led many of this year's themes to reach beyond the designers' themselves into the realm of human rights, environmental issues and social justice.
I was also particularly struck by these seniors' dedication, maturity, and layers of research conducted to enrich their collections. This kind of research aids in teasing out their themes, translating them to fabric, palettes and silhouettes. The students I met appear to be well rounded, "woke", thoughtful and most importantly, having a good time in the midst of incredibly hard work. One senses their pride, dedication, and commitment along with their craftsmanship and eye for detail, in their drawings as well as the actual garments.
Along these lines, the collections I viewed seem to fit into one of several theme genres:
Female Empowerment/Overcoming Obstacles
Afshan Iragorri calls her collection "Azaad" which means "free". It is a tribute to women in the Middle East/South Asia (she is from Pakistan) and celebrates their movement toward empowerment. In creating her pieces Iragorri says she had no choice but to contemplate the countless past injustices such women faced yet she was determined not to dwell only on the bad aspects. Instead she conceptualized these women "moving towards light at the end of a long dark tunnel". She wants her customers to feel beautiful wearing her creations and uses details from more traditional middle eastern fashion within modern silhouettes. One such item is a cinched-waist coat enhanced with colorful embroidered reflective mirrors. (I've often seen these embroidered mirrors on purses and scarves so there was familiarity and admiration for her unique translation of a seasoned tradition. ) On one side of Iragorri's standout coat is a brightly hand-painted bird (here she quite literally compares women to trapped birds in the midst of gaining freedom). There is even a huge birdcage, created from fabric-covered hoop skirt boning, beneath the coat thus an additional juxtaposition between being free and caged. The coat is colorful "because in times of celebration color is used," she says.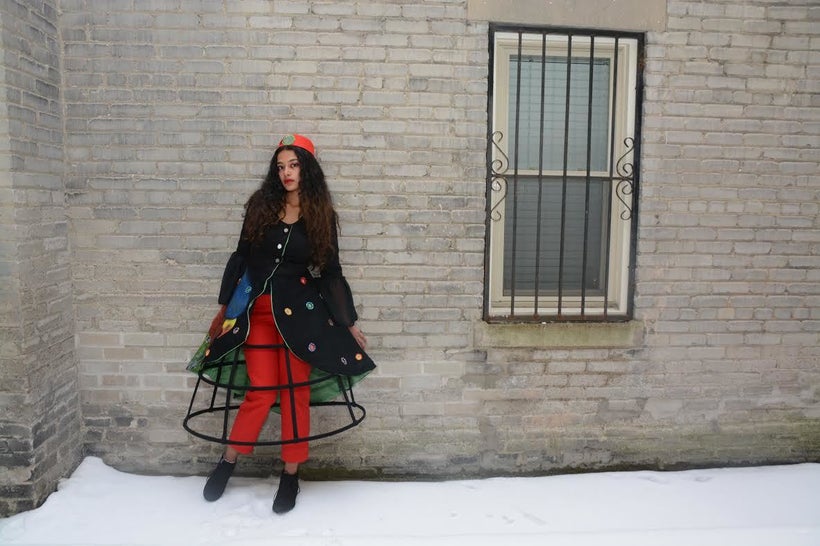 Somewhat ironically the headpiece is a pillbox shape, usually worn by men, also featuring the embroidered mirrors on the front. By showing these hats in collection she announces that they are not solely for men. Some models wear hijabs to suggest that women should have the choice of whether or not to wear a head covering at all.
Iragorri's shoe message is military-style combat boots for "you-can't-mess–with-her" type women. The collection also includes pants outfits with lacing and short jackets, bright colors with a sprinkling of the embroidered mirror detailing. The tradition of being covered overall remains but her accessories cleverly carry on her theme via models holding empty bird cages.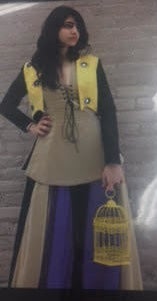 Ingrid Regil has titled her collection "Origins" which references the Mayan culture that existed before the Spanish came. The collection reflects Regil's awareness of her cultural references and her history. It is important, she asserts, to understand the dynamic between assimilating as much as necessary while also being sure to retain one's history and knowledge of from whence one came. Thus she incorporates rituals in her designs as well as some historical elements such as pyramid shapes, symbols of the universe in points (old styles from Guatemala).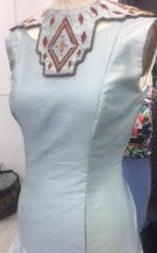 Additionally she uses embroidery based on traditional symbols including beading and removable neck pieces. She has exclusively has evening wear "with strength" she says. Nothing flimsy or transparent is used and Regil tackles the idea of mixing the traditional yet making it different and into one's own. Her fabrics choices are "strong not flimsy" and the color palette reflects back to ancestral art and colors.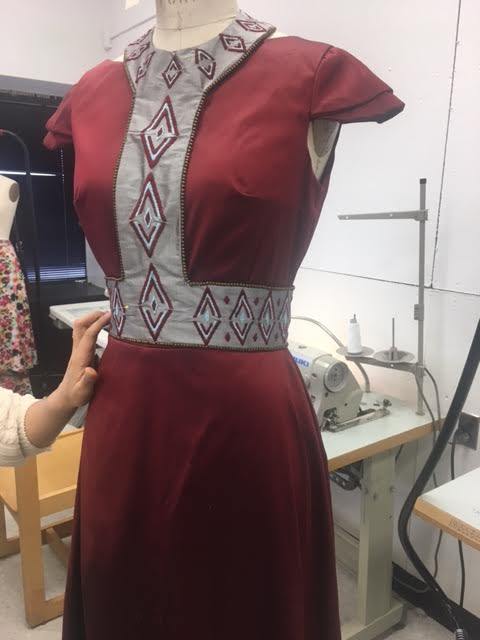 Dara DeFreitas' "Refraction" collection is inspired by New York sky scrapers and the idea that people are "rays of light" and although objects "may refract," people keep going. To this imagery she adds opalescent crystals and fabrics that resemble mood rings. She wants her clothing to be sexy but not too revealing and although she started out intending to make lingerie, in the midst of creating, it began to look like resort swimwear. The construction is reminiscent of architecture because she has several moving parts and seams and varying geometric designs.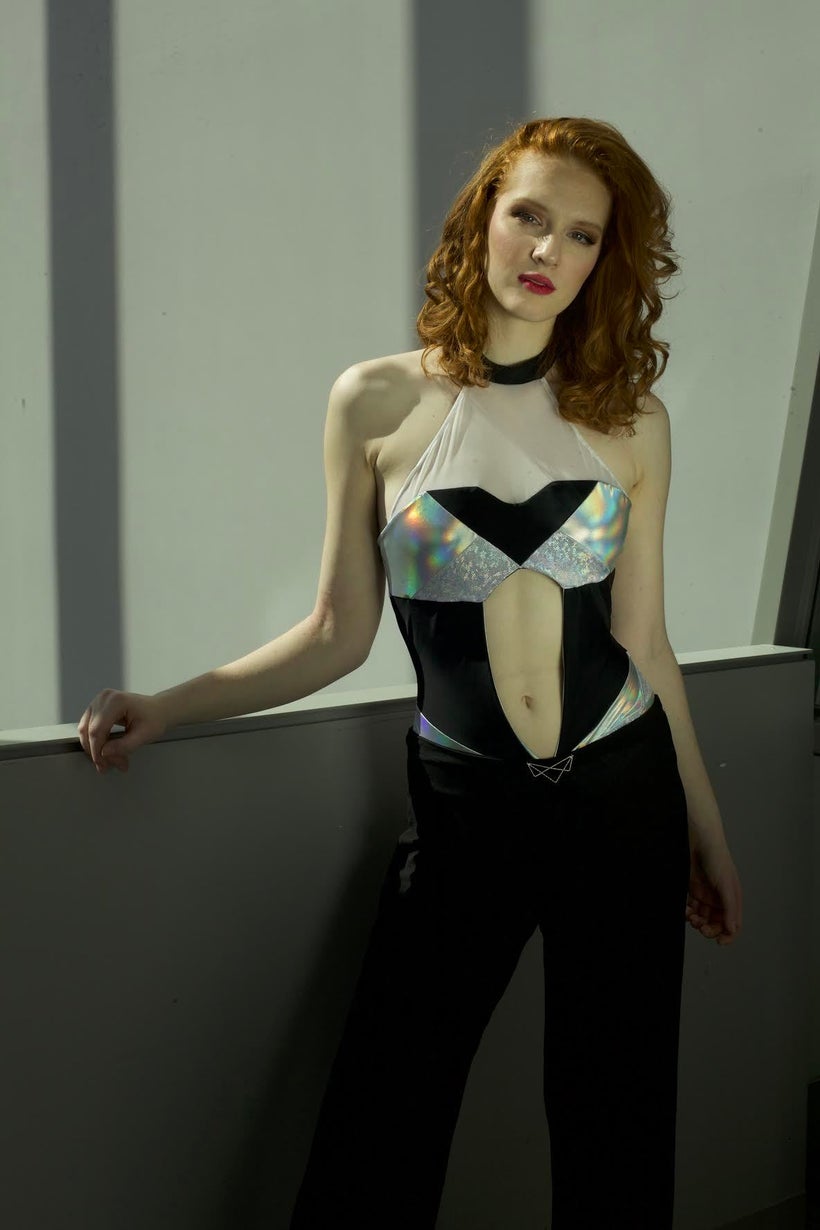 DeFreitas uses spandex (which she found was hard to sew but of course she did not give up) and a breezy chiffon kind of material. Her palette is black, white and opalescent. The swimwear is sleek and appears well fitted on her model, which seems daunting because the fabric is so unforgiving. Just as I was thinking it would be a shame to waste such a gorgeous piece on a pool or the ocean, DeFreitas shows me her coverups which include black Diane Von Furstenburg-style wrap skirts and pants. Each one dazzles with rhinestone clasps, making them sophisticated enough to become an actual outfit rather than limited to a coverup.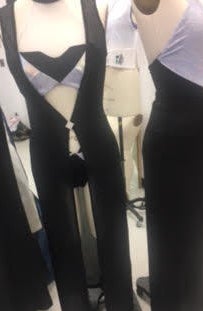 Kalki Adgeh's "Afrikan Panther" collection first blows me away with her hand-painted platform lace-up shoes adorned with tribal markings.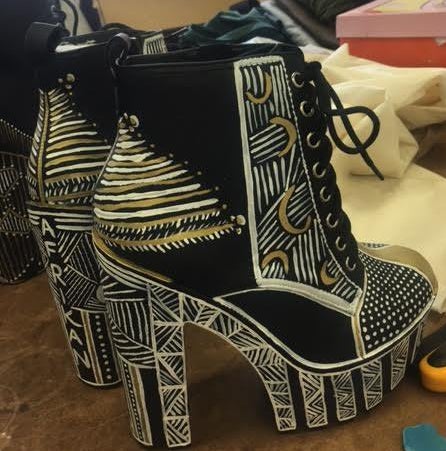 Like Iragorri she is making a strong yet feminine statement with the shoes. Adgeh's inspiration is the Black Panther movement and what it stood for. She strives to keep its essence and make it available to modern women. Ethiopia, her home country, also factors in as she wants to keep tradition and cultural experiences while incorporating Ethiopian views about life. The designs and art work are graphic and geometric and she lets everything flow around them.
In her work she contemplates what it means to be Afrikan and the fact that the vibrancy and issues the Panthers fought against are still relevant and important. "I want my work to be thoughtful and not just pretty, cute or sellable." One of her pieces is modeled after bullet proof vests. Her sartorial argument is that the persons carrying the guns don't need such vests since they are not the ones in danger, but others do.
Her designs include an elongated oval shape thats mimics a shield such as that carried by a Masai/Zulu tribe warrior. The concepts of protection and shielding are important to her as well as the need to respect and preserve culture.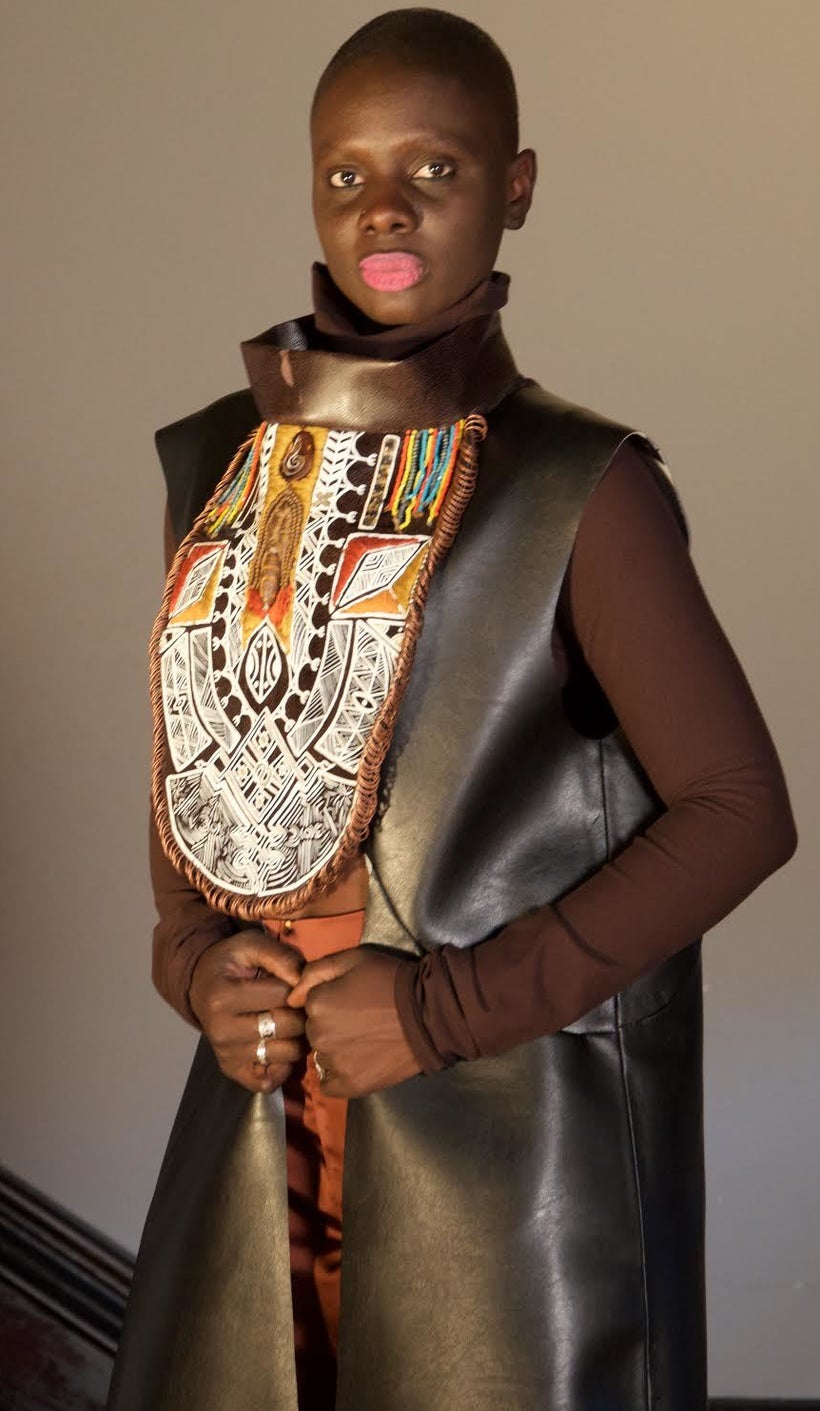 "These issues are bigger than me. I love blackness, embracing how I grew up and incorporating the reality of life." Adgeh thinks a lot about current events and the messages she wants to present. "Black women are impacted by Euro beauty standards and often feel like they don't have a voice. I want my work to be my voice."
She considers her work RTW, rather than street wear, for the "woke" customer.
Bre Budryk titles her collection, "Pressure Makes Diamonds," based on her desire to explore the progression of going through something difficult yet ultimately overcoming it. This journey she likens to the process of coal turning into diamonds, dark moving to light, empowerment and enlightenment. She is also of the mind that the "body can create it's own color" by using sheers and aiming to contour the fabric around the female body, showing how fit can flatter and "embellish" the body.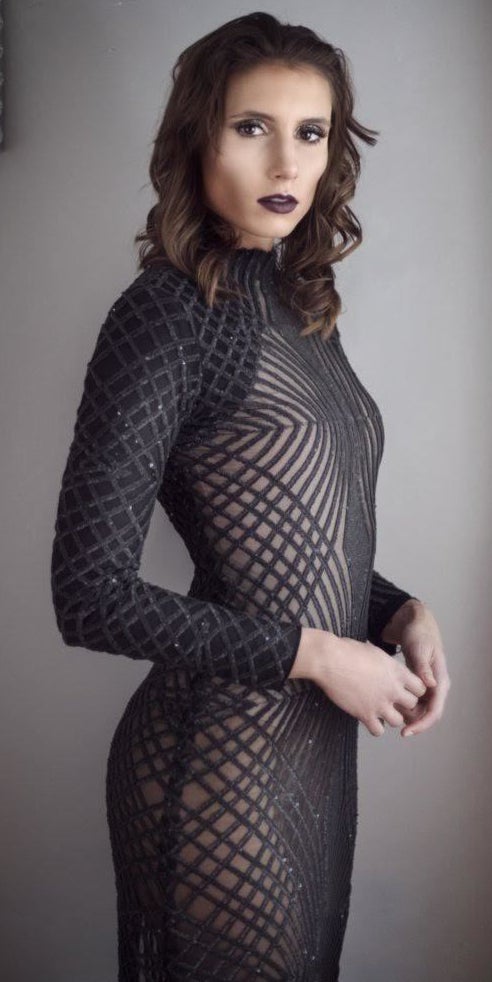 These ideas may seem in contrast to her use of high necklines, sleeves and collars but Budryk shows that sexiness does not mean one's skin has to show. The key instead is a predominance of transparent fabric and precise detailing. Her color palette of grays and blacks, fluid fabrics like second skins, beading and hand work, showcase light peeking through. She has studied the body in her previous art classes and believes that skill enhances her creations.
Nature/Plants/Scientific Elements
Jessica Soter created "Elytra" which refers to the protective wing case for the hind wings of beetles. Although usually drawn to plants and nature, she is not a beetle fan in particular and they actually kind of scare her. This collection nonetheless was inspired by beetles, particularly their hard wings in contrast to the protective softer shell. Thinking about these textures drove her to play with sheers in fabrics as well as metallics and leather. Her research revealed that there are many types of beetles so her longer evening gown is representative of the Goliath beetle which is one of the largest species but also has an intricately designed shell. The dress is delicate and ethereal, with fine detailing – beading and embroidering, mixed with varying textures. I'm struck by the beauty yet the undeniable resemblance to the beetle which some might not consider beautiful. The result is quite stunning. Soter has found the beauty in the ugly.

She wanted "something armored and protected." She also wanted to capture the iridescence of the wings. (Her metallic neck piece looks like a gorgeous set of beetle wings.)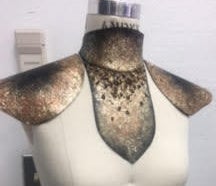 Her palette is mostly black with metallic accents and an occasional surprise of red. My eyes are drawn to a short-sleeved black leather dress with enormous padding under the shoulders. It took time for her to learn how to manipulate the leather and necessitated inserting a layer of padded fabric to keep its smoothness.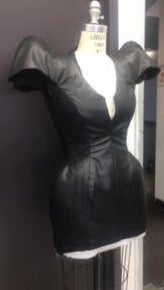 Part of these students' work is to find solutions to problems that occur with fabric, fit, etc. They must be willing to explore, discover and put in the time needed on the road toward perfection.
Nicole Dupuis' collection "Polinators and Plants" blooms from her own life amidst her family-owned garden center. "The tasks of growth and pollination and getting something to prosper" are more than familiar to her. Bees hold a special meaning and are celebrated via the honeycomb shape manifested in brilliant smocking accents. She also uses laser cut leaves on some gowns as well as drill-pressed florals.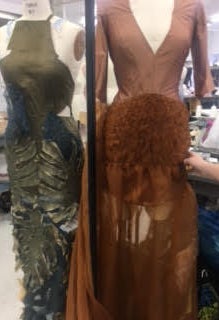 Her palette is usually pastels but in this collection there are bolder colors including metallics. She loves texture but not patterns, leaning towards soft chiffons and fabrics that show movement which are key to her "texture message". Some of her gowns contain messages that are quite literal.
Sylvia Lund created "Foliose" which means leaf-like, she says. Like Dupuis, Lund's collection is inspired by leaves and plants and includes pressed leaves and fabric flowers.
Lund is also motivated by skeletal shapes and uses soft colors like blush and sage. Her fabric flower bouquets grace the collars, sleeves and open backs of her gowns with intriguing shapes. She makes use of silks, linens and natural fibers. "RTW is more fun," she says about her collection.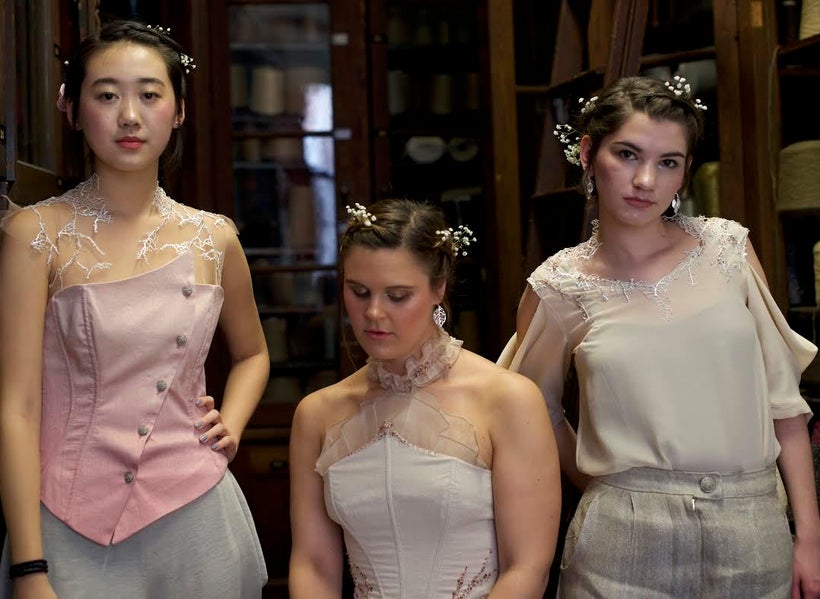 Her collection boasts flowing silhouettes with peeks of skin. Lund also embraces corsets and body-hugging silhouettes, blouses with cutout shoulders, and an exquisiste zig-zag trail of buttons down the back. She enjoys large draping and embraces diverse models.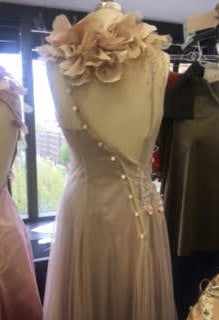 Madeline Ventresca's line is called, "Trinity" but is not necessarily meant in a religious way. The number three, instead, is important to her as it equals "beginnings, middles, endings and past, present and future as well as the symmetry of nature".
She includes a modern formal jumpsuit and bridal wear and likes the precise placement of lace. She also enjoys "balance" and a "neutral" color palette. The bodice of her displayed jumpsuit is gorgeous and looks as if flowers are growing out of the model's skin. There is a wonderful proximity of feminine and masculine.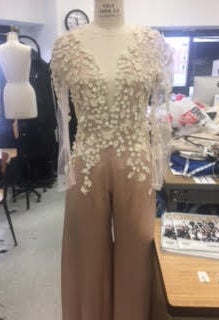 Ventresca admits to being inspired by menswear silhouettes and her attraction to tailored elements come from working with her cousins who are tailors. Her favorite colors are blush, taupe, gold and white.
As with most of the students, Ventresca admires texture as evidenced in her alpaca wool and angora coats with fleece backing. "No bunnies were harmed," she is quick to say.
Some of her items have a vintage look but of course they aren't. To achieve this, she adds vintage detailing such as a row of small fabric covered buttons and pleated wool knickers.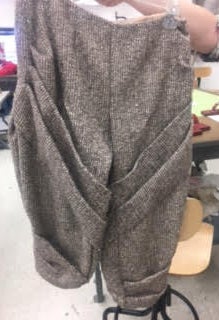 Cassandra Gossett, creator of the "Cirque de la Luna" collection says the title translates to "moon circle" and is based on the concept of Cirque du Soleil meets the moon. Her clever term for this style of clothing is "costume couture" and she adds that burlesque is a major influence. Who will wear these frisky items? I ask her. "People who can have fun with fashion." She says she's "obsessed with fringe" and texture. Each of her looks represents a circus character, such as ringmaster, trapeze artist, etc. She chose fabrics like neoprene, currently trending, with netting underneath for structure as well as reflective fabrics. Even the hula hoop she re-purposed is surrounded by fringe.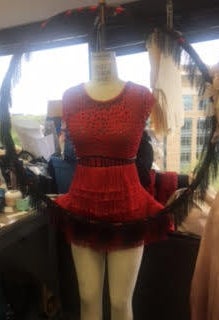 During my visit she was hand-beading thigh high boots. There is an Alice in Wonderland feel to the collection and it definitely gives off costume vibes but they are intentional. The work is so detailed and well-executed and for those who care about wearability her items can function as separates. You definitely haven't seen these silhouettes before though. The corset top with bat wings at the waist, the venetian blind fabric! And who wouldn't want a pair of those breezy black striped pants with legs shaped like half a pear?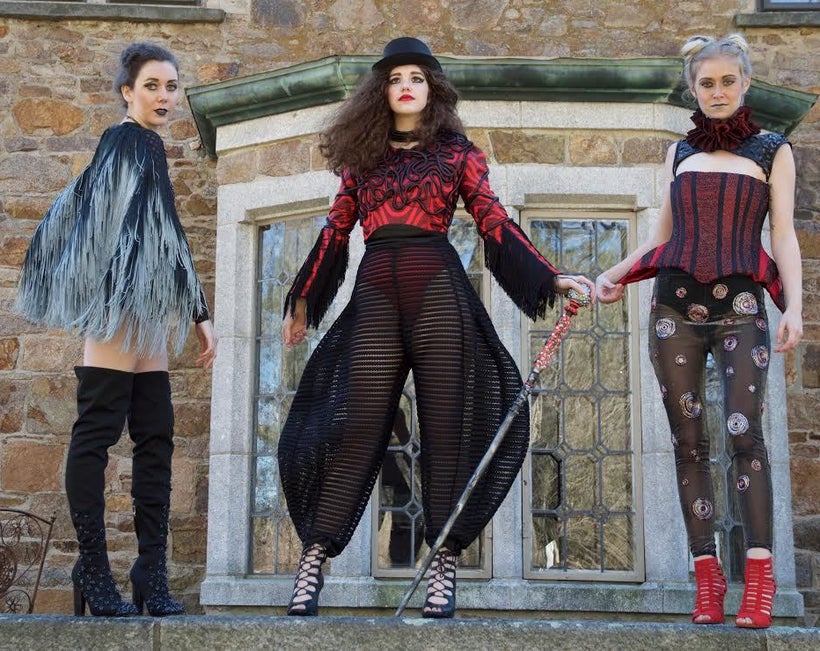 Colleen Ellison created "Electric Lady" to be a fusion of 60s psychedelic and 90s club wear inspired by the comparable music scene. Her research involved those periods and she recreated them in her own image so outrageously bright colors make a huge appearance. Ellison celebrates self-expression here with "creative and playful" looks including giant, plastic flowers, polyester merged with fringe, colorful button placement ala Patrick Kelly, lots of transparent fabrics and plastic Mary Tyler Moore-reminiscent clothing. She even includes clear plastic jeans trimmed with purple fringe.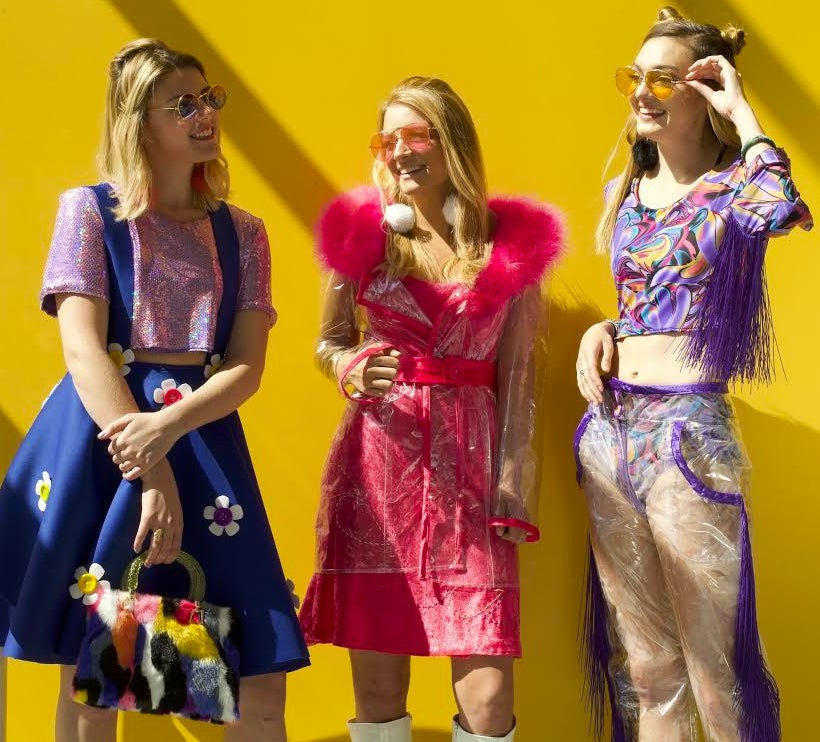 Her delightful clothing is on happy-overload and includes an almost neon fur patchwork coat, maribou and more fringe trimmings, plenty of felt fabric, cutouts and add ons.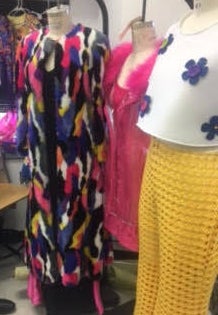 Ellison has fashioned a huge craft project gone right. This bright, cheery collection will let nothing rain on its parade.
(DeFreitas' collection could also fit under this genre, as it was influenced by New York architecture as well as the previous category of overcoming obstacles.)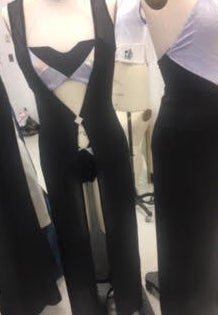 Kathryn Higham's collection is called "Falling apart" and is inspired by decaying architecture. It took me back to my recent Cuba trip but her vision is based on Paris buildings. What is manifested visually adds an element of character. For her there is "something captivating" about buildings in disrepair. "You can see time," she says. She creates mainly evening wear and had to learn how to build the understructure, ultimately using wire in layers. Her complex pieces are made to mimic the complex architecture that is her muse. There is often beading at the neck, palettes of gray, blue and rust, and silhouettes that follows the body but are not painted on. Her one sleeve dress is a knockout.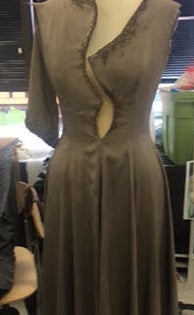 Her shapes are riveting and fresh. One short gown looks like two dresses (of differing silhouettes) layered, one on top of the other, to form a new shape similar to early Commes de Garcons pieces. Within Higham's work I can detect the boldness of the building structures she admires.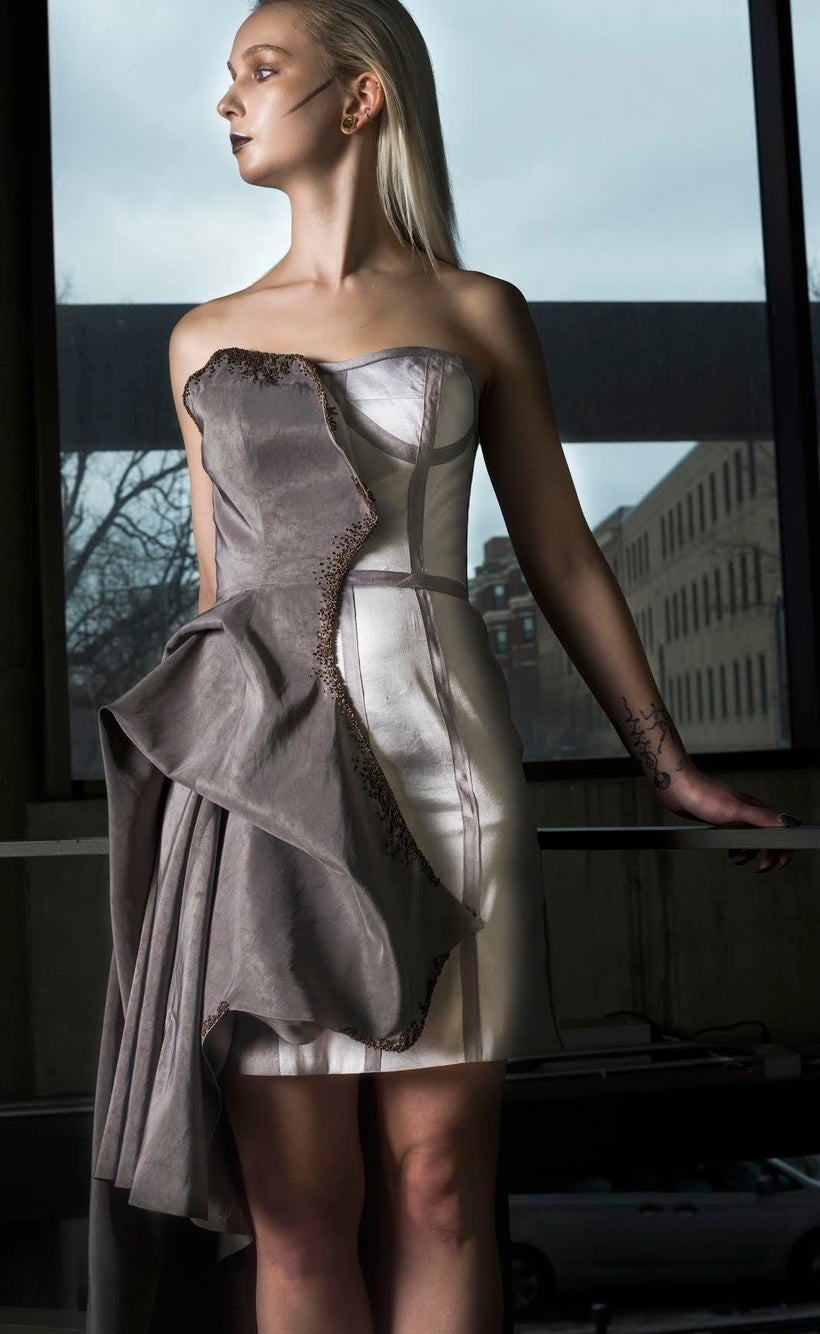 This year MassArt's student designs mirror what is important in the world such as empowerment for those who are often disempowered as well as concerns about science, the environment and social issues affecting women and people of color. Their work shouts that fashion is not trivial; it indeed matters. So — see this work, reward it, honor it, seek it, buy it. You can be certain that it is much more than a vanity affair. Too often we think of fashion as trivial but these students have honed long-lasting life skills, including critical thinking, problem solving, imaginative power and a myriad of patience.
Calling all HuffPost superfans!
Sign up for membership to become a founding member and help shape HuffPost's next chapter
This post was published on the now-closed HuffPost Contributor platform. Contributors control their own work and posted freely to our site. If you need to flag this entry as abusive,
send us an email
.