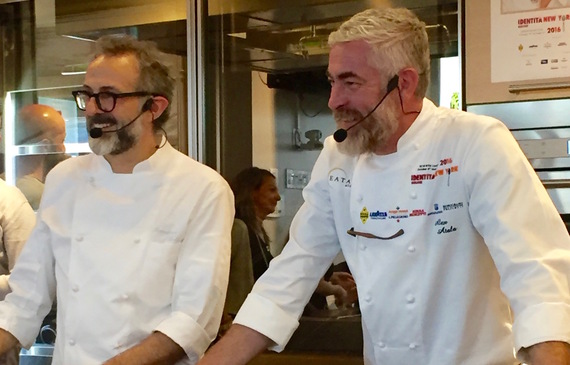 Chefs, in particular those who enjoy global visibility and celebrity appeal, are somehow expected to play the role of modern maîtres à penser and to take the lead in introducing changes in the way we produce, eat, and dispose of food. While some famous chefs are not particularly comfortable in such position, which comes with high expectations and even higher risks, others have embraced it fully. While they continue their work in their restaurants, they also write, speak, and launch initiatives that are meant to make people think and, hopefully, modify their behaviors. In the US, for example, that's the case with Alice Waters and, more recently, Dan Barber.
Recently, two international stars of the culinary world, Massimo Bottura and Alex Atala, gave a cooking demo that was also a talk about the activities through which they connect their culinary expertise with urgent issues in the food system. The seminar took place at Eataly in New York City in the framework of the seventh edition of Identità Golose, the brainchild of Italian food journalist Paolo Marchi. It is a series of events in which well-known culinary practitioners have the opportunity to interact directly with the public through dinners and hands-on sessions.
As different as Bottura and Atala may be in terms of their personal background, experience, and temperament, they seem to share a similar worldview on important themes, which they expressed with passion and conviction. Both highlighted the importance of digging into one's food memories, traditions, and cultural origins. However, this research into ingredients and techniques is not wrapped in nostalgia, but rather projected towards the future, with the goal of carrying some old elements into current perspectives.
Such recuperation of the past is guided by concerns about larger issues that go beyond the kitchen. Bottura underlined the problem of food waste and the contributions chefs can provide by collaborating with food security experts, designers, and architects, so that nutritious and flavorful meals are made available to the needy while creating a sense of community and participation. The Italian chef recently initiated soup kitchens that used leftovers and undistributed food in Milan during the Universal Exposition and in Rio during the Olympics, with the collaboration of Atala, who is from Brazil.
Atala, on the other hand, emphasized problems regarding biodiversity (he illustrated the case of the Amazon), as well as the legal and administrative difficulties producers and chefs may encounter when working with local and artisanal products. In fact, these may not meet the requirements of laws that are often shaped to the advantage of large industries. To make their point, Bottura made passatelli, a typical dish from his native Emilia Romagna region, using leftover pizza, while Atala offered brisket with onions and bacurí, a Brazilian fruit, as well as a tasting of honey from native South American bees (not in stores due to administrative regulations).
Both chefs embed their professional activities within larger projects aimed at introducing sustained and transformative innovation. Both happened to mention design as a possible tool to achieve such goals. From this point of view, they appear to have embraced the approach that one of the most renowned contemporary chefs, the Catalan Ferran Adrià, has placed at the core of his culinary exploration. His history and contributions are the theme of Appetite for Innovation: Creativity & Change at elBulli, by M. Pilar Opazo. In depth and with great accuracy, the book analyzes the processes, systems, and organizational arrangements that have allowed Adrià to exert an extensive and enduring influence on the culinary world, beyond his culinary inventions.
Opazo argues that "innovation that is able to enact changes in a field is rather the result of concrete and collective practices that make it possible for new knowledge to be understood, recognized, and legitimized by the public." Such results imply a successful dissemination and legitimization of dynamics and procedures beyond any individual business into the professional context at large, in this case the fine dining industry, as well as among consumers and food enthusiasts. In fact, the author demonstrates how elBulli was "not concerned with the production of final products and services, but with encouraging permanent processes of discovery." This kind of inspiration requires that chefs and their organizations learn to thrive in uncertainty, which can then be turned from a hindrance into a source of "radical novelty."
Like Adrià, although in their own way, Bottura and Atala are trying to introduce not only novelties in terms of materials, methods, and dishes, but also new concepts and guiding principles that are meant to foster long-lasting paradigm shifts in various aspects of the food system, moving it toward social justice, food security, and environmental sustainability.
Popular in the Community