Massimo Sciacca is perhaps the most important Italian photojournalist around. In 1998, he received first place at the World Press awards, and in 2015 he will be celebrating 30 intense years of work in one of the world's most difficult and riskiest professions.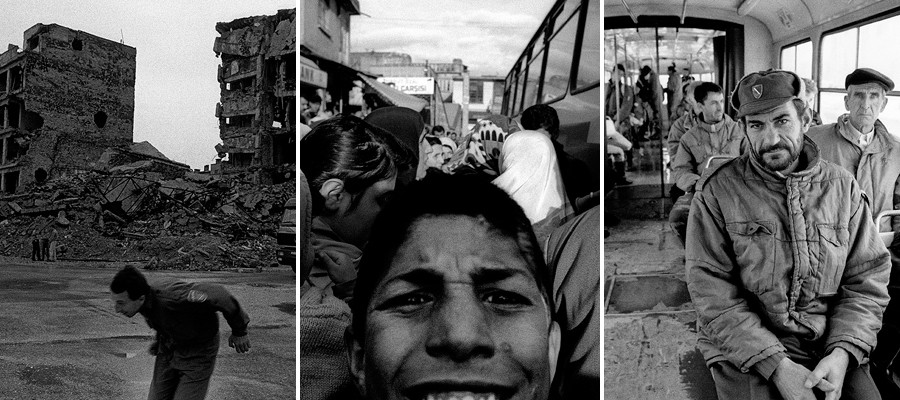 Since the advent of web-based reporting, being a photojournalist has meant being a photographer and film director at the same time. Sciacca found himself extremely suited to both aspects of the profession. Whichever form of media he uses, his ethos always remains the same: that of a true-born photojournalist guided by intuition.
He explains it best himself, when he talks about the jobs he does: "Usually I arrive somewhere with a simple outline. Curiosity and contact with the people in the street are often the key to opening up the doors that incredible stories are hiding behind," he told HuffPost. He always travels alone, except when he is covering news.
"I prefer to travel for myself," he explains simply, "because it is the best way to come into contact with the reality that you want to convey. When you're covering the news it's inevitable that you'll build up friendships and working relationships with your colleagues in the field."
Looking back at his travels puts his life in perspective: he was present at some of the most important conflicts of the last decades, and has been to many countries where danger is ever-present. The fact that he could have been killed at some point in his career is something he always keeps in mind. "When you choose this profession, you need to be aware of the possibility that you might not come back. Uncertainty lies around every corner, and it's likely that you'll never really know when and how close you are to the possibility of death."
In essence, being a photojournalist means coming into contact with hell on earth every day. It is difficult not to carry all of that horror with you. What is it like to be on a battlefield one day, and the next be calmly watching TV in your living room? "Choosing to report conflicts," Sciacca says, "has been an important lesson in humility. The people you meet, who are often victims of every kind of violence and abuse, convey a dignity that you can't ignore once you return home. It definitely changes your everyday life."
The experience that had the greatest impact on him occurred in Sarajevo, which he considered a second home. "The conflict in former Yugoslavia deeply affected my private as well as my professional life. The friends I made in Bosnia I am still friends with today, all those years later."
In terms of change, it has not necessarily been easy for Sciacca to adapt to the digital age. In some ways, he has not really adapted at all: he continues to work with analog film and in black-and-white. Even though classical formats have given way to new technologies, and color has become an obligatory part of his profession, he has thankfully maintained his reputation as a cutting-edge photojournalist even in a digital world.
So, what has he taken from 30 years working in extreme environments? "Having seen and reported so many things," he explains, "is a double-edged sword: the satisfaction of doing the work contrasts with the necessity of raising the bar for future work." In other words, the game is still on, and the best is yet to come.
This post originally appeared on HuffPost Italy and was translated into English. See selections from Sciacca's career below.
Calling all HuffPost superfans!
Sign up for membership to become a founding member and help shape HuffPost's next chapter
BEFORE YOU GO
PHOTO GALLERY
Here Are The 12 Cities That Will Shake Up The Art World In The 21st Century