Here's something you don't see every day.
A massive alligator, easily as long as a minivan, was caught on video crossing paths with nature enthusiasts in central Florida on Sunday, in a scene that was described as "very exciting" by one brave eyewitness.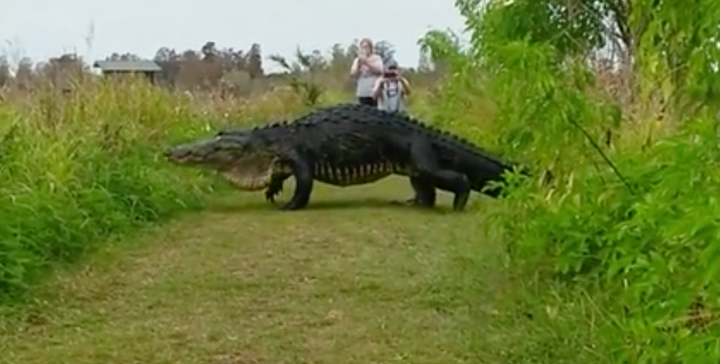 "I am out there a lot taking pictures and walking," she said. "The gators cross often and I saw this one coming so I wasn't scared, just gave him space. They just want to cross from one marsh to the other."
It took about a half-minute for the Goliath of a gator to completely cross what appears to be an 8- to 10-foot-wide path within the 1,267-acre preserve. In the background, several other people are seen gawking with cameras in hand.
Female alligators rarely grow to be longer than 10 feet, although males can reach greater lengths. The largest alligator captured on record in the state was a little more than 14 feet long, according to the Florida Fish and Wildlife Commission.
Back in June, another mammoth of a gator was filmed wandering around on a golf course in Palmetto, Florida ― about 70 miles southwest of the Circle B Bar Reserve. That creature was estimated at around 15 feet in length.