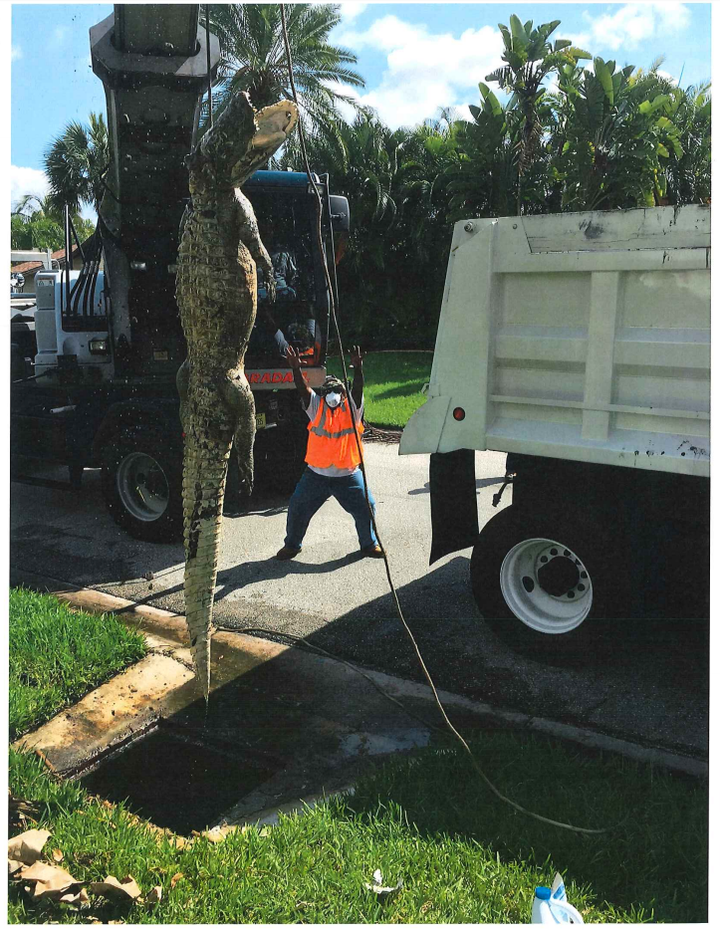 Authorities say an "abnormally large gator" was pulled from a southwest Florida neighborhood's storm drain Monday following calls to the sheriff's department about a foul smell.
In a statement, Lee County officials say they determined that the odor was consistent with a decaying alligator. What they found beneath the ground, however, was described as highly unusual.
Inside the 4-foot-wide catch basin, Department of Transportation officials reported hooking an 11-foot-long gator, one they were photographed hauling out of the Whiskey Creek neighborhood with an excavator.
Lee County's DOT says they typically handle one to two dead alligators in storm drains a year but rarely ones of this size.
"DOT generally is alerted to such situations by reports of odor coming from a catch basin or when drainage is backed up for no obvious reason," the county said in an emailed press release.
Lee County DOT Director Randy Cerchie called it business as usual.
"This was an abnormally large gator, but removal is part of what we do," he said in a statement.
The big question: How did it get in? The county describes the pipes leading to the drain as only about 14-inches by 24-inches.
"We don't usually see gators that big because our pipes are not that big," Cerchie said.
The Lee County gator's body was hauled away in a dump truck to a DOT site that's designated for dead animals, and there it was buried, the county said.
REAL LIFE. REAL NEWS. REAL VOICES.
Help us tell more of the stories that matter from voices that too often remain unheard.
BEFORE YOU GO