Are you ready for one of the most comprehensive anthologies of Japanese gay manga available in the English language?
"Massive: Gay Erotic Manga And The Men Who Make It" is an effort from Graham Kolbeins and Anne Ishii that documents the work of nine different artists operating within the world of gay manga. Published by Fantagraphics Books and designed by Chip Kidd, "Massive" is a groundbreaking work that immortalizes an often over-looked corner of the queer art world.
In order to better understand "Massive," The Huffington Post chatted with Kolbeins.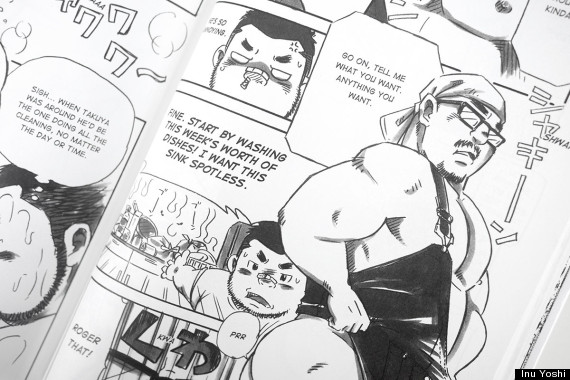 The Huffington Post: Why did you decide to embark on this project?Graham Kolbeins: Way back when I was a high school student in the early 2000s, stumbling across images of gay manga online was a watershed moment for my budding queer identity. It felt like a wall had been broken down between the concept of gay culture I was used to -- the limited representations of homosexuality presented by American mass media -- and the wide world of possibilities implied by these images coming out of Japan. Whether it was a mischievous smile on Jiraiya's hulking pin-ups or a tender picture of robust, big-bellied men cuddling in Seizoh Ebisubashi's manga, these artists were picturing unique visions of gay desire that resonated deeply with me.
I sought out all the Japanese-language gay magazines and manga I could find, figuring that eventually some publisher would put out English translations of these works. A decade went by and not a single translation of had been published. It's crazy -- our book represents only nine artists, but there are dozens more making gay manga in Japan, and their work has been criminally underrepresented in North America.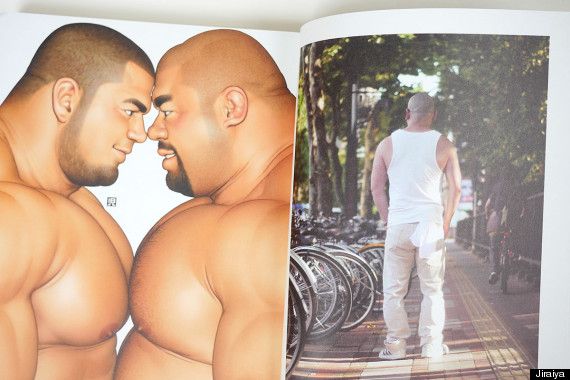 In 2012 I got sick of waiting and decided to try interviewing gay manga artists for Future Shipwreck, my art blog at the time, but my grasp of the Japanese language was untenable. My friend Michelle Borok put me in touch with the multi-talented writer Anne Ishii, and it turned out Anne was not only fascinated by gay manga, she'd already been translating some of Gengoroh Tagame's work for the private collection of graphic design god Chip Kidd. Anne, Chip and I teamed up and pitched a pair of books to the late, great PictureBox -- "The Passion of Gengoroh Tagame," a retrospective of work by the undisputed master of gay manga, and "Massive: Gay Erotic Manga and the Men Who Make It."
Dan Nadel at PictureBox was very supportive of our enthusiastic pursuit, despite the fact that the American market for gay manga was totally untested. Anne and I traveled to Japan and spent eight days running around meeting as many mangaka as we could -- all these men who had been faceless idols of mine for years. Tagame generously connected us with a number of the artists who ended up being featured in "Massive." It was amazing getting to know them, hearing about their lives, and learning first-hand how the publishing industry in Japan operates and the conditions by which these groundbreaking work had been created. The interviews we collected on that trip provided the foundation for Massive.
In the meantime, Anne and I started a gay manga fashion brand called MASSIVE that brings this work out into the world on the bodies of fans everywhere!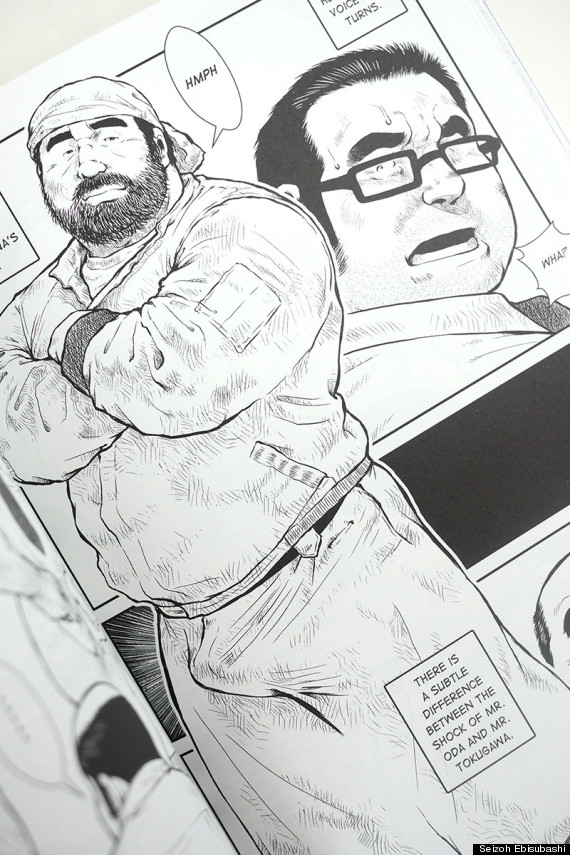 What is "Massive"? Why is this important?"Massive" is the first English-language overview of gay manga as a genre, offering illustrations, photography, essays, translated manga and profiles on nine of the most influential artists making work in the field today: Gengoroh Tagame, Jiraiya, Seizoh Ebisubashi, Gai Mizuki, Kazuhide Ichikawa, Takeshi Matsu, Kumada Poohsuke, Inu Yoshi, and Fumi Miyabi. Because these artists' output has previously only been accessible to an English-speaking audience through fragmented JPEGs and bootleg "scanlations," we wanted to go beyond simply translating their work and provide some useful context on the artists themselves. I hope "Massive" allows readers get to know these unsung heroes of queer comics, intimately.
Japan's manga industry is one of the most robust comic markets in the world, and its conditions have created a platform for queer art that has no easy Western corollary. At the same time, queer culture in Japan is still very much underground and you have to seek it out if you want to to find it. Ironically, there exists a much more popular genre of manga focused on male-male erotica in Japan known as yaoi, or "Boy's Love" (BL) -- manga written primarily by women for a female readership. While BL and gay manga are definitely intertwined in some fascinating ways, there remains stark aesthetic and philosophical differences between the two genres. The male body types represented in BL tend to project a wispy, delicate sense of beauty that seems to appeal mainly to its intended readership. The manga in "Massive" reflects the actual fantasies and desires of the gay men who draw it.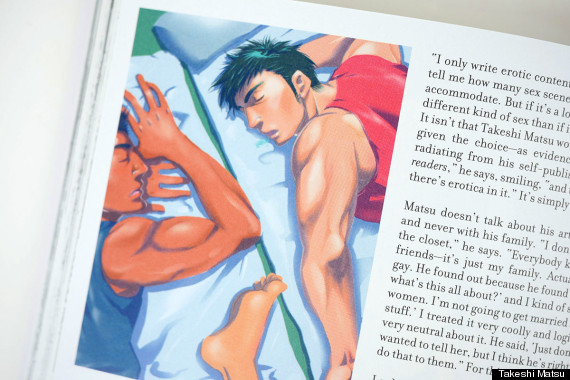 Gay manga is a historically under represented genre when it comes to queer art. Why is it important? What are you trying to communicate about it by elevating these artists?Each artist has his own individual style but, taken as a whole, I think the draftsmanship and storytelling in gay manga is pretty next level. I'm a fan of queer comics from all over the world, but there's something uniquely beautiful about the aesthetic and narrative styles in gay manga. While foreign queer art has definitely had an impact on the genre -- Tom of Finland's influence is easy to see in Gengoroh Tagame's work, for instance -- gay manga also owes a lot to Japan's home-grown history of male-male sexual culture. From the erotic smorgasbord of hentai zasshi ("perverse magazines") in the post-war era to Edo-period shunga woodblock prints, the depiction of homosexuality in Japan has developed along a trajectory firmly independent from that of queer art in Judeo-Christian Western cultures.
The legacy of activism surrounding the AIDS crisis that developed in Europe and the United States helped establish a newly globalized LGBTQ identity in the '80s and '90s, just as gay manga was taking off. Despite the often homogeneous global queer culture we live in today, gay manga tends to present a specifically Japanese vision of gayness. The world could benefit from more diverse understandings of what it means to be gay!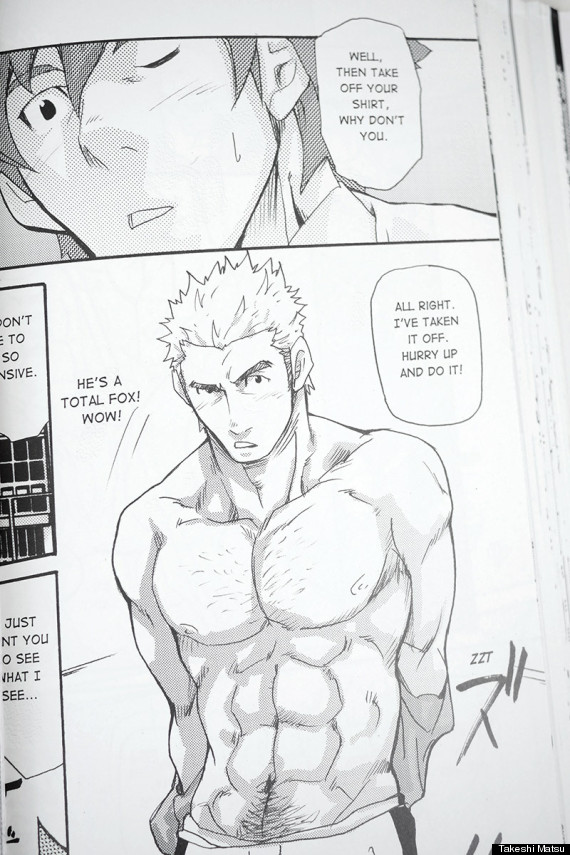 What does the future hold for the world of gay manga?The gay manga market has undergone a huge shift as the print industry declines in Japan (as elsewhere) with the rise of the Internet. The magazines and publishers that formerly supported gay manga artists -- typically commissioning 16 pages of original content from them every month -- are slowly fading away as doujinshi (self-published works) and digital publishing increase in popularity. Artists who have been making gay manga for decades are gradually adapting to this new model of business, while younger digital natives are finding an audience for their artwork online, through platforms like Pixiv and even social media apps like LINE.
Internationally, interest in the genre is rising. The German publisher Bruno Gmunder Verlag has released several of Tagame's works in English, as well as translations of Takeshi Matsu and Mentaiko's manga. It's my sincere hope that people will begin paying more attention to this work, and new opportunities will arise for gay manga artists to share their work outside of Japan.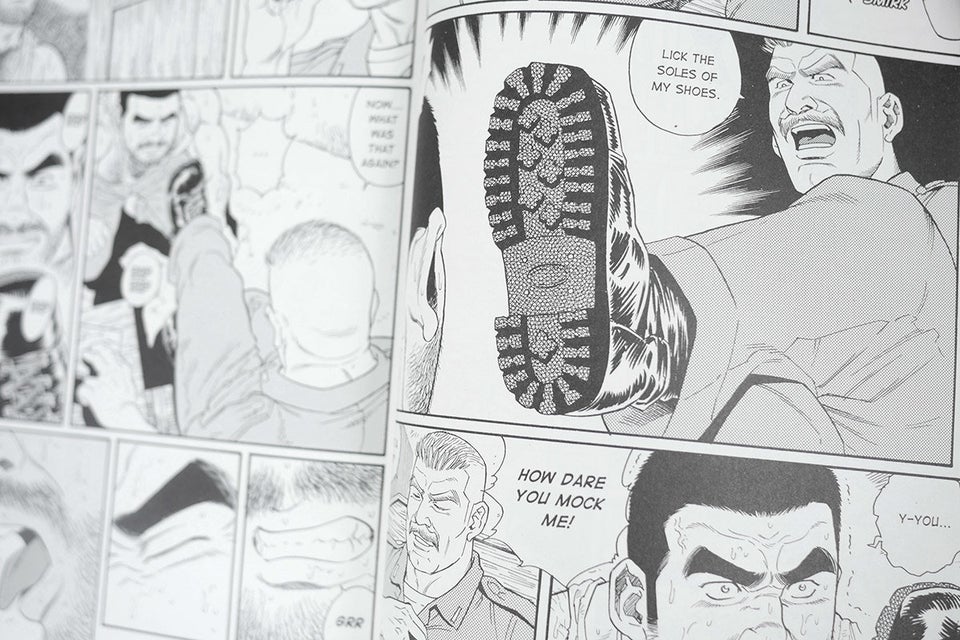 Massive
Popular in the Community