When Moxie De Paulitte tells you, "I'm not for saying, I'm for doing," she's not kidding.
Within 48 hours of setting up the "Massive Outpouring of Love, D&G Refugee Action" Facebook page for Syrian refugees, almost 2,000 people had joined the group and days later, a network of 30 collection hubs were open across Dumfries and Galloway for people to put their "massive outpouring of love" into action.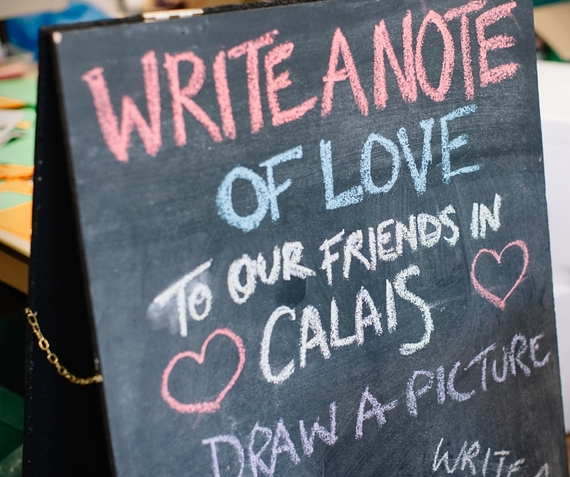 At the start of September, Moxie got the idea of having a day where people in her local community of Dumfries could write letters of support and encouragement and maybe donate a few goods for the Syrian refugees.
But what's happened in the past few weeks and continues to grow and evolve is far beyond anything Moxie could have imagined as the large rural region of Dumfries and Galloway has become connected by a common cause.
"On the first day that we took donations at the church I had someone posted at the front door to get a rough tally of stuff being donated. Just 30 minutes in we had to give up the tally because we were overwhelmed with how many donations we were getting" Moxie said.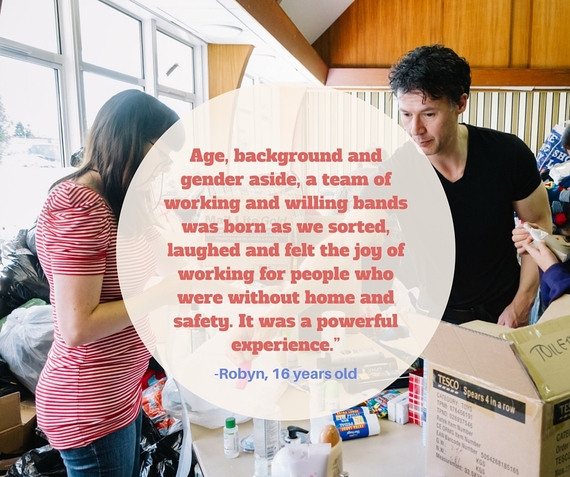 But this isn't just a story of how a mostly rural community has stepped up in response to the greatest refugee crisis since 1938, this is about the transformation of what locals now believe is possible when they come together. "People are so happy to finally be able to do something to help; proud to be part of something meaningful. Dumfries and Galloway is a massive region but people now feel connected, they feel a vital part of the community," said Moxie.

Is this the moment when we changed what's primarily been a passive relationship with our digital lives into using the unprecedented reach to connect us locally with causes that move us to action? Is this the moment when a crisis -- far too big and complex for any of us to tackle on our own -- was made accessible through the power of community?
Wanting to donate one pair of shoes doesn't feel meaningful, but donating that one pair and stepping into a local center to give of ourselves, side-by-side with people who have been moved just as we have -- well, that's very meaningful indeed.
This grassroots movement has gained the support and practical help from their local council with the donation of two storage lockers, has crossed political boundaries with the active involvement of two local MSPs as well as local MP organizing haulage to Calais.

As well as collecting an astonishing amount of much needed practical goods for refugees, the group has fused Moxie's original idea of writing notes of support and encouragement that acknowledge the human on both sides of the equation. Simple notes, 'it's going to be alright, keep the faith' written by children, elders and everyone in between, have been tucked into coat pockets, shoes and boxes of soap.
London-based playwright Anders Lustgarten calls what's been happening across Britain a "compassion explosion" that's been unleashed as people, given the means to actually do something tangible, have literally jumped at the opportunity to get out from behind their screens and work side-by-side with people that last week they might've crossed the road to avoid.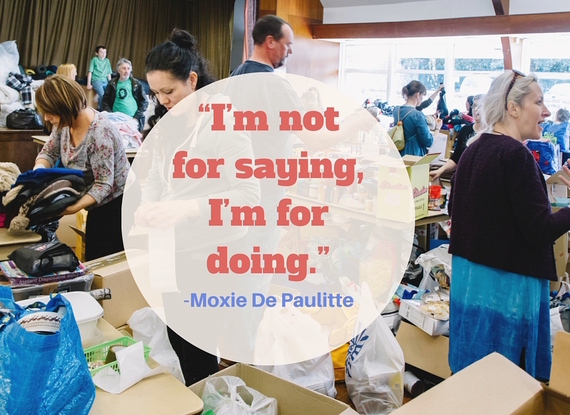 People have realized they're not powerless -- even when it comes to complex societal problems. Just as importantly, they aren't waiting for permission to give how and where they can. It's what Moxie has frequently witnessed since starting this group, "seeing the spark get ignited with people as they help out -- to see them flourish, it's been an honour to be a part of that," she said.
But what's been achieved by this extraordinary group of so-called ordinary people can best be told in their own words. At the end of the article are links to the Facebook group and information on making charitable donations.
"I have friends in Syria, who have lost family members to the conflict, and my heart breaks for them, its easy to feel powerless to help. But we aren't powerless.
When I look at how much people have achieved, in such a short space of time, this movement has just erupted and we are so strong when people come together like that. Despite any cultural differences we have, we are all people, none of us should have to live in fear, or have to fight so hard to survive. We live in a world of abundance and have to remember to share and help each other. It is how we are meant to live and I think people are waking up to that, remembering, and helping has helped me to remember who I am, what I am passionate about and what I have to give."
--Drea, Dumfries
"It was absolutely amazing to be working really hard for people who need us. As I sorted the toiletries I was joined by four or five people with the same enthusiasm as me. Age, background and gender aside, a team of working and willing bands was born as we sorted, laughed and felt the joy of working for people who were without home and safety. It was a powerful experience."
--Robyn, 16 years old
"Once I saw the Facebook group, I offered to be a collection hub. The community spirit has been uplifted. The first day of the collection hub you could just feel the love in the room. I've been able to go to bed at night knowing I've done something to help people. Knowing that my little boy and I have a safe place to sleep, well, I can't complain that I'm tired."
--Emma Lockerbie, Dumfries
"What really seems to have happened is that people have been feeling like there's nothing they can do. I've never seen anything like it, people from everywhere, popping in with stuff, but they didn't want to just drop it off and leave, they wanted to be part of it. It's been such a relief to connect with other people who want to do everything they can to relieve their suffering."
--Ellie, Kirkudbright
"This isn't about politics, or religion, or race. This new is about people. It's about people fleeing their homes for their lives. It's about people desperately trying to find safety. And it's about people coming together to do something that is purely good.
--Laurie 14 years old
"People are dying or living in constant fear we should all be helping them! If war was to break out here, we would expect other countries to help us, offer us shelter and protection so we should be doing the same. We are all human, our lives aren't worth any more or less than the refugees.
Its been amazing to be involved in such a positive community movement! There has been a lot of hard work, sometimes hours at a time but its worth it because you feel like you have really changed something, really helped the refugees."
--Sam, Dumfries
"The photo of the little boy, Aylan, is the same age as my boy, that could've been Connor.
"I didn't know how to help until this group started. The hubs have really pulled the community together, it feels like the Dunkirk spirit -- people doing the best they can with what they have. I want to make sure that little Aylan didn't die in vain."
--Becky, Dalbeattie
"This gave us a really direct way to take action, it's not about getting permission to act on something, it's about grassroots. It's been profound knowing that the little notes, pieces of art, sweets going into boots, shoes, pockets was going directly from your hand into someone else's. People want to be a part of something that's from the heart, that's real, it's about human kindness."
-- Debz, Bridge of Dee
"I found the environment truly inspiring as I was working my way in sorting clothes. People were in the same roof for the same reason: to help other humans. What can be better than that?"
-- Ambaur, Dumfries
Looking forward to a longer-term plan to support the refugees, this amazing group has already started making very practical arrangements for what will be needed in the months to come. "Before any refugees come to Dumfries, we want to develop a warm, welcoming haven where they can be cared for upon their eventual arrival," says Moxie.
"We will provide practical support such as PTSD counselling, housing advice, social workers, signposting to other organisations, food parcels, clothing and toys, and a place to meet, chat, sing and cook, and extend that into the community by buddying families up with people who know the area well, in a bid to help orientate and integrate, and make the transition to their new home as easy as possible."
What's changing in Scotland and beyond is profound, still too new and rapidly evolving to fully understand what it will end up being and meaning. But whatever the legacy of the compassion explosion will ultimately be, I wholeheartedly agree with Anders when he says, "the genie is out of the bottle."
How you can help and change lives forever:
You can help feed, clothe and provide shelter to those in need; keep them safe and reduce the chance of illness with warm tents and sanitation. Then, when they reach safety, ensure they have the best chance of developing a rich, full life in our community.
"We have to get these items to the people in need and transportation is a huge issue," says Moxie of the fundraising initiative. "No one expected this overwhelming reaction - we thought we might have enough to fill a hired van - and the logistics of getting these much needed items from Dumfries to Calais are proving difficult and expensive. We currently have storage but the goods would be better in the hands of those living in such harsh, desperate conditions."
Calling all HuffPost superfans!
Sign up for membership to become a founding member and help shape HuffPost's next chapter