Massoud Hassanzada is a poet, journalist, musician, and literary critic from Herat. He has co-founded Morcha [the Ants] the first rock band in Afghanistan.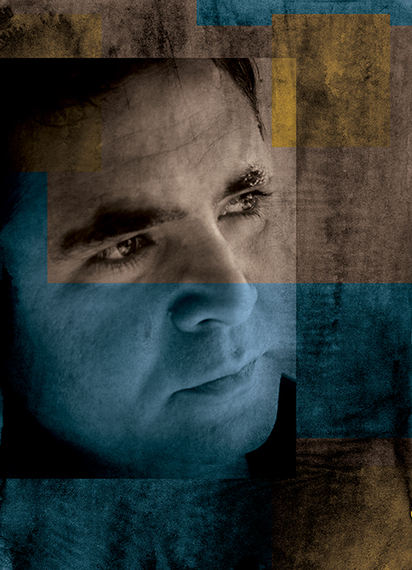 Photo : Armanshahr/OPEN ASIA / Matthieu Hackière
Have your rights ever been violated?

Every Afghan has countless memories of the violations of our human rights under the Taliban, Mujahideen or even before them. But, I am mainly concerned with the events of the past few years. For instance, I have applied to many different places for employment and even though I am qualified for all the jobs I am applying for, the companies or government departments always reject me as soon as they find out about my beliefs. However, a more acute kind of violation of my human rights occurred when my band, The Ants, was giving a concert with the permission of the security forces. Halfway through, the concert was stopped because of police violence. They detained a member of the band.
What do you consider a positive development in Afghanistan since the fall of the Taliban?

There is a strange kind of vulgarity in the power equation. Everything is a function of the structure of power. We have an extremely corrupt system and we rank first in the world in poppy production and for our lack of security. Corruption is not limited to the government; it has permeated all aspects of life. Your question, most probably, would have sounded reasonable before 2005, but things have changed significantly now. You know very well that nothing positive has remained.
What are the biggest challenges facing Afghanistan?

The biggest challenge facing Afghanistan is the absence of true progressive forces to combat ignorance, corruption and fanaticism and to offer an alternative to the present situation. The existing forces and their policies are not changing anything. Pure horror prevails. Yet we are all optimistic about promises and the small reforms. Socially, we are experiencing attrition of our values. The predominance of a free market economy has gradually extended to other areas. We are now a fully-fledged example of a class society, based on a profiteering economy and unequal competition: a society where only the people with money or force, or the people who serve those two factors, enjoy opportunities.
Is it possible that girls could once again be banned from schools and women excluded from social participation, as was the case under the Taliban rule?

Everything depends on the existence or the lack of existence of some kind of will to change; not amongst the rulers at the top, but amongst the people and the progressive forces that have realized after a decade that the American-style project of democracy building is nothing but a modern ploy to retain the supremacy of the fanatical, predatory forces. The people must play a direct role -- in politics, the economy, culture -- at all levels.
Which factors deter women from participating in social, economic, political and cultural spheres?

Poverty, violence, ignorance, plunder, and deception are the fruits of the class society, based on profit-making at any cost. The biggest deterrent factor to progress and participation, not only for women but for all people, is the unfair distribution of capital, which has created poverty and, consequently, violence, war and injustice. All other factors are secondary to this factor.
What changes are necessary to advance women's rights in Afghanistan?

The culture that has grown out of unequal economic opportunities and oppression is the major factor that deters women from progress, achieving independence and attending to other aspects of life. The deprivations suffered by women, their inferior status within society, and their suffering throughout history are all the result of economic inequality. Therefore, I believe women must push for demands more than men in order to overthrow the current power relations.
Which sources and centers of power can women rely on to promote their rights and demands?

The past decade has proved that the individuals and institutions currently in power cannot do anything. All of the funds provided by the big powers have been spent on programs without having the slightest impact on the living conditions of women. Awful forms of violence continue at alarming rates. Even new kinds of violence against women have emerged through a reactionary backlash against "new" or fashionable notions that some institutions have been assigned to promote. The reason for this is clear. Neither the institutions, nor the influential people, have any real plans to fundamentally change the conditions of women. The administrators don't have policies, nor are they willing to change and improve the conditions of women. Their subordinate institutions and individuals are happy to simply collect funds, and launch symbolic campaigns, seminars, and workshops, which lead to nothing in practice.
"Unveiling Afghanistan, the Unheard Voices of Progress" is a campaign by Armanshahr/OPEN ASIA and FIDH, which explores views held by Afghan civil society actors. Influential social, political and cultural actors hope to spark conversation and debate about building a society that is inclusive of women's and human rights in Afghanistan.
You can read original interviews in Dari on Armanshahr/OPEN ASIA
REAL LIFE. REAL NEWS. REAL VOICES.
Help us tell more of the stories that matter from voices that too often remain unheard.