Cheatin' is the new feature film from Bill Plympton, animator par excellence and big hit in France, where the populace gets him. Well, America, it's our turn. The King of Indie Animation himself will appear this Thursday night (14 August) at the huge, 10th-anniversary HollyShorts Film Festival (TCL Chinese Theatre, Hollywood, link below), where he'll receive the festival's Indie Animation Icon Award, plus screen his new short film, "Footprints," as well as a sweet sample of Cheatin'.
The award -- one of many for Plympton's crowded mantle -- proves a perfect fit for the Oscar-nommed, Palme d'Ored one-man studio who's previously brought us I Married a Strange Person and Hair High. If you can believe it, Mr. Plympton actually drew all 40,000 frames of Cheatin' -- co-written with Desiree Stavracos, and already winner of 10 international prizes -- which opens Friday for a limited theatrical run. I recently sat down with him, and we talked shop. First I asked him about his amazing way of emoting without verbalizing.
"Without using words," groks Bill. "Yeah, I don't like words. I don't trust words."
Since these little assemblages of fairly arbitrary glyphs are my stock in trade, I'm curious, and request elaboration.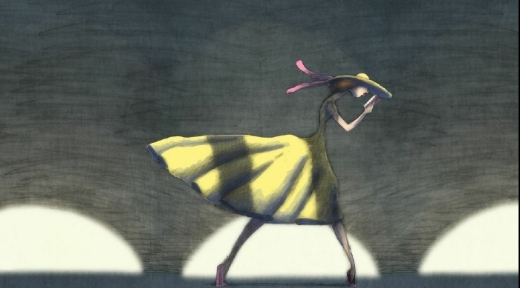 "It's kind of unique, actually. Except for The Artist. The Artist was like that. I started out doing gag cartoons and comic strips for men's magazines: Playboy, Penthouse. And it just felt easier to tell the stories without words. So it's an offshoot of my print work, when I was doing these comic strips, just telling stories without dialogue. And you know, first it was a challenge, and then it just got that I liked it. It was really fun to do, to tell these stories.
"And there's a number of reasons why I do it. One is, it's really time-consuming and labor-intensive to do lip-synch. Two, I'm not a very good writer of words, of dialogue; I like telling stories visually. Number three, it's cheaper to sell a film overseas when there's no dialogue: no dubbing, or translation, or subtitles -- which is really expensive. And number four is I think the film has a real poetry, when you use visuals to tell the story. You know, there's that old line, Clint Eastwood: 'Don't tell me, show me.' And that's the essence of what I'm doing: I'm just showing the story, rather than talking about it."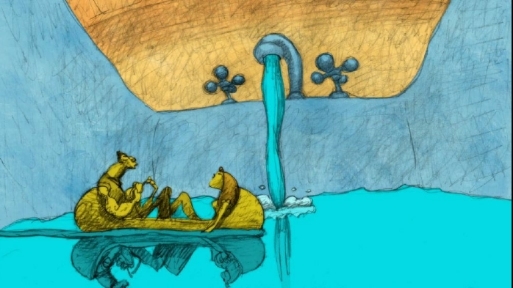 The music of Cheatin' is beautiful, very European, classic. I ask him about the composer, Nicole Renaud.
"I met her through a guitarist friend of mine who played a lot of music for my movies, and I heard her music, and I said, 'Oh my god, this is so gorgeous. So I've been using her for a long time. And then when this film came up -- because it's kind of an opera -- it's really melodramatic, and over the top, and really passionate. So I thought she would be great to do all the music -- in fact, we're going to enter her songs in the Oscars, we're going to try to get her an Oscar nomination."
Wild and wonderful Cheatin' is a hardcore love story, so I ask Bill if he based it on personal experience. And if so, that dude Jake's not based on his body, is he?
"No! That is my body! That's exactly my body!" laughs Bill, then he gets down to it: "This was sort of inspired by a relationship I had about 15 years ago. And this was what I thought would be the love of my life. We'd been together, and this is my future wife, forever. But after about a month, I wanted to strangle her -- and at the same time, I wanted to have sex with her. And I thought that was really interesting, that dichotomy of emotions in one relationship. And I thought that would be an interesting idea for a film. And what I think is one of the fun parts of this film is the concept that Ella -- even though she's trying to assassinate her husband -- still wants to have sex with him -- even though he's sleeping with all these women. And that's her love -- her love is so deep that she will let him sleep around, as long as she can be part of that lovemaking process. I've never seen that before in a film."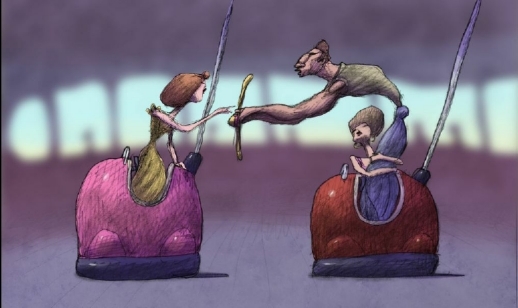 Certainly not in an animated one, I note, and Bill chuckles generously for the interviewer -- who then inquires about Cheatin's hot bumper-car action.
"Well, in France they named the film Les amants électriques -- The Electric Lovers -- and that's kind of the subtext: the electricity of romance. The electricty of love. So that's why they start out in a bumper-car ride -- where everything is electrified. And then they go back, to the bumper-car arena, to save her life. And I thought that was a nice theme for the film -- and that's why I cut away to little electric light bulbs once in a while -- bzzzzzzzzzz -- and that's their love: electricity."
Intrigued by the admittedly fiercely caricatured but nonetheless warm and organic look of Cheatin', I ask Mr. Plympton how it came to be -- and he throws down his views on the state of animation today:
"We came up with this look of watercolor on paper, with a crosshatching style with it -- Lindsay Woods, that's the art director -- and I said, 'Oh my god, that is the look I've been drawing all my life! So let's do it!' Unfortunately, it's very labor-intensive: every layer of the watercolor has to be created on digital. And so I had to hire more people, and expenses became much higher, and I went broke. So about four months before the film had to be finished, I had no money. So this is when we decided to go to Kickstarter, and we asked for $75,000, and we ended up making over $100,000. So that was enough money to finish the film. Thank god for Kickstarter -- because if I would've had to go to Hollywood, or some corporation, I would've been turned down immediately. Because this film is not the kind of film that Hollywood likes -- for four reasons:
1. It is not computer animated; it's hand drawn, and they don't understand that.
2. It's for adults. It's not a kiddie animated film. It doesn't have little animals, and singing logs, and things like that -- and Hollywood does not understand that.
3. It's animated, and Hollywood still doesn't understand animation -- even though, last year, three or four of the top-grossing films were animated. Hollywood has a fear of animation. They don't understand how it works, what the audience is, how to sell it. They understand, you know, George Clooney, and Angelina Jolie, and cinematographers, and makeup, and costumers, and scripts, and things like that. This film has none of that. So they're kind of afraid of animation.
4. And number four, it's not really a big -- I'm not really a big studio. At the most, I have ten people working at my studio. There are no banks of lawyers, or producers, or agents, or PR people -- it's just me, and a few artists."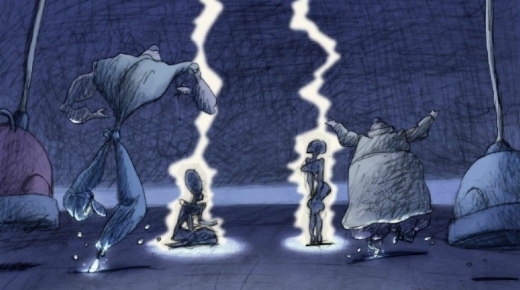 Bill, an artist of oddball but determined integrity, goes for it:
"I firmly believe this film is a film that will show America that there is an audience for animated adult films. And that's something I've been banging my head against for my whole career -- trying to show that there is an audience for something that speaks to adults, and doesn't cater to children, and is animated."
(And for the record, just as Bill does his own drawings, I do my own transcription -- so I listened to that line a dozen times: He definitely accuses Hollywood of delivering "singing logs.")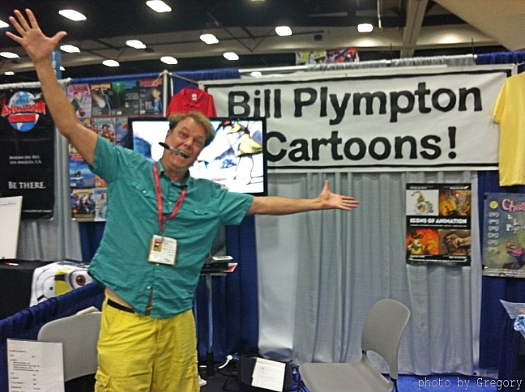 Cheatin' opens in a limited run this Friday, in case you don't feel like watching a bunch of way-over-the-hill action dudes blasting each other. And Bill Plympton headlines the many special guests at HollyShorts this Thursday night, in Hollywood.
Images courtesy of Bill Plympton unless noted
Calling all HuffPost superfans!
Sign up for membership to become a founding member and help shape HuffPost's next chapter