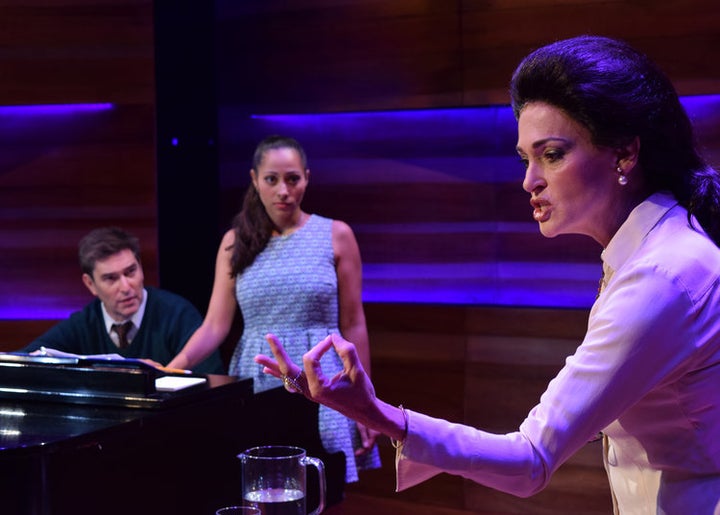 Carolyn Hennesy gives a powerful and transcendent performance as Maria Callas in playwright Terrence McNally's Master Class in the debut production of the inaugural season of the Garry Marshall Theatre. Hennesy seizes this role by the throat in a riveting display of emotions – both humor and pathos.
The setting is the terrifying venue of a master class for aspiring opera singers – always stressful no matter who is conducting the critique. However, McNally envisions a soul-baring session by both master and pupil as Callas delves into the darkest corners of artistic and personal expression. He portrays Callas as a both persecutor and martyr on the crucible of art, and Hennesy delivers every ounce of both characteristics.
Director Dimitri Toscas (who along with Joseph Leo Bwarie is the theater's co-Artistic Director) does an exquisite job of orchestrating both the intimacy and the tension of the production. In addition to the brilliant casting of Hennesy, he has put together an outstanding ensemble of singer/actors – Maegan McConnell, Landon Shaw II and Aubrey Trujillo-Scarr.
Each of these performers – in addition to their marvelous voices – display a tender vulnerability that is perfectly suited to the diva's "victims," as Callas calls them. Even the accompanist (Roy Abramsohn) and stagehand (Jeff Campanella) are solidly cast as foils to the eccentric and domineering Callas. Set design by Francois-Pierre Couture and costume design by Michele Young add to excellence of the production, which represents an inspiring and auspicious beginning for the reincarnated Garry Marshall Theatre.
Popular in the Community