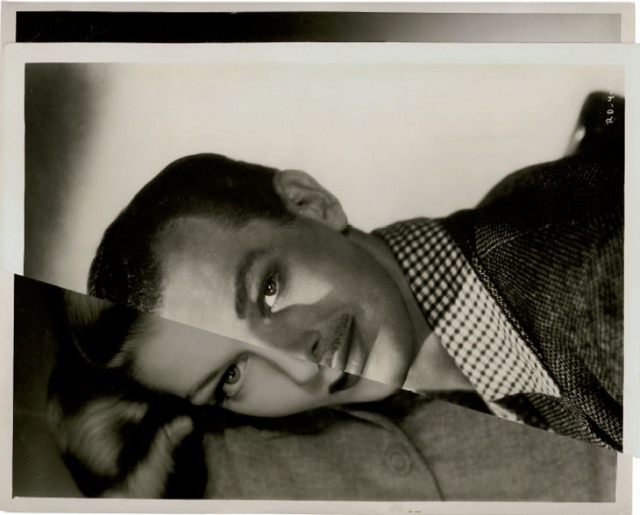 John Stezaker Marriage I 2006 Collage 23.5 x 28.5 cm Image courtesy of the Saatchi Gallery, London, © John Stezaker, 2006
The British artist John Stezaker has a retrospective of his photographic collages in London at the Whitechapel Gallery and newly commissioned works on display at the Louis Vuitton Maison. Stezaker appropriates iconic imagery from the past, landscapes, vintage studio headshots of forgotten film stars, those that show up in old shoe boxes in antique shops collecting dust along with nostalgic memorabilia, waiting to be picked through, rediscovered.
What is unusual in Stezaker's use of these images for his collages, is that his manipulation of them is minimal - often a single incision slices and splices two photographs creating uncanny symphony. Or a composite of just two images, a poster shot of a generic waterfall placed over a face, creates a window of such powerful reflection, that the simplicity in technique seems astonishing in the context of today's excessive digital doctoring.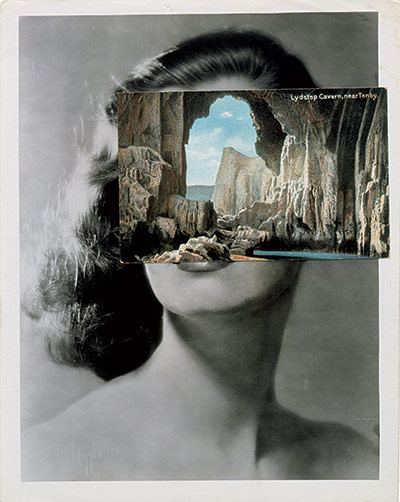 Mask XXXV, 2007 Collage: Courtesy of Bona Montagu, London, © John Stezaker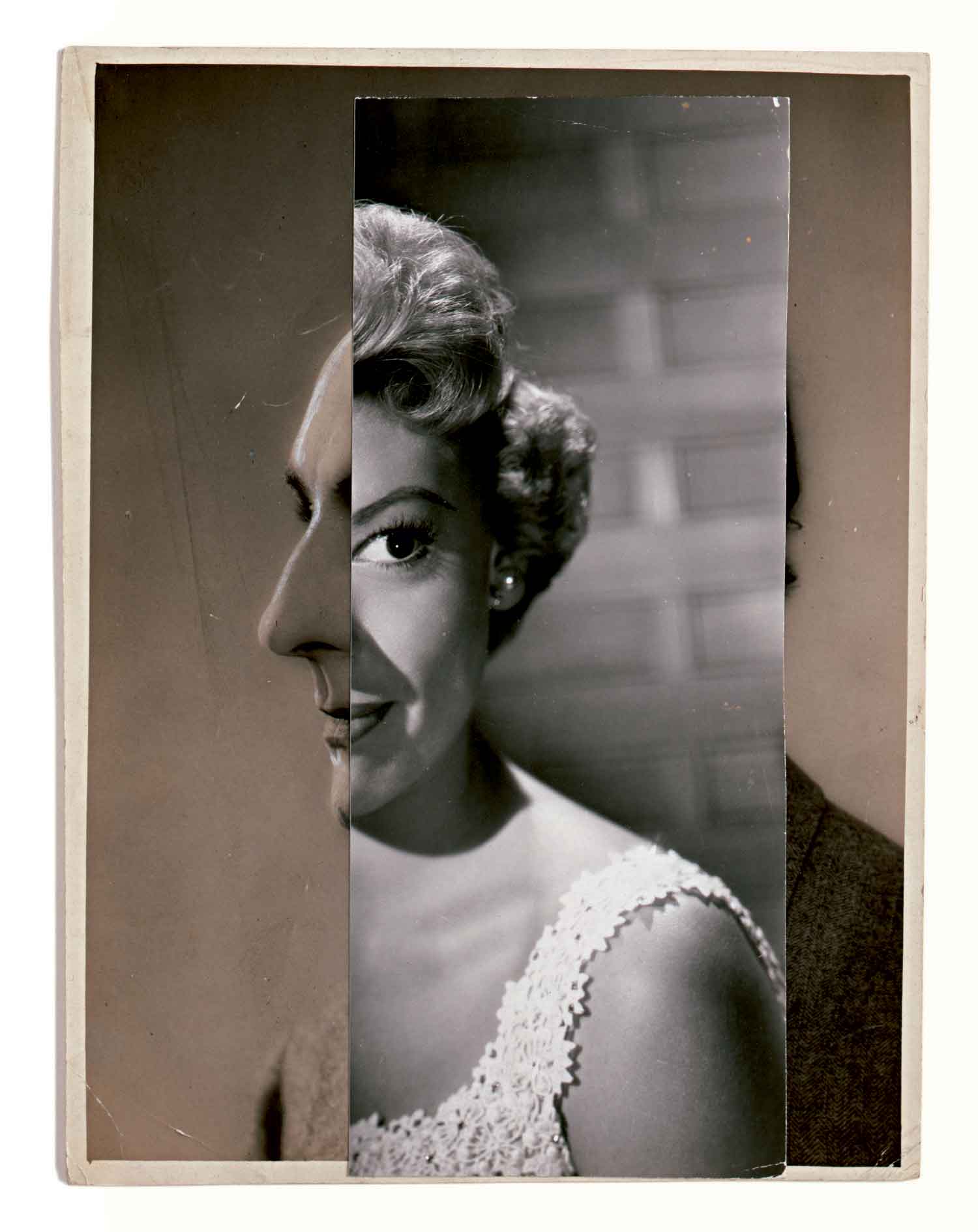 John Stezaker, Marriage (Film Portrait Collage) XXXII, 2007 Collage Private Collection © John Stezaker
Stezaker makes no effort to conceal his cuts or mitigate the edges, because here, it is the artist's clever hand that is on display. In most cases Stezaker uses the two photographs, one juxtaposed to mask the other, or uses a continuous cutaway that reveals the second underneath. Despite the obvious edges, it takes a conscious effort at dislocation to see them as two separate halves. The perfectly poised studio portrait is turned into something more sinister with a skilled slash that imbues new meaning to the figure's gaze. Sometimes the faces are mismatched between male and female leading to an androgynous gaze, penetrating beyond gender.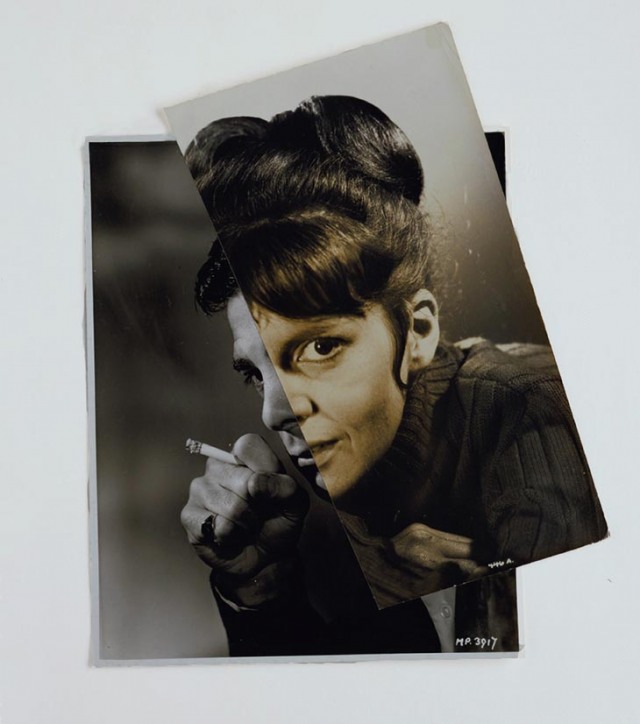 Marriage (Film Portrait Collage) XXVIII, collage 29.6 x 23.8 cm, Image courtesy of the Saatchi Gallery, London © John Stezaker, 2007)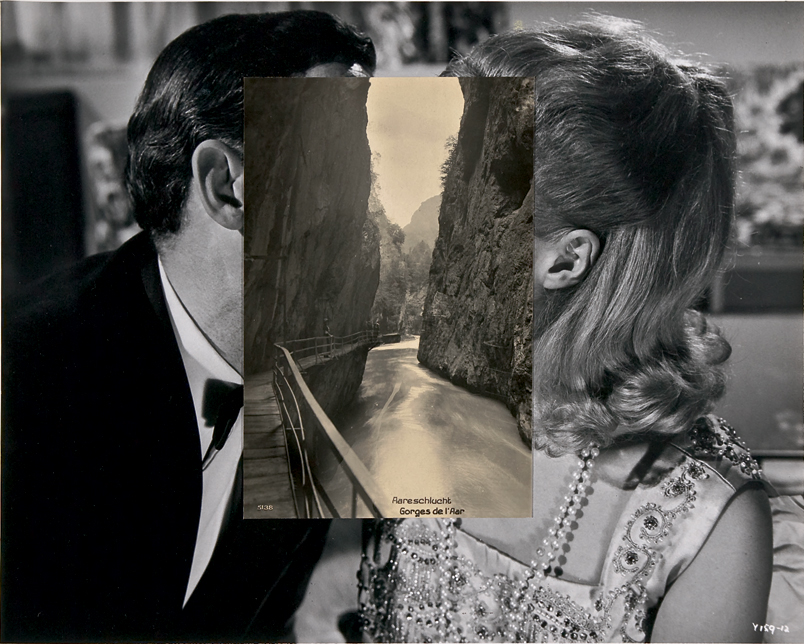 John Stezaker, Pair IV, 2007, Collage, Private Collection, © John Stezaker
Stezaker was in a bicycle accident in 2006 which injured the left side of his face, during which time he was inspired to make many of his collages. The broken symmetry of the composites, two perfect halves seem at times to make a grotesque whole. But for me, it is not the distortion created by the two that is the focus, (that would be too easy) but their unexpected resolution.
Stezaker has said about his process, "The image starts in some way to commune, which is to do with fascination. A state of unconsciousness. A sort of trance. I am interested in the way that images create trances, how they entrance and how one is seduced into them. And where one is taken if one follows."
The 'celebrity-style' of headshots often have an illusory effect on the subconscious, feeling at once familiar to us - not just from their standard take on movie portraiture - but often from a trance-induced recognition, which sidesteps clashing details, and renders a single impression on our visual cortex. We see something recognizable and familiar - the nuances of a human face are psychologically inscribed, intuitive and timeless regardless of whether they are historically rendered or otherwise. Future viewers who will have access to an increasing archive of visual iconography from movies, films, photographs of the human face will perhaps find that celebrated figures of the past often reappear in likenesses, repeating themselves upon the human race, in the media, and in our subconscious.
How easily identity is tampered with. How differently we respond to an expression as it transitions into something unexpected from what we had assumed to be its natural completion. Symmetry is skewed, a smile warps into a sneer, the amalgam of the two unmasks a new potential.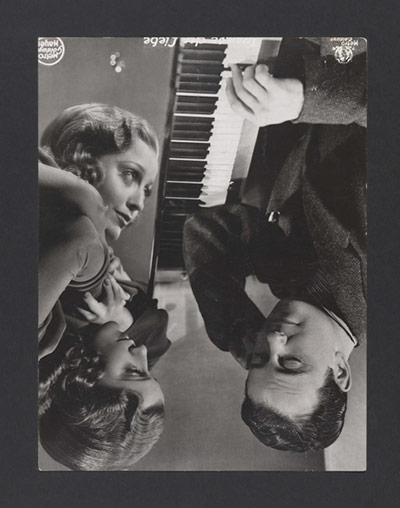 John Stezaker, Untitled , 1977 Collage, Courtesy of the Artist and the Approach, London, © John Stezaker
The shot above is simply turned upside down to create a new perspective. Many artists work with appropriated images, but often the work has to be substantially altered to be justified as a new work of art as the Shepard Fairey and Richard Prince lawsuit cases illustrated. Today's copyright laws regarding image appropriation might be limiting to many artists who might work along Stezaker's principles of incorporation. Stezaker's work makes an interesting point - not only does the artist work with found photography, but it is the simplicity of his alterations that carry the transformative force of generating new art.
The show at Whitechapel is supported by Louis Vuitton and they have also commissioned new works by Stezaker at their Maison on New Bond Street. At their Librairie bookstore, one can browse through Stezaker's "Curated Shelf" - works that have inspired the artist.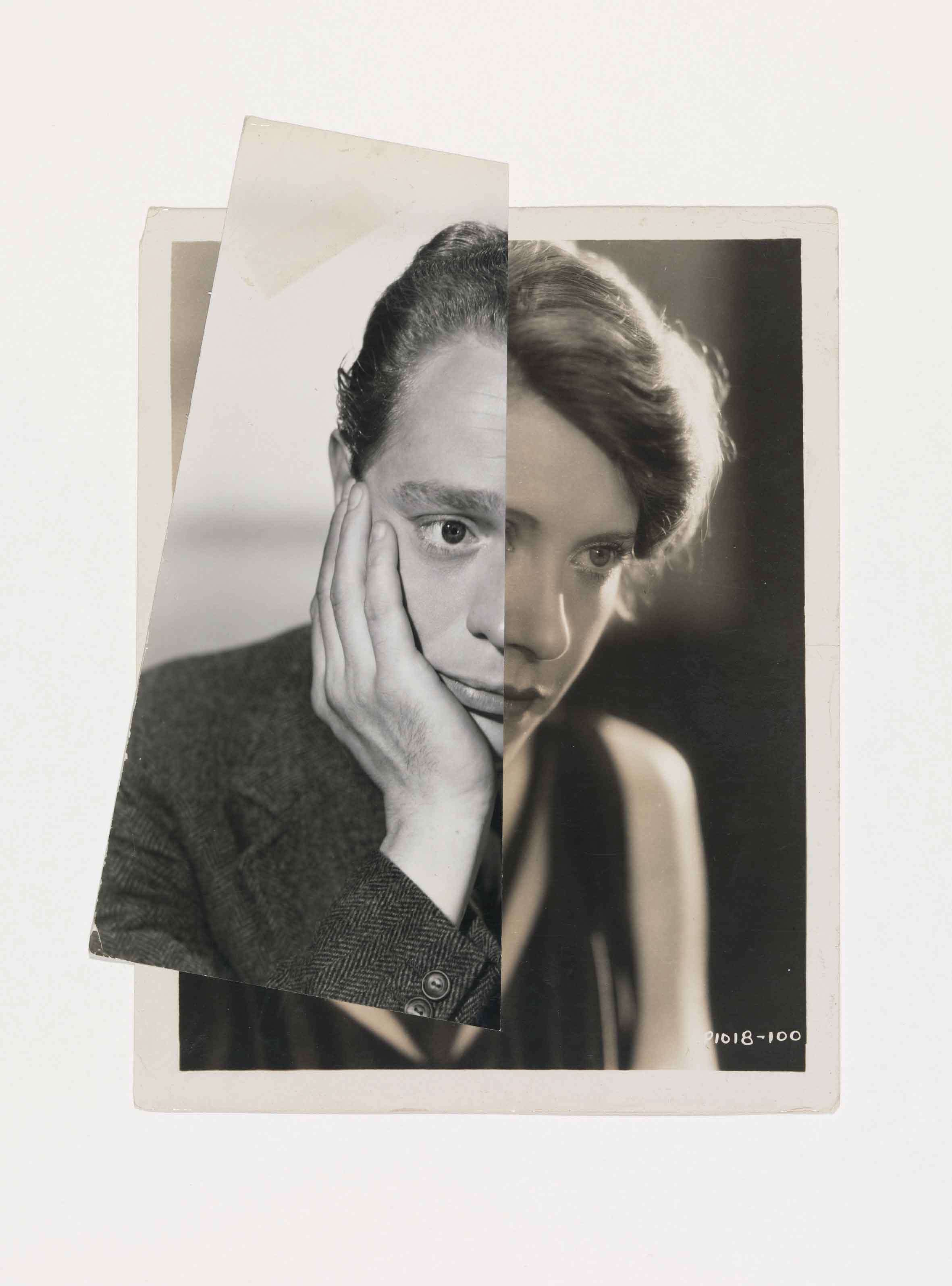 John Stezaker Marriage (Film Portrait Collage) LXI 2010 Collage Courtesy of the Artist and the Approach, London © The Artist
John Stezaker is organised by the Whitechapel Gallery, London, and Mudam, Luxembourg, where it will be on show from 18 June - 18 September 2011.
Whitechapel Gallery till March 18, 2011 - Whitechapel Gallery - 77-82 Whitechapel High Street, London E1 7QX
John Stezaker's work is on show at the Louis Vuitton Maison, 17-18 New Bond Street, London, until 19 March 2011.


REAL LIFE. REAL NEWS. REAL VOICES.
Help us tell more of the stories that matter from voices that too often remain unheard.