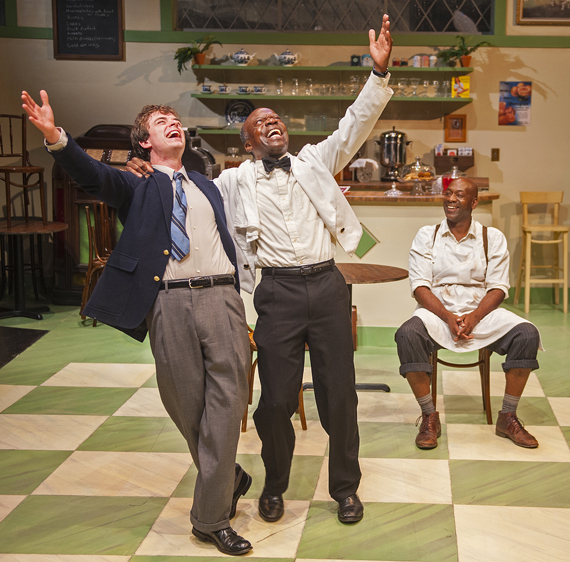 Hally (Andrew Humann) and Sam (L. Peter Callender) relive a soaring moment with a kite as Willie (Adrian Roberts) observes.
Athol Fugard's Master Harold ...and the boys involves two black men, one teenaged white boy and 90 minutes of banter, reminiscence and rage in a small South African restaurant. Working with those spare ingredients, the playwright distilled a social and psychological brew that encompasses torments that afflicted much of the world in 1950, when the story takes place, in 1982, when the drama premiered and, regrettably, today.
Few stage works explore and expose so much with such economy, and few deliver such spellbinding, gut-wrenching power as the current revival, through July 24, at Aurora Theatre in Berkeley.
Although the narrative takes place in a society where apartheid laws decree that blacks must be subservient to whites, the relationships between Fugard's characters don't follow external rules. At one end of the spectrum, they reveal affection, hope and idealism; at the other, they plunge into bitterness, cynicism and fury. And in its conclusion, Fugard's text and Aurora's remarkable actors offer faint suggestions that lessons about human decency can be learned and that better times might lie ahead.
Directed by Timothy Near, the former artistic director of San Jose Rep, the drama unfolds with grace and a variety of tones that can leave you wondering where it's headed. Amiable ribbing flares into serious argument, then reverts to lighter moods between the blacks -- Sam and Willie -- and between them and the boy they know as Hally, though apartheid's rules demand that they call him Master Harold.
The play is largely autobiographical, Fugard has said. Speaking at a small workshop that I attended in 1981, he told of struggling with material that was very personal, and extremely difficult to write. Less than a year later it arrived on Broadway, as Master Harold ...," to ecstatic reviews.
Sam (L. Peter Callender) and Willie (Adrian Roberts) have worked for many years in the small tea room owned by the Hally's parents, who command critical roles in the story though they never appear onstage. Because of the remoteness between Hally (Andrew Humann) and his father, a crippled and alcoholic veteran of World War I, Sam has acted as something of a surrogate father to the boy.
To an extent, their relationship has been symbiotic. Hally has introduced Sam to academic and philosophical concepts that would have been foreign to a man whose education would have been rudimentary at best in South Africa; Sam has introduced the boy to aspects of joy, and implicitly to the concept that whites and blacks can function together in harmony.
In one of the play's most moving scenes they reminisce over a glorious day of kite-flying: Sam constructed the kite out of slivers of wood from a crate, scraps of paper glued together and short pieces of saved string, then convinced a fearful and much younger Hally to join him on an adventure that lifted the boy's eyes and mind to the sky. Years later, the memory remains vivid for both.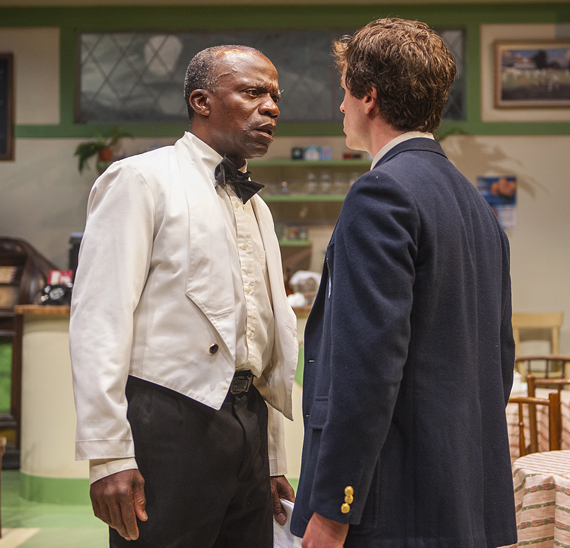 Eye-to-eye but far apart in attitudes: Sam (Callender) and Hally (Humann)
In another revealing moment, they spar but ultimately come together over the value of ballroom dancing. Sam has earned medals in dance competitions; struggling to teach Willie to follow his example, he moves with with fluid ease and confidence. Hally regards their efforts as a foolish waste of time, and wonders what happens when couples crash into each other.
Sam responds with incredulity, saying, "There's no collisions out there . . . it's beautiful because that's what we want life to be like."
Once more the metaphor is clear, and as persuasive to Hally as it is to the men.
But the realities of time and place inevitably intrude, fueled by a phone call that informs Hally that his abusive father is coming home from the hospital where he was under treatment, still incomplete, for alcoholism and physical ailments. The news triggers fear and fury, made worse by Sam's pleas that he treat his father with respect and climaxing in an explosion that reveals a racial, social and economic chasm that has infected even a well-meaning young man.
The human drama is agonizing; the social and political drama is timeless, and the dreams of harmony expressed by all seem as remote today as they did when Fugard lived through the incidents that he dramatized.
A magnificent play, magnificently directed, acted and staged. What more can we ask from theater, or any art?
Master Harold ...and the boys runs through July 24 at Aurora Theatre, 2081 Addison St., Berkeley. Tickets are $32-$50 from 510-843-4822 or auroratheatre.org
Calling all HuffPost superfans!
Sign up for membership to become a founding member and help shape HuffPost's next chapter