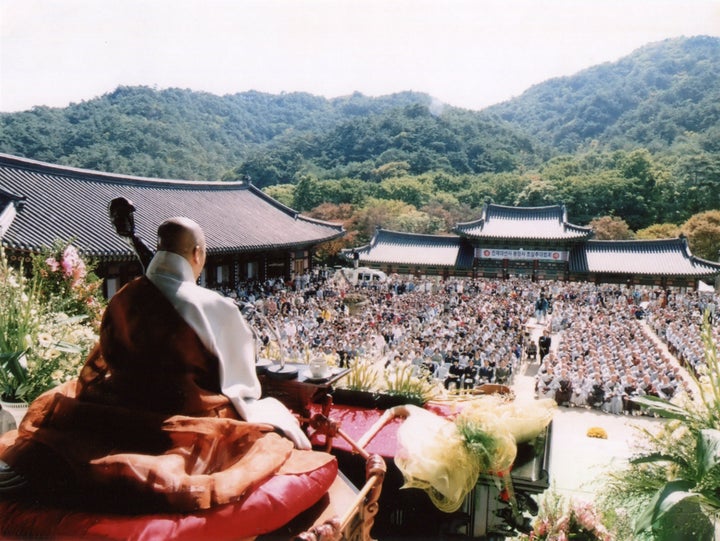 NEW YORK -- On the rare occasions that Master Jinje travels outside his monastery in the rural mountains of South Korea, he is greeted by crowds of Koreans who have taken to practicing Ganhwa Seon, the unique form of Zen meditation that he has spent decades imparting on the nation's largely non-monastic, non-Buddhist population.
But when Master Jinje, a high-level monk of Jogye, South Korea's largest Buddhist order, wandered past the hot dog stands and bodegas of New York City's Morningside Heights neighborhood in his grey monastic robes earlier this week, few people turned their heads.
Outside South Korea, where Buddhism has roughly 11 million followers and Master Jinje is revered as one of the nation's pre-eminent meditation teachers, he is little-known by those other than Buddhism scholars and a small number of Korean Buddhist immigrants. In fact, until last week, the 78-year-old had rarely stepped foot outside East Asia and had never come to the United States.
"Just as I imagined, in the land of freedom, the streets are so busy," Master Jinje said this week through a translator while touring New York's Riverside Church, where he will give a free "Dharma talk" Thursday evening. "People in this city are so fortunate. It's so lively, so full of energy. Even here, one can meditate."
The Jogye Order, which runs many of Korea's oldest and most prominent Buddhist temples, including the the Donghwasa Temple where Master Jinje resides on the far outskirts of the southeastern city of Daegu, has recently initiated an effort to spread long-isolated Korean Buddhism outside the region. This month, the first U.S. chapter of the Jogye Order is being established to oversee 30 Korean temples in New York and New Jersey.
The public relations effort by the order also may be tied to troubles Buddhists have experienced in South Korea, where almost half the nation adheres to no religion and 13 million are Protestant or Roman Catholic, making Christianity the most popular religion. In recent years, the Jogye Ordrer has accused the Christian-led government of discriminating against Buddhists, and there have been cases of Christian extremists burning and defacing Buddhist temples.
But Master Jinje, who has had several closed-door meetings with unnamed local and international officials to discuss those religious tensions since landing in the U.S. last Saturday, said his primary purpose is a spiritual one.
"I was told in Korea that nowadays people in America are very interested in meditative practice, but I heard they use different kinds of methods. The method I use is helpful for me and others in Korea, so I hope I can share it," Master Jinje said, referring an an upshot in popularity of Buddhism-related practices in the U.S. in the last decade, from meditation retreats to recreational yoga.
Buddhism has several branches and sub-branches, and has taken varied cultural forms since it originated between the fourth and sixth centuries B.C. in India. Master Jinje practices Ganwa Seon, which is most often likened to Japanese Zen with its focus on meditation -- as opposed to theoretical study -- in order to reach selflessness and enlightenment. Ganhwa Seon developed independently of the Japanese tradition and traces its origins to seventh-century contact with Chinese Buddhists.
"If I was to ask you: What was your original face before your parents gave birth to you? If you kept asking yourself and were able to get to the bottom of that question, then doubt will arise and once doubt arises then there comes a time when doubt appears all the time, 24 hours a day in your activities," he said, attempting to define a complex meditation technique that some of his students have studied for decades. "And after a time, you will be able to have a breakthrough. When you have that breakthrough, you will see the basic fundamental of your mind, which is already pure, which is already pristine."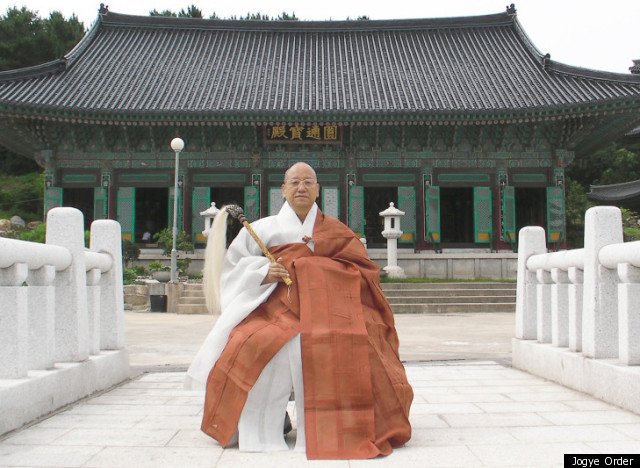 Master Jinje teaches at Haeunjeongsa Temple in Busan City, Korea, pictured above. He also teaches at Donghwasa Temple near Daegu, Korea.
Although Master Jinje typically teaches Buddhist monks, he said his New York visit, including the Riverside Church speech, has caused him to think more about how meditation can be incorporated into the lives of everyday Americans and non-Buddhists.
"That doubt, it exists every day in your daily regular activity. Whether you are washing dishes or taking your kids to school or using the bathroom. It is in front of you all the time," he said, emphasizing his belief that humans should try to maintain an awareness of their actions, however mundane.
"I have a lot of respect for different religious practice," he added. "Regardless of what religion you believe in, you all use your mind. You have mind, I have mind. Everybody has mind. And because everybody has mind, what I am asking you to ask yourself is how that mind first came to exist."
The spiritual leader was not always so philosophical. He lived a largely secular life until he was 19 years old, when he met a Korean Seon master who offered to train him to become a monk. Master Jinje moved to a monastery, where he studied and meditated for 13 years before one of his predecessors, Seon Master Hyanggok, recognized him as the 79th "dharma descendant," or hand-picked spiritual descendant, of Buddha. His name is often paired with this title, although experts say there are dozens of lineages of "dharma descendants" of Buddha and the validity of each is contested.
That said, "he is one of the two most pre-eminent Seon teachers, with the other being in northern South Korea," said Robert Buswell, a Buddhism professor at the University of California, Los Angeles, who has helped coordinate Master Jinje's visit. "When he gives talks in Korea, thousands of people show up. But he has never taught in the U.S. and he has never written in English. There would never have been a way for any American or student of Buddhism or Zen to have heard of him."
One of the few who has heard of him is Uni Berrie, a 57-year-old New Yorker who met Master Jinje five years ago in South Korea. Born in Soeul to a Catholic family, Berrie said she never practiced a formal religion but always felt a spiritual yearning. After several visits back home to Korea over the years, she met him through a friend and enrolled in one of his teaching courses. Soon, she found herself practicing Ganwa Seon every day.
"I've tried yoga, I've tried Tibetan training, I've tried intensive Buddhism training of all kinds," said Berrie, who does not call herself a Buddhist. "But his teaching is about finding the true self, and you don't have to go to a temple. The more you sit, the more you meditate, the deeper you get into your understanding of yourself. It's hard to put into words."
REAL LIFE. REAL NEWS. REAL VOICES.
Help us tell more of the stories that matter from voices that too often remain unheard.