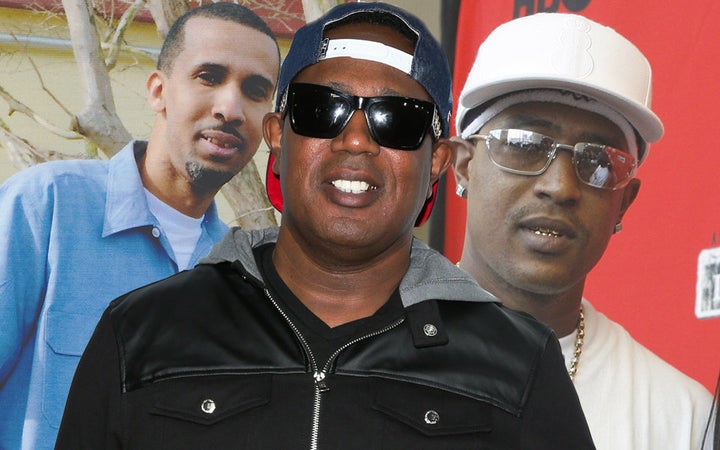 Rapper and hip-hop mogul Percy "Master P" Miller is asking President Barack Obama to pardon two former members of his music label, saying the evidence shows that both men are innocent.
"I know Obama [has] been pardoning people," Miller, 49, told HipHopDX on Friday, discussing the request he made on behalf of his brother, Corey "C-Murder" Miller, and his former record label-mate, McKinley "Mac" Phipps Jr.
"This is my letter to the president: When you look at Corey Miller, he's not a bad person … the evidence is that he's innocent. Mac is another one [who] should be free. They know Mac didn't do it," Miller told the online magazine.
"While Mac's legal team most assuredly appreciates Master P's enthusiasm and good faith, the president has no jurisdiction over a Louisiana State conviction," Phipps' lead attorney, Buddy Spell, told The Huffington Post on Monday. 
Corey Miller, 45, is serving a life sentence in Louisiana's Angola prison. The rapper has always maintained his innocence in the 2002 fatal shooting of 16-year-old Steve Thomas at the Platinum Club, a now-defunct nightclub in the New Orleans suburb of Harvey, Louisiana.
Miller was ultimately convicted of second-degree murder, but according to his lawyers, there's a lack of direct evidence tying him to the crimes, as well as questionable witness testimony. At least two jurors have said they did not feel the prosecution sufficiently proved Miller's guilt.
Court documents were peppered with references to Miller's moniker, "C-Murder." Percy Miller told HipHopDX that his brother's nickname probably didn't help his case.
"He named himself 'C-Murder,'" he said. "Back in the day, I'm like, 'Dude, you can't do that.' I could have named myself something crazy, but I wanted to master what I do."
In March, Corey Miller's producers released the new track, "Dear Supreme Court," to describe "how the court system railroaded" him, according to his manager, Manuel "M.O." Ortiz.
Miller's attorneys are pursuing an appeal, alleging that their client didn't get a fair trial. Court filings indicate the defense has found new evidence — including two new witnesses who never spoke to police — that allegedly casts doubt on the prosecution's case. They're still waiting on a response to the filing.
Phipps' case is eerily similar to Miller's. The 39-year-old is currently 16 years into a 30-year sentence for the 2000 shooting of a fan at a nightclub in Slidell, Louisiana. During his trial, the prosecution quoted from the rapper's lyrics, twisting and altering the words for an all-white jury. 
Percy Miller had remained largely silent about Phipps' case until Friday's interview with HipHopDX. He also mentioned that he'd supported Obama's first presidential campaign.
"I never asked for no favors or nothing," Miller said. "I'm just saying, look into the case. That's the only thing I'm asking Obama to do. I know you would pardon my brother because he's innocent, not on me saying this. I'm just trying to bring awareness behind him and Mac and say, look into these cases. You're gonna see that it's not right."
While Miller's request to the president will likely fall upon deaf ears, Phipps' attorney said one person in politics does have the power to take action.
"Our governor is vested with the legal authority to grant a pardon or, for that matter, clemency," Spell said.
It remains unclear if Miller will redirect his request to the governor. He did not respond to a request for comment from HuffPost.
Calling all HuffPost superfans!
Sign up for membership to become a founding member and help shape HuffPost's next chapter
BEFORE YOU GO
PHOTO GALLERY
McKinley "Mac" Phipps