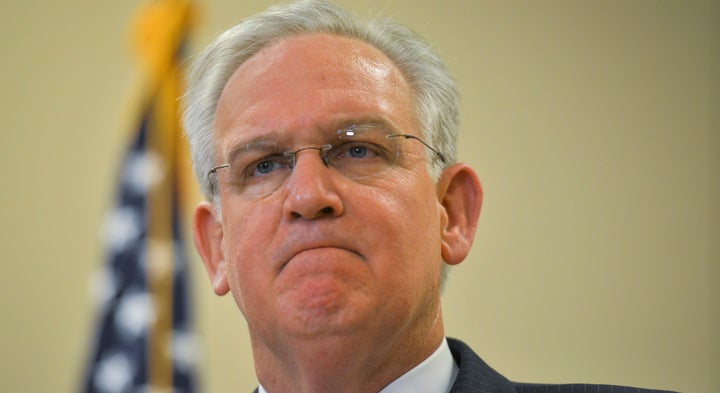 This story was originally published by The St. Louis American. 
Those quoted terms were included in Gov. Jay Nixon's initial executive order that established the commission. Nixon appointed a diverse group of 16 commissioners drawn from clergy, business, non-profits, education, politics, police (white and blue shirt), and the Ferguson protest movement. (One commissioner, Grayling Tobias, quietly stepped down after leaving his superintendent position in Hazelwood Schools.)
Those who say dismissive things about urban unrest commissions tend to say, "All they can do is issue a report." If all the Ferguson Commission could do was issue a report, then they deserve high praise for issuing a well researched, simply stated and urgent report on "the social and economic conditions that impede progress, equality and safety in the St. Louis region."
Starting on December 1, one week after the worst arsons in Ferguson, the commission held 17 full meetings, open to the public and held in various neighborhoods around the region. Almost 2,000 people participated. Since January 2015, the commission's working groups held another 38 public meetings.
They also reviewed dozens of previously published research reports from government agencies and non-profit organizations. Most impactful were "For the Sake of All," a major study of race-based disparities led by Jason Q. Purnell at Washington University's Brown School of Social Work; Better Together St. Louis' landmark reports on municipal fragmentation in the St. Louis region; and ArchCity Defenders' white papers on St. Louis County municipal courts.
They also heard testimony and presentations from more than two dozen subject matter experts and contracted with the Institute of Public Policy, a division of the Harry S Truman School of Public Affairs at the University of Missouri, for research support. Nicole Hudson, the commission's strategic communication consultant, was the guiding hand in shaping the final report, titled "Forward Through Ferguson: A Path to Racial Equity," under the direction of co-chairs Rev. Starsky Wilson and Rich McClure.
To get the right answers, you need to ask the right questions. Clearly, this commission asked the right questions.
"Throughout the process, our work was unified by a series of key considerations," the report states. "These common considerations ensured that every call to action we made would address these essential themes." These considerations – Racial Equity, Generational Change and Health Equity – cut to the heart of the racial and regional issues laid bare by the Ferguson unrest.
9 powerful"The statistical racial disparities in poverty, education, employment and wealth point to racial inequities that we believed must be considered in all of our deliberations," the report states on Racial Equity.
"Many of the problems that face our region have developed over several generations. To solve them, we must do so with an eye toward future generations," the report states on Generational Change.
For Health Equity, the report quotes from data previously compiled in "For the Sake of All," released in May 2014, which in retrospect looks like the canary in the Ferguson coal mine.
"The life expectancy for a resident of zip code 63105 (Clayton), whose population is 9 percent black, is 85 years. The life expectancy for a resident of zip code 63016 (North St. Louis), whose population is 95 percent black, is 67 years," the report quotes.
Though its research base is deep and wide, the report is not framed around facts, but rather calls for action. The Ferguson Commission issued a total of 189 calls to action, most of them in advance of the final report, in keeping with the commission's stated intent to be transparent and deliver no surprises at the end. The commission prioritized among these 189 to identify a smaller set of "Signature" calls to action, organized into three categories: Justice for All, Youth at the Center, and Opportunity to Thrive.
The working groups that produced these calls to action were asked to "intentionally apply a racial equity lens to the work" by asking the following three questions: "Who does this recommendation benefit? Does this recommendation differentially impact racial and ethnic groups? What is missing from this recommendation that will decrease or eliminate racial disparities?"
The St. Louis American has asked these exact questions in covering St. Louis and its policy initiatives for more than seven decades. To see the Ferguson Commission so plainly prioritize racial equity in sifting its data and in framing calls to action is incredibly important. It makes this report a comprehensive master plan for addressing racial inequity in the region.
Of course, a comprehensive master plan is just a set of pretty drawings and expensive line items until someone starts buying land, raising capital and moving dirt. And calls to action are nothing but noise without the political will and leverage to force change. And make no mistake: these changes that will be uncomfortable for many people who are comfortable now and perhaps only recently made aware of the region's inequities and inefficiencies.
The report addresses head-on the sobering reality of race-based disparities: that those on the positive side of the disparity may not be aware there is a disparity, or may not care.
"If you live in a safe suburb, and you've got a good job, and you've got health insurance, and you never worry about your kids' schools, and you don't wonder if you might get pulled over because of the color of your skin, then maybe the status quo is working just fine for you," the report states.
"But for thousands of St. Louisans, the status quo is killing them. The status quo means living in a food desert, with no grocery stores for miles around. The status quo means sending your children to underperforming schools that get fewer resources but dole out more punishments. The status quo means driving in fear of a court system that will put you in jail for failure to pay a traffic ticket."
Then the commissioners move to a rhetorical question: "Are we as a region really willing to live with that status quo?"
The commission's explicit attention to the inter-generational nature of these problems is proof that, for many generations, the region's majority has been willing to live with this status quo. The commission insists that its public process over the past nine months has started to create a "problem-solving machine" that will now start to solve the problems identified in this report.
"Together through our process of community engagement, we have begun to build a problem-solving machine," the report states. "A catalyst that brings together people, organizations and resources to study a problem, gain a deep understanding of the core issues underlying the problem, develop a strategy for solving that problem, and execute a solution for that problem."
The EYE suspects that is a trifle over-stated. It's relevant that when the report moves to discuss "Monitoring and Measuring Progress," it goes off into wonk babble for the first time (and one of the only times), talking about "metrics" in scarcely readable terms. The fact is, the St. Louis region has very little experience in measuring and monitoring progress in racial equity because there has been so little such progress to measure or monitor.
The "problem-solving machine" that the commissioners claim to have initiated has some formidable and entrenched opponents to change. Take the "Justice for All" signature priorities, which are closest to the issues raised by the Ferguson protestors who ultimately compelled this commission.
"Police reform calls to action address use of force, police training, civilian review, and response to demonstration," the report states. "Court reform calls to action address sentencing practices, protection of constitutional rights, and conflicts of interest in municipal and county courts. Consolidation calls to action address consolidation among St. Louis County's 81 different municipal courts and 60 separate municipal police departments."
Right there we are reminded that reformers are up against a powerful sector that combines law enforcement with organized labor – that is, the police – and that has leverage over both Democrats and Republicans. And the political landscape that must be changed is broken into a jigsaw puzzle of municipalities, police departments, municipal courts and school districts. Consolidating them will require a major act of political will – perhaps a great many major acts of political will, one for every municipality – and significantly reforming all of these splintered institutions individually before consolidation would require a whole lot of "problem-solving machines."
That is the reality. This commission is well aware of that reality. "If we are to make true, long-term, sustainable progress," the report states, "we can't avoid our reality – we must confront it, and work through it." The commission has been working through it since November of last year, and its work is drawing to a close. The next move is ours. Are we as a region really willing to live with this status quo?
This story is published as part of a partnership  between The St. Louis American and The Huffington Post.
Calling all HuffPost superfans!
Sign up for membership to become a founding member and help shape HuffPost's next chapter