Note: Do not read on if you have not seen Season 5, Episode 12 of FOX's "MasterChef," titled "Top 10 Compete."
I think it was Victoria who said she felt sick to her stomach and I have to agree with her. Most. Intense. Challenge.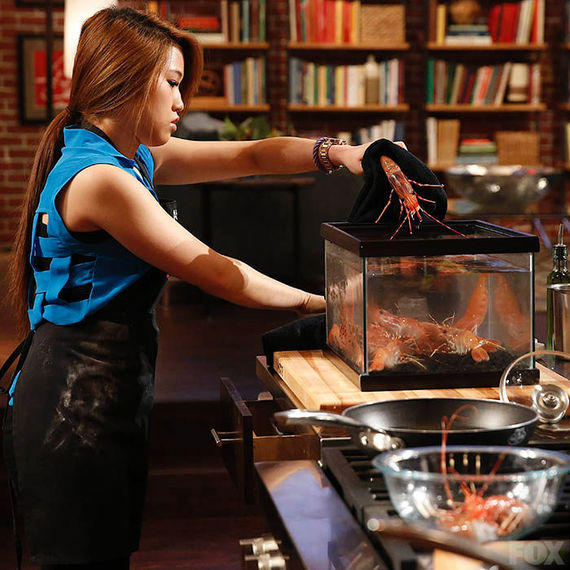 So, after a team BBQ cook-off in which Courtney's team loses, Ahran, Leslie, and Victoria end up in an elimination challenge. For the record, Courtney saved herself (she's always reminding us it's a competition) and the judges saved Christian for his delectable burgers.
Anyway, these guys have to cook live prawns three different ways -- ceviche, fried, and stuffed and baked. In an hour. It's insanity.
Then, they say that two people are going home. We're moving things along. Everyone's dishes sort of suck, because they were rushing and literally doing 27 things at once. Ahran's a little young and it shows this time: she's scared of the prawns, she doesn't know what ceviche is.
Victoria underfries her prawn and overchops the red onion in the ceviche.
Leslie's stuffed prawns are a little salty, Ahran's not salty enough. Victoria's a little ugly and totally raw.
It's all really too much to handle and the soundtrack proved it. Victoria's out which gives Gordon a chance to wax philosophic about Leslie and Ahran's frenemy status. Leslie cries about the experience. Ahran sounds about as emotional as Daria (remember her?) when leaving.
Cue the Leslie and Daniel wars in the finals. It's getting real, guys.
What were your favorite moments this week? Who's next? Let me know @karenfratti or in the comments.
"MasterChef" airs Mondays at 8 p.m. ET on FOX.
REAL LIFE. REAL NEWS. REAL VOICES.
Help us tell more of the stories that matter from voices that too often remain unheard.