Note: Do not read on if you have not seen Season 5 Episode 4 of FOX's MasterChef, titled "Top 18 Compete."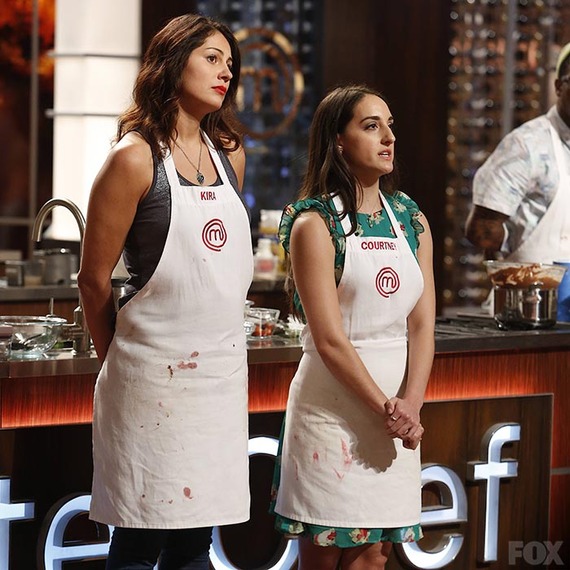 There was a lot going on this week in the MasterChef kitchen and very little of it had to do with cooking. The Mystery Box challenge threw everyone for a loop -- it was filled with live seafood. The winner? Ahran, who is apparently 18 years old and just showed up tonight because I don't remember seeing her before. Francis B and Christian were also runners up.
So Ahran wins and chooses donuts as the dish her competitors have to cook. She also gets to just watch, doesn't face elimination, and save one cook. Since Francis B messes up his donut holes and is just a generally nice dude, she saves him. He owes her one.
Scottish Francis makes delicious pancetta crusted donuts and Leslie makes gorgeous citrus flavored ones. Both are strong contenders. Cutter and Kira both messed up their filling and Kira ends up going home.
But, but, wait! What about Courtney? First of all, Ahran hates her. She complains to Joe B. that she thinks they favor Courtney, and this amuses Joe B. to no end. He then proceeds to be a huge jerk to Courtney for the rest of the show. Ahran says she hates Courtney because she goes to high school and she reminds her of a "fake bitch." Them's fighting words.
The teenager can hardly contain herself when Courtney wastes her yeast and has to run around the kitchen begging for leftovers to make her donuts. Then she actually makes it into the bottom three because she put salt instead of sugar in her donuts. Rookie mistake, my friend.
While Ahran's young (and apparently a little you-know-what herself), I do have to agree with her. I was hoping she'd be sent home, too. She rubs me the wrong way, even if she's a good cook, she doesn't seem to do anything with love.
We have a long way to go, but the competition is getting fierce. What did you think of the show this week? What was your favorite dish and who are you pulling for? Let me know @karenfratti or in the comments.
MasterChef airs Monday at 8 p.m. ET on FOX.