It was back in March that I was given the unique opportunity to participate as a judge on FOX's new reality cooking show, MasterChef, where I would get to critique, educate, and cultivate the best of America's amateur home cooks. I came armed and ready with my 20-plus years of expertise, and was excited to impart my knowledge on those brave enough to face me and fellow judges Gordon Ramsay and Graham Elliot on national TV. Stepping out of the world of professional chefs and restaurants for the first time in longer than I can remember, the experience of tasting the food of these home cooks gave me a new perspective on food in this country. It gave me a glimpse into where we've been, and where we are headed.
These contestants taught me that the art of American cookery is back, and it is just what our widget-loving, iPad-obssessed society needs.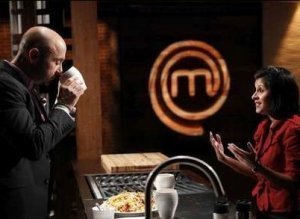 People are moving away from processed, quick, prepared foods and are coming back into the kitchen -- and idea of a family meal -- in a big way. In Italy, food is an expression of love. It is how you show those around you that you care for them. Having a love for food means you also have a love for those you are preparing it for and for yourself. Historically American's have always "borrowed" from Italy's food culture, but this time we are going to do it right -- by utilizing the best of what is readily available to us, and making the most out of it.
By respecting food, and food sources, preparing it as simply as possible, so that essence of what you are cooking is preserved...and it's not just about using local ingredients, it's about celebrating regionality, focusing on regional products, regional traditions, and regional techniques. It's about making the most of what you have available to you, combined with the traditions and skills that have been passed down to you either from your family and community.
The MasterChef contestants really illustrated that -- I love that Darrel from North Carolina made ribs. What more appropriate dish is there from someone representing North Carolina, home of some of the BBQ in the world? And although I gave Avis a resounding no at her first attempt to wow us (pasta is where I draw the line -- you can't give an Italian improperly cooked pasta, that will always be a deal breaker), you could taste New Orleans on her plate -- perfectly prepared cornmeal-crusted catfish fillets, the shrimp, the butter -- I knew this was someone who was cooking true to the region she was from, and the family traditions that have been passed down to her.
I believe that MasterChef brings something more to the table, so to speak, than simply being another reality food TV show. My hope is that it will inspire America to get more involved in the food they eat, how it prepared. I want people to finish the show each week and start planning what they'll cook for the following night, and be inspired and encouraged by the home cooks on the show as I was.
REAL LIFE. REAL NEWS. REAL VOICES.
Help us tell more of the stories that matter from voices that too often remain unheard.