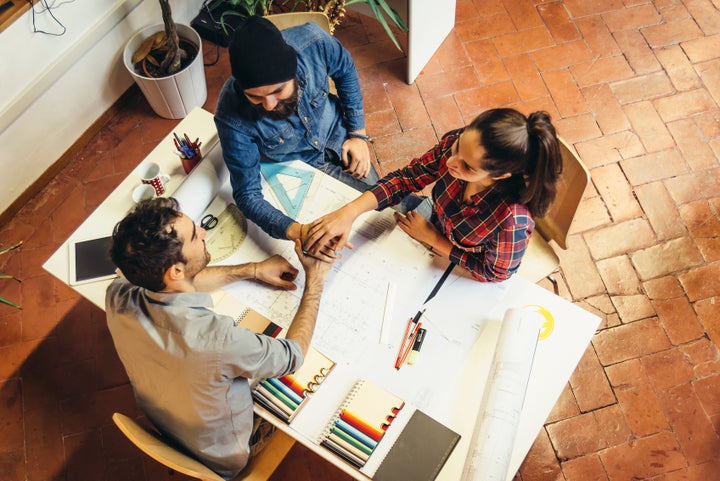 There are approximately 27 million entrepreneurs in America, yet 90% of new businesses fail. The other 10% succeed by finding creative and unique ways to stay ahead of their competitors and grow at faster rates. With over 53 million millennials in the workforce today, they are re-shaping how we work. With a penchant for workplace flexibility, productivity-based working hours vs. time clocks, and social entrepreneurship, peer-to-peer groups such as mastermind meetings are becoming a must-have tool in the business world.
While mastermind meetings are still a new concept to many, they have been gaining traction amongst entrepreneurs for quite some time. The peer advisory groups provide an affordable and motivational space for business owners who have common goals. I spoke with the co-founders of The Mastermind Exchange, Komal Zaidi and Jia Wertz, who after spending a combined 22 years growing small and large businesses, decided to launch a professional mastermind company that helps startups with their day-to-day growing pains.
They define mastermind groups as "a monthly gathering of like-minded (and unlike-minded) entrepreneurs who come together to offer each other advice, share their knowledge and experiences to solve business challenges." To ensure that members "provide a different point of view and create diversity in each group" there is a vetting process to join and people of all professional backgrounds are welcome.
The operations of a mastermind meeting
"Each member gets to be in the hot seat and share their current business obstacle for two minutes, then the other members have an opportunity to provide solutions to the problem at hand. This can be anything from sharing what has worked for them in the past, making a connection to someone they know, or offering expertise. We repeat this process until we have moved through each member's issue" explains Zaidi.
Members set specific goals to meet within 30 days and a follow up meeting is set up to share successes one month later. This process repeats each month with a new group of entrepreneurs, so along with sharing knowledge, the meetings provide an efficient way of networking and meeting other entrepreneurs.
Sharing knowledge and skills
Mastermind groups are advantageous because business owners can solve problems in areas that they may not have expertise. Learning through a group of entrepreneurs' experiences and tapping into their knowledge and skills is a valuable secret weapon to keep in your back pocket. Whether it opens a new door, or helps avoid repeating others' past mistakes, the end result is the same - it saves you what little time you already have.
Founder of sports recreation company, More Than Cheer, Brittany Rose has found that "learning from the mistakes and successes of others is the fastest way to achieve my goals" and she finds that it doesn't matter which industry the other members are from because she "can always use what they've learned as a catalyst to reach my goals."
Zaidi goes on to say "having consistent meetings in a group setting also increases productivity by creating a sense of accountability. You are accountable to your group to provide insightful feedback, which also makes you reflect on your own business, and share contacts. By scheduling follow-up meetings you lose the risk of becoming stagnant and are consistently growing your own business, while helping others".
Solo founders don't have to feel isolated
Being a solo founder comes with it's own list of challenges, but feeling isolated doesn't have to be one of them. Wertz explains "apart from receiving exclusive invitations to our networking events, 24 hour access to our online community, and panel discussions with experts, our mastermind meetings provide a community of entrepreneurs ready to help you overcome challenges and provide support.
Working on a startup can get very lonely as people go from working in a team environment to often working solo. Mastermind groups provide an environment similar to an advisory board."
It's about overcoming startup obstacles
"The two most common challenges we hear from entrepreneurs prior to them looking for investors are how to get press for their business and how to tackle SEO for their website without investing thousands of dollars in hiring a search engine optimization specialist.
These are the two areas we specialize in because of the demand. Both PR and SEO can cost tens of thousands of dollars monthly; if founders can learn these skills or gain connections through other members, it saves them a significant amount of money that they can put into other aspects of their business" explains Wertz.
Dustin Brackett, CEO and Founder of Hive Digital Strategy says "I am not sure that my business would be around today had it not been for mastermind groups. There are so many pieces to running a business that most entrepreneurs don't consider from bookkeeping, taxes, pricing, to client relations, prospecting, and management, so being a part of a group of business owners that all have varying levels of experience has helped me learn and grow my business".
Getting more done virtually
In this digital age, one of the upsides to these types of groups is that anyone can join virtually. The Mastermind Exchange hosts in-person meetings in New York City but anyone can join from the comfort of their own home or office as well. All you need is a computer and a good internet connection. If you live in a different city or simply have a hectic schedule and don't have time to commute, you can still hop on to a video conference and be a part of the mastermind session within minutes.
Support HuffPost
The Stakes Have Never Been Higher
Related
Popular in the Community