Don't worry about the dead bodies. They're merely collateral damage incurred during the art of storytelling. Whether the victims were shot, stabbed, beheaded, poisoned, or had their throats slit, rest assured it was all in service to a good cause: musical theatre.
All too often the word "classic" is applied to a work whose artistic quality is exceptionally high and whose history has demonstrated an ability to retain its popularity throughout several generations or even centuries. In terms of operas and works of musical theatre, what are some of the stressors that can challenge a work to see how well it can survive?
Stage directors may strive to make a work more relevant by updating it to a different time period or relocating the action of its plot.
In order to increase their revenue stream, licensing agents may offer the rights to a fully-orchestrated version of a musical work as well as a reduced orchestration which can be performed without a traditional chorus.
For some works, cuts may be allowed in the score which will tighten the piece dramatically and bring it down to a more reasonable playing time.
Conversely, many bel canto arias allow for the use of fioritura customized to a singer's vocal strengths.
Two well-established musical masterpieces returned to Bay area stages last fall in exceptional productions which proved, beyond any shadow of a doubt, the strength and vitality of each work's score and libretto. The fact that they were so beautifully performed only added to the audience's sense of artistic fulfillment.
The history of Verdi's opera, Un Ballo en Maschera (which had its world premiere in Rome on February 17, 1859) is a most peculiar one. The opera was inspired by the assassination of Sweden's King Gustav III (who was shot during a masked ball at the Royal Opera House in Stockholm on March 16, 1792 and died 13 days later). During the opera's composition, Verdi ran into problems with Italian censors who forbade the portrayal of a monarch (much less a monarch's assassination) onstage.
On January 14, 1858, an assassination attempt in Paris on Emperor Napoleon III by three Italians caused further problems for Verdi and his librettist, Antonio Somma. The names of various characters were changed and the opera's location was transferred to Colonial Boston to remove any hint of the story's European roots. Until 1977, the San Francisco Opera's productions of Un Ballo en Maschera were all performed with the Boston setting. Since that time, all of the company's productions have used the originally intended Stockholm setting (both of which feature historically accurate costumes in which aristocrats frequently wore powdered wigs).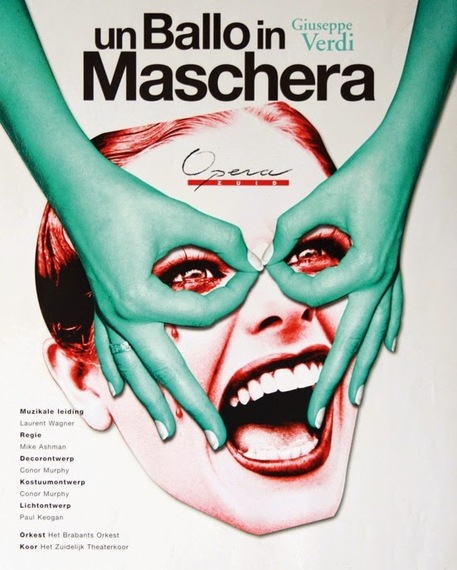 Poster art for Opera Zuid's production of Un Ballo en Maschera
Whether your soothsayer is called Madame Arvidson or Ulrica, your romantic lead is known as King Gustav of Sweden or Riccardo (Earl of Warwick and Governor of Boston), or your assassin is named Renato or Count Anckarstrom is of secondary importance to Verdi's magnificent score. In an era when performances of Un Ballo en Maschera can seem more functional than inspired, the San Francisco Opera pulled off a winner with its 2014 revival of Verdi's 155-year-old opera.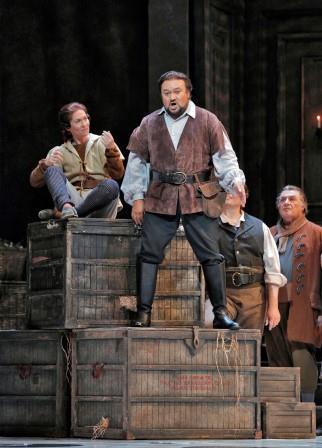 Heidi Stober (Oscar) and Ramon Vargas (King Gustav) in Act I
of Verdi's Un Ballo en Maschera (Photo by: Corey Weaver)
Directed by Jose Maria Condemi (with the final scene's choreography by Lawrence Pech), the performance I attended proved to be a grand night for singing. Although I have not always been a big fan of tenor Ramon Vargas, he acquitted himself quite handsomely as the doomed King. As his best friend and assassin (Count Anckarstrom), Thomas Hampson was simply on fire. In a gripping and powerfully dramatic performance, the celebrated American baritone delivered the kind of impassioned singing that has become fearfully scarce in an era with a shortage of great Verdian voices.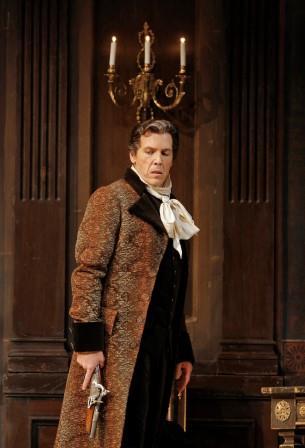 Thomas Hampson as Count Anckarstrom in Verdi's
Un Ballo en Maschera (Photo by: Corey Weaver)
I found it particularly interesting that two of the heaviest soprano roles were performed by graduates of the Merola Opera Program. Veteran mezzo-soprano Dolora Zajick delivered a riveting portrait of Ulrica in Act I while, as the deeply conflicted Amelia, Julianna Di Giacomo's healthy voice and solid musicianship were cause for celebration. Soprano Heidi Stober brought just the right amount of perkiness to the role of Oscar, the king's page.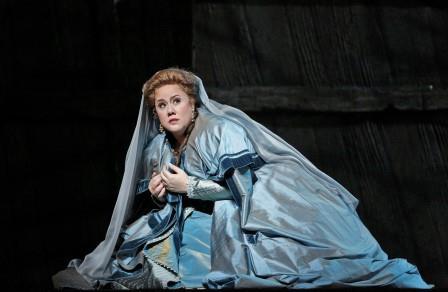 Soprano Julianna Di Giacomo as Amelia in Verdi's
Un Ballo en Maschera (Photo by: Corey Weaver)
Special kudos to Maestro Nicola Luisotti and chorus master Ian Robertson for their superb work in shaping Verdi's score and polishing the artists' phrasing to perfection. It's a little hard to give design credits for this production as costumes are attributed to John Conklin (who usually designs sets) and, according to the San Francisco Opera's press department, these sets have undergone so many alterations over the years that the original designer requested that his name no longer be associated with them.
No matter. The physical production worked well enough to keep the evening's focus on some glorious singing. Scott Conner (Count Horn) and Christian van Horn (Count Ribbing) offered strong support as the two conspirators with Efrain Solis (Christian), A.J. Glueckert (Judge), and Christopher Jackson (Amelia's servant) appearing in cameo roles. Here's some footage from the production:
If a person wanted to find a tie-in between the San Francisco Opera's production of Verdi's Un Ballo en Maschera and Stephen Sondheim's 1979 masterpiece, Sweeney Todd: The Demon of Barber Street, it would take a stronger link than the fact that, in June 1984, it was San Francisco Opera's outgoing General Director (David Gockley) who was the first operatic impresario to produce Sweeney Todd (while he was General Director of Houston Grand Opera) and that Gockley will present Sweeney during the San Francisco Opera's 2015-2016 season. Instead, those familiar with the show's libretto will quickly point to the moment in Act I when Mrs. Lovett is explaining to Sweeney (a/k/a Benjamin Barker) what happened to his wife after he had been shipped off to a penal colony in Botany Bay, Australia:
"Well, Beadle calls on her all polite
Poor thing, poor thing.
The judge, he tells her, is all contrite
He blames himself for her dreadful plight
She must come straight to his house tonight
Poor thing, poor thing.

Of course when she goes there
Poor thing, poor thing
They're having this ball all in masks..."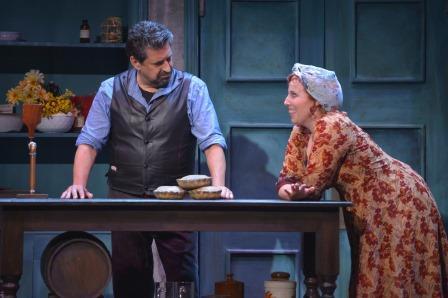 David Studwell and Tory Ross star in Sweeney Todd:
The Demon Barber of Fleet Street (Photo by: Kevin Berne)
It's hard to believe that the musical gore-fest created by Sondheim and Hugh Wheeler is now more than 35 years old (or that it has managed to establish itself equally well in the musical theatre as well as operatic repertoires). Throughout its celebrated and bloody life, Sweeney Todd has been performed in a semi-staged version in leading concert halls as well as in down-sized productions that use a smaller cast and reduced orchestrations. In some productions, prop razors that could spew fake blood have been supplanted by symbolic red lighting.
In 2004, John Doyle created a production at the Watermill Theatre in Newbury, England in which the cast accompanied themselves on musical instruments. Following its transfer to Broadway, a touring version of Doyle's production was presented by American Conservatory Theater in San Francisco in 2007. Later that year, Johnny Depp and Helena Bonham Carter starred in Tim Burton's film adaptation of Sondheim's musical.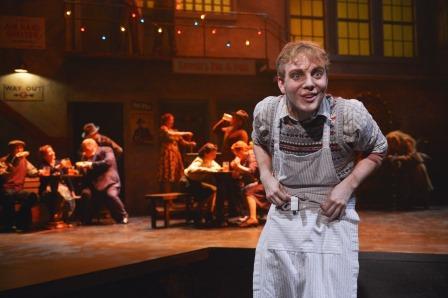 Spencer Kiely as Toby in Sweeney Todd:
The Demon Barber of Fleet Street (Photo by: Kevin Berne)
I was mightily impressed when Ray of Light Theatre presented Sweeney Todd in the 200-seat Eureka Theatre in the summer of 2012 and was utterly thrilled by the new production recently staged by TheatreWorks in Mountain View. Directed by Robert Kelley using a unit set designed by Andrea Bechert, this Sweeney has been updated to October 1940 and takes place during The Blitz in an abandoned factory that leads to a station of London's Underground.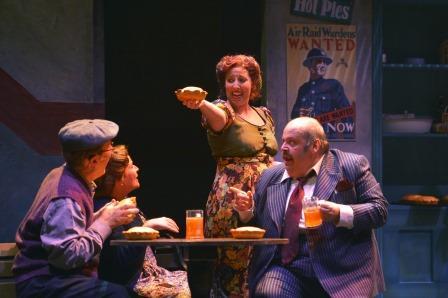 Mrs. Lovett (Tory Ross) serves up some fresh, hot meat pies in
Sweeney Todd: The Demon Barber of Fleet Street (Photo by: Kevin Berne)

While there are signs in the lobby requesting patrons to bring their gas masks with them into the shelter (auditorium) and plenty of World War II posters to create a sense of Great Britain at war ("Keep Calm and Carry On"), the updating works best with regard to Act II's "City on Fire" number, which is staged as the Luftwaffe's planes are dropping bombs on London. As Kelley notes:
"This time we're in 1940 as Londoners carry on, even when forced underground by the nightly bombings of The Blitz. Often that subterranean world included entertainers, perhaps even entire theatre companies determined to continue rehearsal for an upcoming production - a production of Sweeney Todd."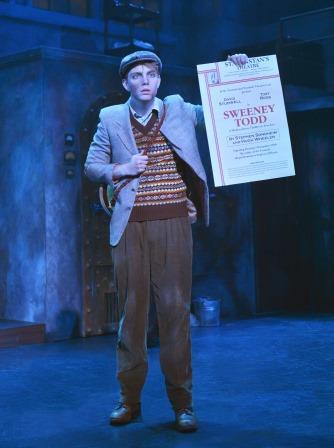 Spencer Kiely as Toby in Sweeney Todd:
The Demon Barber of Fleet Street (Photo by: Kevin Berne)
This TheatreWorks production was exceptionally well cast with singing actors (as opposed to acting singers). David Studwell delivered a powerhouse performance as a rage-filled Sweeney with a voice to back up every drop of anger. He was ably matched by Tory Ross's characterization of Mrs. Lovett, which benefitted immensely from a darker-hued, richer voice than many who have sung the role. The murderous duo received strong support from Spencer Kiely as a wild-eyed Toby, Noel Anthony as the devious barber Pirelli, and Mia Fryvecind Giminez as the demented Beggar Woman.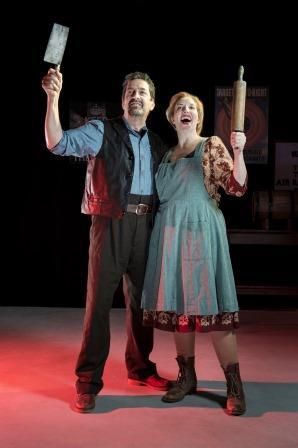 David Studwell and Tory Ross star in Sweeney Todd:
The Demon Barber of Fleet Street (Photo by: Kevin Berne)
Several cuts were made in the score, most notably Pirelli's scene pulling a tooth out of Toby's mouth and Judge Turpin's self-flagellating "Mea Culpa." However, because I was seated down front, I had a rare opportunity to wallow in the brilliance of Sondheim's writing -- not just the infamous Act I closer ("A Little Priest"), but especially the "Kiss Me" quartet sung by Anthony (a golden-voiced Jack Mosbacher), Johanna (Mindy Lym), Judge Turpin (Lee Strawn), and Beadle Bamford (Martin Rojas Dietrich).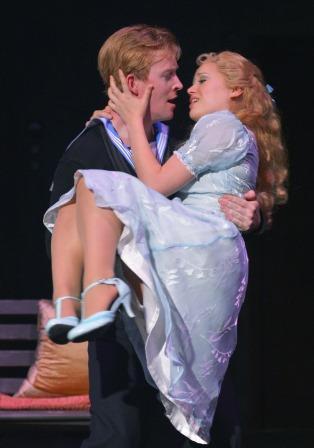 Jack Mosbacher (Anthony) and Mindy Lym (Johanna) are the
young lovers in Sweeney Todd: The Demon Barber of
Fleet Street (Photo by: Kevin Berne)
As with Verdi's Un Ballo en Maschera, Sweeney Todd: The Demon Barber of Fleet Street is so meticulously constructed and dramatically articulate that it retains the power to awe audiences who have seen multiple performances of the work. While its musical and theatrical craft are nothing less than mind-boggling, in his program note, Kelley points to the work's larger cultural significance:
"Sweeney Todd is a play about the darkest corners of human existence. It's also about our ways of dealing with evil: countering it with virtue, disarming it with humor, crushing it with force, transforming it into art. Among its intertwined themes, Sweeney Todd is about humanity's fascination with evil and its corollary, violence. Some part of us thrives on conflict; some genetic trait encourages us to force our point of view (or culture, or religion) upon another. When that instinct leads to violence it becomes the fodder of our nightly news: a punch in an elevator, a gunshot in the back, a village destroyed, a country overrun. We are at once repelled and transfixed. That's how I see Sweeney Todd played out against a background of violence, a background of war.

Our first production was in 1992, prompted by the bombings of Baghdad displayed nightly on national television. It was set in London, 1916, the year the first bomb was ever dropped from an airplane on a city. That was then. Now, a sea of wars engulfs the world again. The advent of evil seems even greater, our involvement even deeper, whether our boots are on the ground or under a desk as we guide drones to distant human targets. Today, anyone can download a beheading on his or her phone, tablet, or even wristwatch."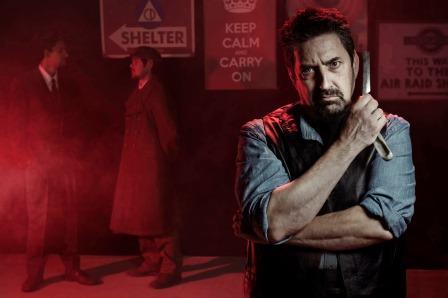 David Studwell as Sweeney Todd: The Demon
Barber of Fleet Street (Photo by: Kevin Berne)
Popular in the Community