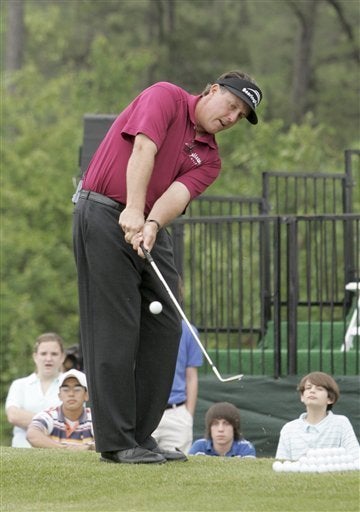 Man, what a rich, full, and yeasty Masters 2009 delivered! One feels bad for Kenny Perry, who had it won--and the record for oldest Masters winner ever locked up at age 48--but who after a brilliant shot on the 16th hole finished bogey-bogey to drop into a tie with Chad Campbell and Angel Cabrera. Cabrera got it done in the playoff, proving that if you start the final round at the Masters in the lead, you can get away with shooting a mere one-under par even though...
Tiger Woods and Phil Mickelson are doing their level best to light the joint up and charge from... well, yes, seven shots back to make a run at the green jacket!
For a while, it looked as if Mickelson was going to do something sort of insane. After he and Tiger locked eyes and exchanged a firm handshake on the first tee, Phil shot a 30 on the front nine, tying a Masters record. For his part, Tiger bombed in an eagle putt to stay in the conversation.
The stage was set for the leaders to melt down and leave the stage to Woods and Mickelson. A back nine duel for the ages!
Not to be. But to their mutual credit, Phil and Tiger knew that merely average rounds--tidy 68s, let's say--weren't gonna make it happen. They both had to go absurdly low. Tiger said -11 was his target, which in the end would have left him a stroke short of a playoff. Mickelson was more aggressive--he correctly estimated that it would take a 64, three shots shy of where he wound up.
Obviously, golf lovers enjoyed the Perry story, the Cabrera story, and even the Chad Campbell story. Campbell may be the best player to have not yet won a major. And Cabrera, a U.S. Open winner who hails from modest means, served up South America's first Masters and redeemed the fraught memory of Roberto De Vicenzo, an Argentine who would have won in 1968 were it not for a botched scorecard.
But c'mon, the action all day was with Phil and Tiger. While Phil roasted the front side, but faltered on the back, Tiger surged, before repeating his recent pattern of dropping shots on the 17th and 18th holes. Fans have been waiting for this pairing since... correct, forever! Mickelson and Woods in a major--and the best major, the one with the greatest potential for theater...both in need of high drama and near-perfect execution to win...it was epic. Too bad they wound up playing for not even second, but who could induce the largest roars to unsettle the actual leaders.
Before the round, I thought that if they both played well and both made charges, feeding off each other, it might change the dynamic of their relationship. They are widely believed to detest each other. Tiger's caddy, Steve Williams, is actually on record for detesting Mickelson. They both played stunning golf, on the game's greatest stage, and after twin bogeys on 18--Phil's to spoil a 66, Tiger's to mess up a 67--they barely had words for each other.
That was disappointing. Neither gave away much in the post-match interview, a loss given the energy of the moment. And it was a Masters moment, one that fans will remember for many years. One hears about tournaments within tournaments all the time, and with both Woods and Mickelson statistically unlikely winners, this tournament within was really more like a micro-major, the subplot that was in many ways more compelling that the main narrative.
One of these days, Woods and Mickelson are going to need to recognize that, like Palmer and Nicklaus, they are forever joined, even if Tiger will have the grander career. They are both very, very good, and they gave us a fantastic show. It would have been nice to witness them acknowledge it, to each other. No, more than nice. Historic. Competition is all well and good, but sportsmanship lasts longer.

Popular in the Community