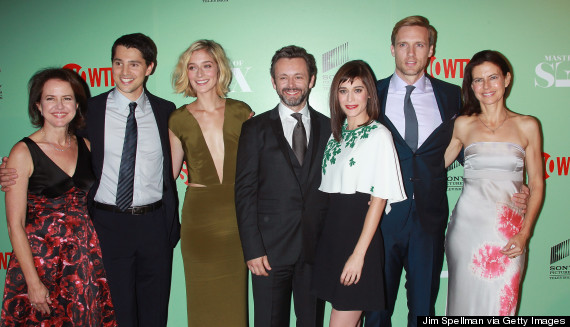 Some decades ago, my then partner and I slipped away once a week, telling no one, to a Manhattan hospital. We would get to our floor, walk warily down a short hall from the elevator, and press a buzzer to be let into the locked psychiatric ward. The big metal doors would slowly, creakily swing open, and we would pass through, make a quick right, and head for the office of a young Israeli, avant garde psychologist. What she did with us was very new; it was a form of sex therapy, modeled after the work of Masters and Johnson.
For me, Masters and Johnson were not real people; they were a product line, like Jergens lotion -- disembodied characters from my personal history. But now, watching the towering sexual experimenter, Bill Masters (played by Michael Sheen) and his associate, sexual consort and later wife, Virginia Johnson (played by Lizzie Caplan) come alive in Showtime's original series Masters of Sex, I'm utterly entranced.
Sheen is brilliant as Bill Masters. A steely restraint pervades his performance, masking a smoldering mix of passion, rage, longing and deep psychic pain that threatens to blow the lid off that controlled exterior. That lid flew off in one particularly memorable scene, where he explodes at his superficially cheery mother (Ann Dowd), bombarding her with vicious recriminations about a childhood lost to a violent father, whose hand his mother never stayed.
In his marriage, Masters is prickly and remote, punishing and unreachable, rarely touching his poor wife Libby (Caitlin FitzGerald), who is desperate for intimacy. Masters doesn't see or care; he directs his sexual energies to Johnson, lying to himself about what those liaisons mean to him. Masters' sexuality is seething and subdued, compared to the sexuality of the free-spirited, sexually liberated Johnson. While we witness her in the throes of sexual ecstasy with Masters, we never see him in such a state. Whether he really enjoys the sex, and wholly abandons himself to it, we really don't know.
In a sense, Masters, as he is presented in this engrossing series, is one of those men whose passion is buried or misdirected, or bound up in pain and heartache from long ago wounds. By contrast, Johnson is sexually free, if morally culpable for having sex with the married Masters, whose wife, Libby, considers Johnson her friend. But Johnson is far ahead of her time in her confidence in her sexuality, her propensity for sexual risk-taking (e.g., being filmed in the throes of orgasm by a porn photographer) and her sense of entitlement to her own sexual freedom.
Among the series' other fascinating characters is the down-low provost Barton Scully (Beau Bridges), who loves and respects his wife, but has lived mortified by his homosexual needs. His wife, Margaret, a woman starved for sex, intimacy and the truth, is played with heart-wrenching longing by Alison Janney. The sex-crazed Dr. Austin Langham (Teddy Sears) uses his regular nighttime participation in the sex study to get his sexual fix, while his wife tears her hair out raising their babies at home alone. Young Dr. Ethan Haas (Nicholas D'Agosto) falls madly for Virginia, but when he can't win her heart by wooing her, he -- in a drunken state -- slugs her instead.
The show is a brilliant trip down America's nightmare lane. It's when the pervasive cultural view of homosexuals was as criminal pariahs. No field of women's health existed -- female sexuality was buried in myth and mystery, cervical and breast cancers went widely undetected, and some states still had anti-birth control laws on the books. Women gynecologists, like the fictional Dr. Lillian DePaul (Julianne Nicholson) faced derision and distrust, not only from their professors, other physicians and hospital administrators, but from potential patients as well.
Though I'll never forgive him for that punch, Ethan has grown on me, probably because he's morphed from a thug to a modern, sensitive guy, in love with Johnson's kids and offering to support her in anything she wants to do. He wants to marry her, and has put the question. But as soon as we learned that, we barreled to the end of the season finale, with Masters, utterly defeated by his own hubris, standing helpless in the rain at Johnson's door.
Though Masters' world has come crashing down, I don't feel bad for him because he's such a prick. And I was okay with Johnson leaving him, standing there in that downpour while she stood in her doorway, dry and safe. After a season of withholding, failing to speak any truth at all about what is going on inside of him, Masters finally tells Johnson the truth: She is the one thing he cannot live without.
That unresolved ending disturbed some people. Not me. For while we will have to wait to see what Johnson ultimately decides, so also -- as he stands for the next several months in the teeming rain -- will Bill Masters.
REAL LIFE. REAL NEWS. REAL VOICES.
Help us tell more of the stories that matter from voices that too often remain unheard.