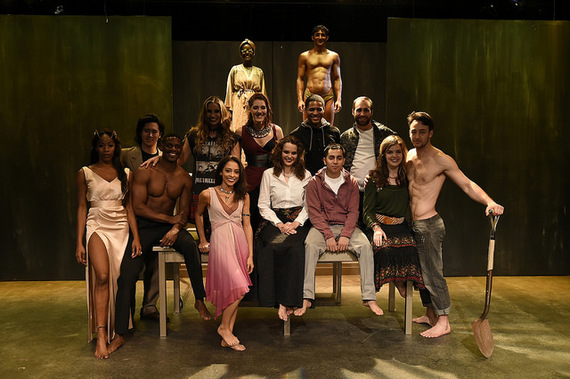 USC MFA Acting Class of 2016; Top: Salome Mergia and Abe Martell; Middle: Chantal Nchako, Jinwoo Jung, Ashley Eskew, Kyla Ledes, Christian Henley, Adam Lebowitz-Lockard; Front: Leve Ross, Gabi Rosamond, Chae Chaput, Chris Ramirez, Laura Wineland, Christopher Hawthorn | Photos by Craig Schwartz
Hello, Oscars. Please see USC's MFA Acting class of 2016. These fourteen actors of various skin tones show us that colors on stage is not at all a Greek tragedy, but can be visually exciting and powerful. While most theater productions (especially school productions) are frankly sleep-inducing, this original adaptation of the Oresteia is riveting; great acting, writing, and life force infuse every moment.
The classic tale of Orestes unfolds through different eras and worlds- beginning with judges on a tribunal in wigs and sunglasses, to the psychedelic 60s with swirls and flowers on the wall. While most productions fail at time and world travel, this ensemble does it seamlessly with élan.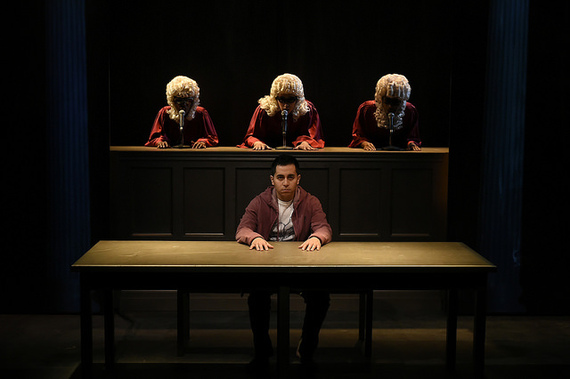 Chris Ramirez as Orestes; Salome Mergia, Jinwoo Jung, Chantal Nchako as Tribunal
The text, created by the ensemble under the direction of by David Bridel, is in verse and rhyme, though always in contemporary language. At times it feels like we're hearing Doctor Seuss, other times, we hear rap.
Chris Ramirez plays the timid and naïve Orestes. Childlike purity shines through in his movements and words. Electra, with her electricity, brains, and cunning, is the character we follow throughout, and is aptly played by Kyla Ledes. Chae Chaput portrays a powerful and regal Clytemnestra who takes revenge on her husband Agamemnon for sacrificing their daughter to the gods before he goes off to war.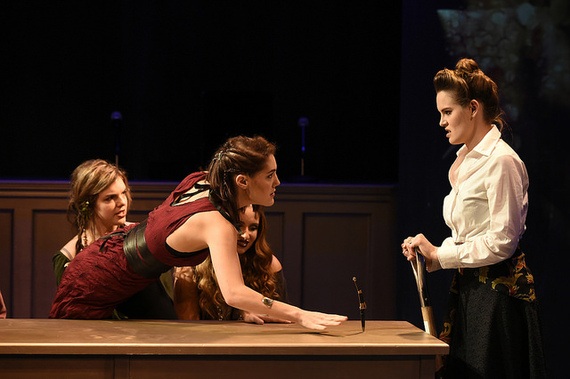 Electra (Kyla Ledes) challenges Clytemnestra (Chae Chaput) in the presence of Chrysothemis (Laura Wineland) and Hermione (Ashley Eskew)
In a game called "rose and thorn", each family member says what's their rose (what makes them happy) and what's their thorn (what makes them unhappy). This is beautifully used at different points of the play to show what each character's inner desires, joys, and fears are, and how these change over time.
The physical perfection of bare torsos of the kings and gods--of Aegisthus (Christopher Hawthorn), Apollo (Abe Martell), and Agamemnon (Leve Ross)--added to these men's commanding presence, at once both intimidating and awe-inspiring.
The most enchanting scene was the love scene of Apollo and Cassandra (Gabi Rosamond). From afar Apollo sees Cassandra dancing radiantly. He sings "me me me me me, you you you you you", as if on stage performing in the psychedelic 60s/70s. They fall in love. Apollo, realizing the mortal woman will leave him when she dies, breathes a spell into her mouth. She is cursed with being able to see the future.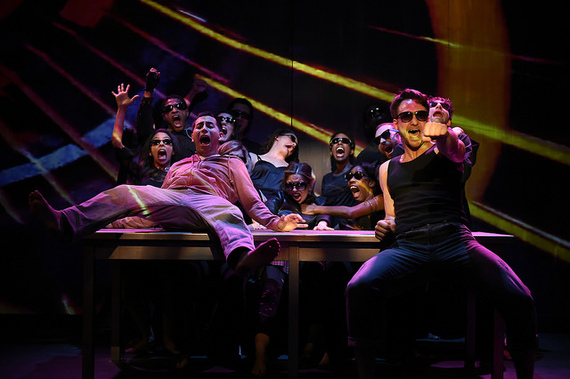 Chris Ramirez as Orestes and Christopher Hawthorn as Aegisthus in front, with USC MFA Acting Class of 2016
At two and a half hours, the show could have been trimmed, a lot. But each scene showed mastery and force. Adam Lebowitz-Lockard played a wonderful nerdy scaredy-cat Menelaus married to the beautiful seductive Helen (Chantal Nchako), whose daughter Hermione (Ashley Eskew) is a Goth repelled by her father's lack of manliness. Christian Henley plays Pylades, a sort of Cheshire Cat Michael Jackson who puts his cousin Orestes up in his treehouse. They live there quietly for ten years before Electra and Pylades convince Orestes it's time to go home to avenge his father's death.
Laura Wineland plays a sweet Chrysothemis who loves nature, deer, plants, and is against revenge. The bath scene with Athena (Salome Mergia) shaving in a tub with her brother Apollo is a wild sight to behold. Jinwoo Jung played 100-year-old Tyndareus believably. These are actors to keep an eye on.
In addition to the MFA Acting Repertory from February 6 to March 6 at the Scene Dock Theater, USC's MFA Class of 2016 will be featured in showcases in New York and Los Angeles in April:
NEW YORK: Wednesday, April 20, at 2 p.m. and 6 p.m. at The Ailey Citigroup Theatre at The Ailey Studios, 405 West 55th Street
LOS ANGELES: Tuesday, April 26, at 7 p.m. and Wednesday, April 27, at 2 p.m. and 7 p.m. at Odyssey Theatre, 2055 South Sepulveda Boulevard
For more information about USC's Class of 2016 MFA Actors, go to www.dramaticarts.usc.edu/showcase 2016/mfashowcase/

REAL LIFE. REAL NEWS. REAL VOICES.
Help us tell more of the stories that matter from voices that too often remain unheard.