 "Masters of Sex" (premiering on Showtime in 2013) is an amazingly attention-getting title for a new TV show, right? According to one of the stars, the Showtime series lives up to it.
HuffPost TV caught up with Emmy and Golden Globe winner Beau Bridges, who plays mentor to Michael Sheen's William Masters and Lizzy Caplan's Virginia Johnson, the two real-life pioneers of human sexuality studies in the 1950s. Since they've only shot the pilot, Bridges didn't have too much to share, but this hilariously graphic scene description kind of says it all:
"It's about Masters and Johnson, the man and woman who instigated all these incredible sexual experiments back in the '50s," Bridges said. "I am the dean of the university where these experiments are happening. I'm sort of mentoring Masters -- he's my hope for the future -- so I'm a little freaked when he tells me what he's going to do."
So what are they going to do exactly? "The first thing I have to do is peer at a woman's vagina through a dildo while she masturbates ... and it's outfitted with a magnifying glass.
"The poor woman who had to have her legs up in stirrups, I couldn't see her face because they had up a cloth ... and then my wife and I are out to dinner in New York, where we filmed, and this lady comes up and was very nice and friendly, 'Oh it's so nice to see you!' and it was this woman that I'd been staring at her crotch all day! [Laughs.] I said, 'I hardly recognize you!'"
As for his leading man and lady, Bridges had nothing but great things to say about Sheen and Caplan. "Oh, they're great! They couldn't have picked two better people to carry this show -- they're gonna knock some people's socks off."
But when it came time to name who he'd love to have come guest star, Bridges was tight-lipped: "No, I can't think of anybody whose crotch I'd like to stare at. [Laughs.] I'm not going to reveal that at this time."
Tell us: Are you excited for "Masters of Sex"?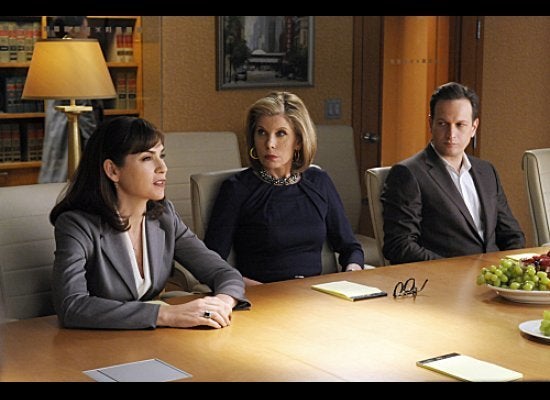 Where We Left Off And What's Ahead For Your Favorite Shows
Popular in the Community