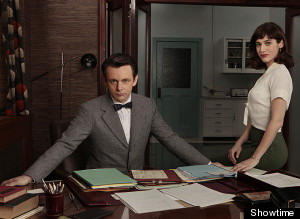 It's not; this good new drama debuts on Showtime 10 p.m. ET Sunday.
"Masters," more than most shows, would benefit from viewers' absorbing it in great big batches. The truth is, the first few episodes have some problem areas, but by the fifth and sixth hours, I was very much hooked and ready for more. This drama may take a little while to seduce you, but it's worth the wait.
"Masters" is a period drama set in the late '50s, and stars Michael Sheen and Lizzy Caplan as human sexuality researchers William Masters and Virginia Johnson. Both actors are simply tremendous throughout, and they are the main reason to stick with the show, even when some of the supporting characters grate and parts of it feel like exposition-heavy excerpts from Thomas Maier's book of the same name.
Sheen has the Cumberbatch-ian ability to convey the vast depths and strong emotions lurking beneath the surface of a man who values control above all things. Even when Masters is awful to others, what's rumbling beneath the surface gives his dismissiveness a complexity, and his lurking attraction to Johnson gives their scenes together a jolt of electricity. "He's the sex researcher who can't master intimacy" is the short version of the character description, but Sheen makes Masters both tragic and vital, not a walking example of irony in action.
Caplan, who, like Sheen, has been around for a long time but has never gotten a chance to show this much of her impressive range, gives the best performance of her career in "Masters." Her Virginia Johnson is punished, in ways big and small, for being a sexually adventurous, divorced and ambitious woman in the 1950s. When we meet her, she's a struggling mother of two who recently gave up her career as a nightclub singer. Caplan allows each wound that the world has given her character to register, yet she also subtly conveys the hope and drive that has allowed her to put up with Masters' arrogance and most of the world's disgust or indifference in the face of their work.
During the key, early phases of their research, their world was Washington University in St. Louis (and as an alum, I appreciate the "Masters" making the case that WashU brought sexy back -- or perhaps more accurately, realized sexy had been there the whole time). There are "Mad Men" parallels aplenty -- Masters is a work-obsessed suit with a troubled past and a dissatisfied blonde wife -- but "Masters" is not interested in anti-heroes or elliptical storytelling, and the repetition of predictable domestic dynamics at both the Masters and Johnson residences is the show's weakest element.
Despite the sex, booze and simmering attractions, don't expect a jaunt into Don Draper land. It slowly dawned on me that "Masters of Sex" actually has a lot in common with the higher tier of broadcast network shows: It's forthright and occasionally obvious; many characters start out as broadly drawn types (and some stay there); and you're rarely in doubt about the Theme or the Story of the hour.
But there are upsides to the show's relatively square approach, and they become clearer as the season progresses. "Masters" most reminds me of a PBS import set in the same time frame, "Call the Midwife," which takes place in a poor London neighborhood in the late '50s. Don't worry if you haven't seen it; very few in the U.S. have (the good news: It's on Netflix!).
Like "Masters," "Midwife" can sometimes seem clunky and superficial, and neither show shies away from repeating itself or dialing back on ambiguity through occasionally ponderous dialogue. But I have stayed with "Midwife" -- and have grown very fond of "Masters" -- because almost no other shows bother exploring the areas into which they delve with such clear-sighted compassion and winning warmth.
TV depicts sex all the time, but what it rarely examines is the terror and confusion that intimacy and reproduction can bring to our lives. Unusually for a cable drama, "Masters of Sex" has an overt agenda, but a worthy one. It frequently conveys the idea, sometimes extraordinarily effectively, that sex and reproduction can be the scariest and most beautiful things in the world. That's not an unusual theme, but this one is: "Masters" earnestly wants to remind us that those things are better experienced when the participants are not laboring under layers of shame, ignorance, fear and judgment.
Earnestness in a Showtime program full of naked bodies? It's true. Believe it.
The show does display a welcome sense of humor; its wry directness about male-female working relationships recalls "The Hour," yet another sexy show set in the same era (and like "Masters" and "Midwife," created by a woman). But "Masters" is not flippant: Sexuality and reproduction can be life-or-death matters, then and now. And despite the strides that have been made in those realms, it's not like we've figured out how to master matters of intimacy in the decades since Masters and Johnson opened their lab.
"Masters of Sex" brings us sex workers (gay and straight), repressed St. Louis matrons, closeted white-collar workers, blue-collar moms and entitled, arrogant doctors, and it slowly peels back their layers and allows us to feel compassion for what they don't know and haven't been taught. Like an exciting new wave of television I wrote about recently, "Masters of Sex" rejects many received ideas about Quality TV -- especially the centrality of the troubled loner -- in favor of honest, painful and even sweet stories about the difficulty and necessity of connection.
This is Showtime, so there are still hot, sweaty sexy-times; it's not all terror in the delivery room or clinical coupling in the lab. But "Masters'" deep, sincere desire to illuminate the mental and physical barriers that keep people from being happy -- and from being themselves -- is laudable. The series gains strength and dramatic momentum as it progresses, finding individual and idiosyncratic ways to tell stories of self-denial, awakening and discovery.
Through it all, Sheen and Caplan do a fantastic job of conveying the burning curiosity and sense of discovery that drove Masters and Johnson. We all benefit from their strength of will and compassion, even now.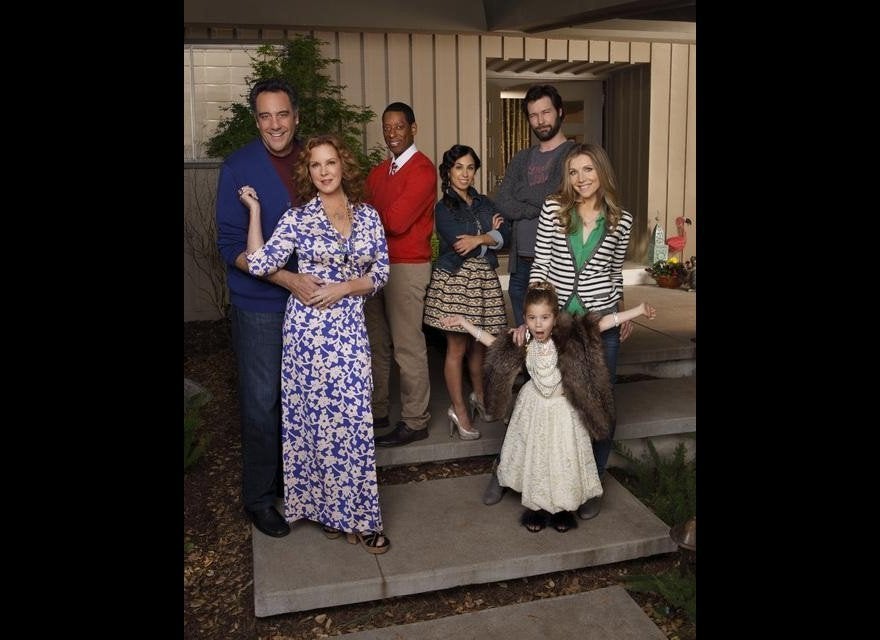 New ABC Series
Related
Popular in the Community