One of the ongoing advantages of having a studio just a stone's throw away from the bustling Palm Beach County Convention Center is that no matter what other projects are in the works, it is simply impossible to come up with an excuse to miss any of the great line-up of art fairs that fill the winter calendar of events. The Palm Beach Art, Jewelry & Antique show in February seemed to be the most attended this season, if one judged by the perpetual crowds strolling the endless walkways crisscrossing in front of the individual booths. In an odd sort of way, it's exciting to get lost in these illuminated caverns of art, because as you attempt to get your bearings there is always another satisfying discovery to make. With an impressive showing of modern and contemporary art side by side with classic antiques and jewelry it's difficult to pick a favorite, but for my money one of the most memorable was Masterworks Fine Art Gallery from California, which caught my eye with a wonderful, early Cubist print by Georges Braque. I spent a great deal of time in front of this particular image, and was amazed that Braque's composition could still hold its own against more modern day pieces, even after all these years, with a foundation of delicate geometric lines and a thorough exploration of Cubist sensibilities. Not satisfied with the information on the show card under each piece, I sought out the owner and staff members to walk me through the other intriguing works on display, a part of one of the great modern master print inventories in America.
It's astonishing that this sweet little engraving by Georges Braque that caught my attention is as fresh, inventive and indeed still as revolutionary as it must have been 100 years ago. Just after the turn of the century, Braque began experimenting with the notion that narrative images could be broken down into geometric interpretations, and somewhere during that time Braque and Picasso, nearly shoulder to shoulder, began to pursue a wondrous adventure in pictorial compositions and unexpected results. There can be no doubt that the real source of Cubism stemmed from experimental works by Picasso and Braque. They were good friends and shared their vision with each other, as the idea of Cubism matured and expanded. At one point it was difficult to determine who did what, as both artists of this unique style hatched in a stylistically similar nest. The initial reaction to Cubism, unsurprisingly, was not positive, as all new art seems to take the public off guard, and without familiarity and understanding people tend to put it down.
Some scholars have observed that Cubism was the natural evolution of earlier movements like Impressionism and Expressionism. Picasso and his contemporary Impressionists, including Matisse, Monet and Cézanne, already were known for their avant-garde paintings. At the time, Paris was the cultural capital of the West. The chemistry among young artists was shared and debated within their Left Bank "fraternity," who diligently searched and experimented to discover diverse directions in painting and mark-making. There is an unconfirmed story that describes Pablo Picasso attending an African mask exhibition in Paris, which had a dramatic effect on the course his work would take. It seems that Picasso was astounded to learn that tribes crafting masks for rituals utilized primitive tools to carve and slice recognizable, albeit abstract, forms of the human face, interpreting a cheekbone, forehead or a chin into geometric surface sections that produced a whole other way to harness creativity outside of mainstream, acceptable practices of how a portrait or bust should be constructed.
Just after this revelation, Pablo, armed with a novel idea and the excitement of a completely different purpose, created Les Demoiselles d'Avignon (1907), which demonstrated the visual principles of Cubism: foregoing realistic shapes in favor of irregular human figures, and breaking down conventional painting and drawing practices, thereby reducing anatomy to largely geometrical triangles that for the first time re-organized an entirely different viewpoint. This innovation persuaded other artists to experiment and to break traditional boundaries.
The amazing variety of works on view that captured my imagination and brought printed pages of art history books into a renewed reality was an enlightening experience. As an art collector with a concentration in contemporary art and as an art critic who investigates visual phenomena on a daily basis, these works from Masterworks Fine Art not only refreshed my memory, but inspired me to re-examine the longevity and pronounced stark beauty of prints by legendary artists who still remain original and influential. The reality of being able to own several of these classic images signed and dated by the artist's hand and at a price that was less than a contemporary print by many an "established artist," made this exhibition my favorite at the fair. Also, the idea that one could acquire a unique piece of Picasso sculpture in the form of utilitarian ceramics, especially when one considers that this particular part of the Picasso market has increased by over 200% since 1999, is incredible. To my surprise, I came across a large space dedicated to Marc Chagall, which had a variety of works, some unfamiliar but strong, with images from bouquets to lovers and sirens.
There also were pieces representing work that Chagall created for the Metropolitan Opera, such as Carmen, Romeo and Juliet, and The Magic Flute. David Hockney, an opera lover, was influenced by Chagall's memorable visuals for the legitimate stage, and applied his enthusiasm to numerous sets, including like Chagall the Metropolitan Opera. A remarkable number of contemporary artists of high caliber can point to the strong impact many of the modern masters on display had on their own work; for example, Roy Lichtenstein, who was delighted to incorporate his version of appropriated canvases by Matisse and Picasso in his "art about art" paintings that became iconic as well.
With these pleasant reminders of the past and the present and their connections to contemporary inventiveness, I've had the unexpected and pleasurable experience of seeing great classic works within reach, up close and friendly.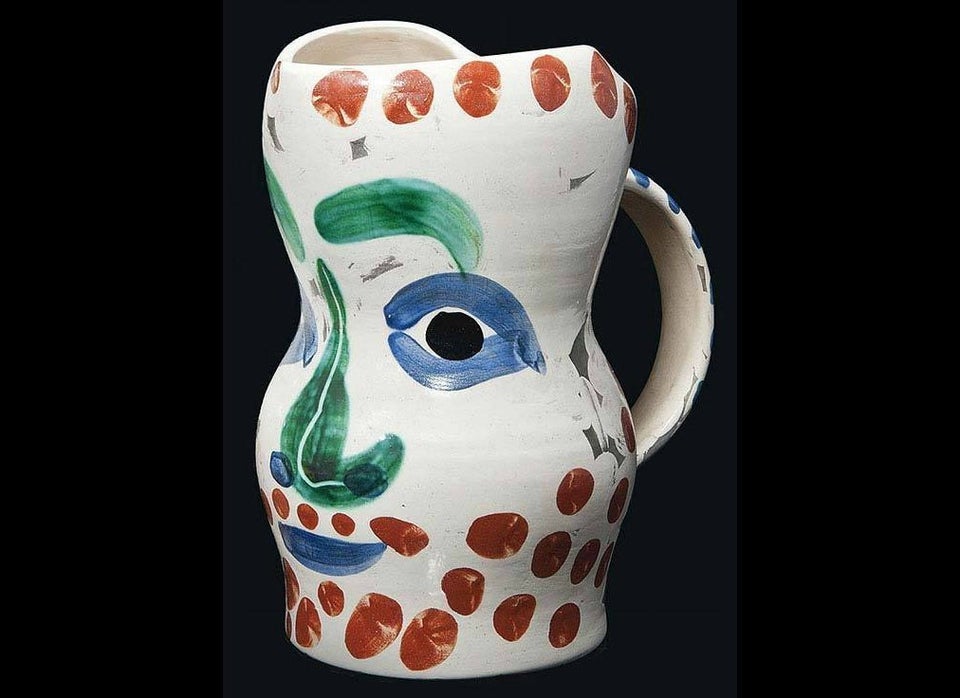 Masterworks by Working Masters
Related
Popular in the Community