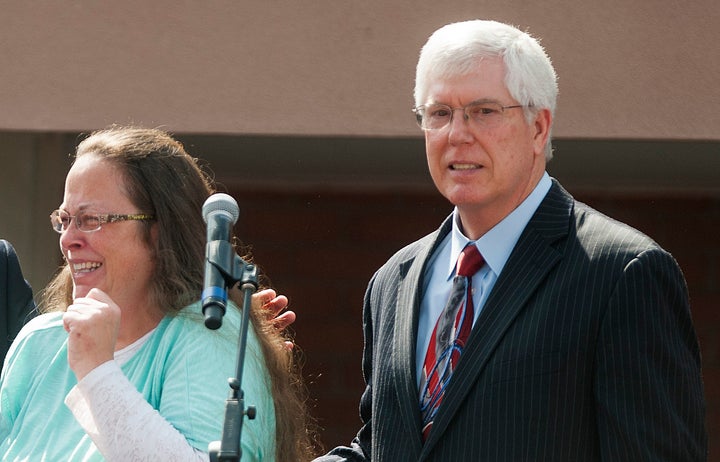 Historical hot takes don't appear to be Mat Staver's strong point.
"They know that they are not violent organizations. They know that they're Christian organizations, and they know that they oppose any kind of hatred or violence," Staver said in an Aug. 22 interview with VCY America's "Crosstalk" program. "They just don't agree with us on the issue of marriage."
Arguing that opposite-sex marriage has withstood "time, geography and political infrastructures," Staver added, "To continue to share that view that's supported by the Bible and supported by the natural created order is no reason to lump somebody in a hate group."
Listen to a snippet of Staver's "Crosstalk" interview, courtesy of Right Wing Watch. Story continues below.
Staver, of course, didn't stop there. He went on to argue that designating groups like the FRC and the Liberty Counsel as hate groups was akin to Nazi Germany's treatment of Jews prior to World War II.
"You know, if you go back into the 1930s, what ultimately happened back then with the Jews — and history, you know, there's other histories you can point to — but they began to ultimately ban Jews from public employment, then ban Jews from their private employment, then put a Star of David on their ID and a Star of David on their passport, restrict their travel, restrict their income opportunity," he said. "Eventually you know what happened."
He vowed that the Liberty Counsel, and other anti-LGBTQ organizations, would "push back" because "it cannot happen like this."
As unfortunate as Staver's analogy is, it's not particularly surprising given his previous takes on LGBTQ issues. In January, he made outrageous claims about the 2016 massacre at the Pulse nightclub in Orlando, Florida, while speaking on the Liberty Counsel's "Faith and Freedom" radio show.
In the chat, he shrugged off the idea that shooter Omar Mateen had targeted the Pulse victims, most of whom identified as LGBTQ, because he was anti-queer, and suggested that police officers would require HIV testing after coming into contact with victims' blood.