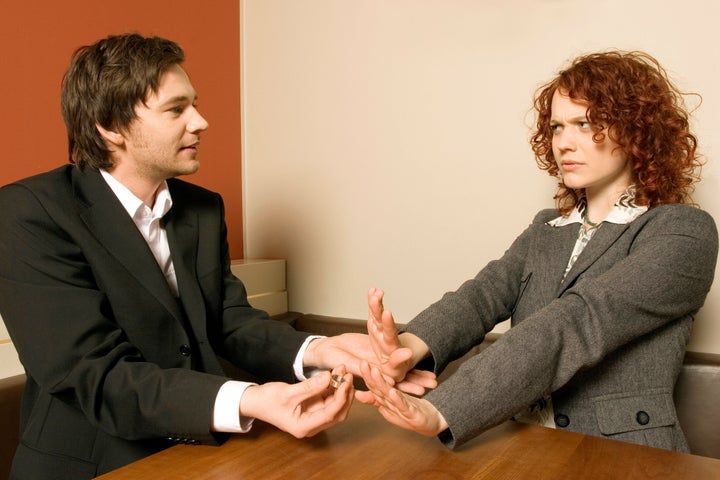 If you're thinking of proposing this Valentine's Day, you might be in the minority.
Just in time for Valentine's, online dating site Match.com has released their second annual in-depth Singles in America study, which confirms the growing trend that the need to wed is on the decline.
Over 5,500 singles participated in the survey answering questions on subjects ranging from sex and politics to height and weight, along with their feelings about today's economy.
Two-thirds of the singles polled either don't want to get married, or are unsure about it: close to 40 percent of singles are still on the fence, 27 percent would prefer not to wed, and 34.5 percent still want to get married in the future.
This raises a big question: "Is marriage becoming obsolete?"
I spoke with Dr. Justin R. Garcia, evolutionary biologist with The Kinsey Institute at Indiana University, who served as a lead consultant for the Match-funded study. Dr. Garcia shared his insights into commitment, sexual attraction, love, and marriage as it stands today.
"Having a relationship that's meaningful is important, rather than the legal institution of marriage," said Dr. Garcia. "This is a huge important shift in American culture."
A recent Pew Research analysis showed that marriage has hit an all-time low, with only 51 percent of U.S. adult currently married. That's a drop of more than 20 percent since 1960. If the current trend continues, the share of adults who are currently married will drop to below half within a few years.
Although singles aren't racing to the altar, the Match.com study shows that unmarried singles won't tolerate infidelity in their romantic relationships. More than half of the men surveyed (62 percent) said that fidelity is a must-have, and an overwhelming 80 percent of women agreed.
The study also found that men are more willing to commit to a partner even if they aren't in love or sexually attracted to them. Dr. Garcia explains that men realize that love and sexual attraction can build with time. "We have fairy tale beliefs that we have to have instant chemistry," said Dr. Garcia. "Over time you can fall more deeply in love with someone as you get to know them better."
So where are romantic relationships headed? According to the study, 46 percent of men and 26 percent of women expect to move in together before their one-year anniversary. It's the men who say, "I love you" first more often and the men who suggest cohabiting.
"One thing is for sure," Dr. Garcia said, "The desires for love and sex are the most consistent human experience in the entire world."
At the end of the digital day, changing your status to "In a Relationship" on Facebook is getting closer-and-closer to how we used to define marriage.
Popular in the Community