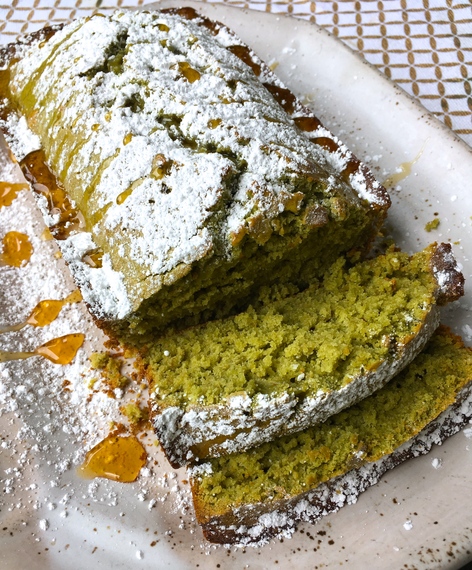 It's always fun to create new breakfast and brunch ideas. It's even more fun when I'm incorporating one of the hottest foodie ingredients of the moment...Matcha! You probably are aware by now that matcha is finely ground green tea powder. It is excellent just as a hot or cold drink and adds a little gourmet kick to baked products. For more information on matcha, check out my friends over at Jade Leaf: https://www.jadeleafmatcha.com
Now for today's recipe! It falls somewhere between the categories of bread and cake. The dusting of powdered sugar and drizzles of honey set off the green tea flavor nicely. This recipe turned out super moist, I guess because of the banana I threw into the batter. Have some friends over in the morning hours on a Saturday and serve this up with coffee or tea. Who doesn't love a chance to eat "cake" for breakfast??
Recipe:
2 1/4 cups Flour (I used Gluten-Free)
1 1/2 teaspoons Baking Powder
3/4 teaspoon Salt
1 cup Sugar
2 heaping tablespoons Matcha (Green Tea Powder)
1 stick Butter (softened)
1 Banana (microwaved a bit to soften)
3 Eggs
3/4 cup Milk
1/2 cup Powdered Sugar for dusting the top
Honey for drizzling the top
Instructions:
1. Preheat the oven to 350 degrees. Whisk together the Flour, Baking Powder, Salt, Sugar and Matcha.
2. Cut in the softened Butter and Banana until crumbles form and all powder is incorporated.
3. In a small bowl, whisk together Eggs and Milk. Add to the dough and stir until just combined.
4. Pour into a greased 5 X 9 inch loaf pan and bake for 1 hour. Making sure the middle is done by sticking in a toothpick and checking to see that it comes out clean.
5. Transfer loaf to the dish you would like to serve it in and once it is completely cool, dust with Powdered Sugar and drizzle with Honey.