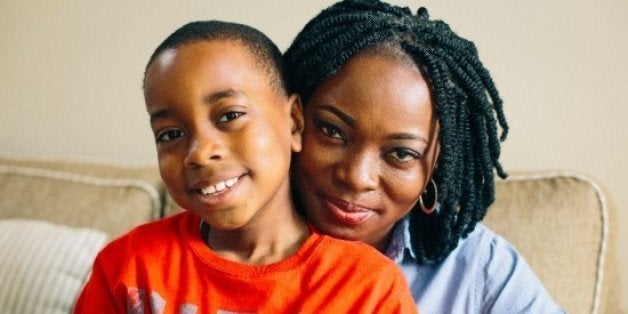 Although her two younger children have been tucked in bed for a few hours now, entrepreneur Agatha Achindu won't be taking a break anytime soon. She still has another round of paperwork and food prep that awaits her in the kitchen of her home in Atlanta. As the founder of Yummy Spoonfuls, a line of organic baby food sold in retailers like Whole Foods, sleep is a luxury she left behind many years ago, thanks to the demands of caring for her sons -- Georges (23), Malcolm (15), and Jared-Zane (9) -- and running her own business. Although the constant shuffle can be hectic, Achindu believes that the level of sacrifice is worth it.
Being a mother is something Achindu never takes for granted. After marrying her husband Georges in 2003, the couple soon started thinking about adding to their family (sons Georges Jr. and Malcolm are from Georges' previous relationship). "It felt like it took me forever to get pregnant," she says now. "For me, it was a long journey and everyone else was there already. It took me a full year to conceive. I found out I was pregnant in April and I kept it a secret from everyone, including my husband, until our anniversary in May. We were blown away."
The first-time mother took to pregnancy quite easily. "I used to feel guilty about how good my pregnancy was — no cravings, illness, etc. I'd go to the gym three times a week and do yoga. My pregnancy was joyful and very uneventful until the end. Things changed a few weeks before I gave birth."
In late December, a very pregnant Achindu was not feeling well. She told friends, family, and her doctor about her concerns, but it was written off as third-trimester discomfort. Several days later, she was rushed from her doctor's office to the local hospital for an emergency C-section: Achindu was suffering from pregnancy-induced fatty liver disease. She gave birth to a healthy boy, Jared-Zane, but her own health was in a precarious state.
"I was sick and hospitalized for three weeks," she says. "When I was sick in the hospital, I would stand in front of the mirror and pray. I was begging God, 'If you give me this opportunity, I will be more purposeful and more giving to all of the children in the world.' I told God that I would help the entire community. I would tell Him, 'If you heal me, I will glorify your name forever,' and I knew that I would make it through somehow."
After the initial scare, as Achindu settled into motherhood she remembered the promise she made to God, and began the path that would eventually lead her to start her own organic baby food line.
"I love making a difference," Achindu says. "I get emails from parents, from people who didn't realize that healthy eating was possible. Creating awareness is a blessing to me."
What kind of people do you hope your children become?
I tell them as African Americans you are not just some random person. You come from a deep tradition, a deep culture: the way you talk to people, the way you dress. You are big. You are strong. You are smart. The only person who can make you believe this is you. No one can make you believe that you are not smart enough or strong enough. Society might [try to] make you believe that, but you have to be strong and proud because of your ancestry. On Sundays I have them dress in African wear for church. My father would visit and draw out the family tree, explaining to them our culture, what men would do, how they take care of the family.
Jared-Zane goes to Catholic school. He is one of three black kids in his class. They just did a project and I can see the pride in him. He had to write about someone he admired and he chose Nelson Mandela. He was doing the research and was shocked by some of the injustices. I tell him, "Yes, that's why I want you to be educated. That's why I want you to be proud and know who you are. That's why if you don't know who you are, then someone is going to tell you who are and you'll fall for it."
Read more of Achindu's story and meet these other amazing mothers at matermea.com.
REAL LIFE. REAL NEWS. REAL VOICES.
Help us tell more of the stories that matter from voices that too often remain unheard.