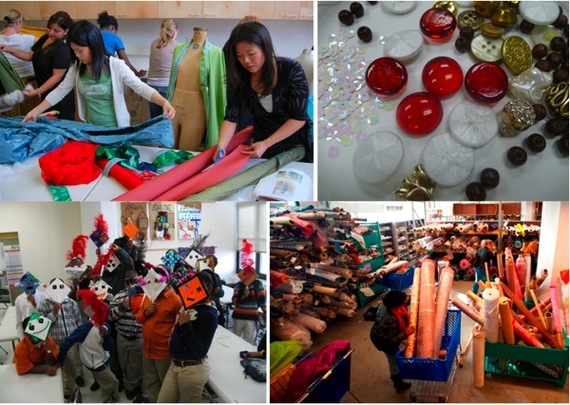 Dance companies, theaters, filmmakers, designers, visual artists, art teachers et al of the New York City creative community flock to the 35,000 square foot Long Island City warehouse home to Materials for the Arts. Artist and arts groups apply to the program online with 501(3) c status or a fiscal sponsor to be eligible for the program. NYC Department of Education art teachers and schools are also welcome. Due to the generosity of all manor of in kind donations from businesses and individuals on any given day wish lists are fulfilled from a plethora of inventory. Donations are tax deductible, eco-friendly and acknowledged by a letter of gratitude and activity from the recipient.
"In general, we are able to sustain our trademark of changing this space, partially by the materials we find at MFTA -- some obvious like monitors and slide projectors and mannequins, some more hidden like paints, fabrics, odds and ends. We are so grateful for this organization, and for all the lovely donors!" says Clair Fleury of Strange Loop Gallery
"We're so grateful to have the support of people like you in the form of Materials for the Arts sponsorship -- you help us produce Off‐Off‐Broadway theater work of the highest caliber, keeping The Flea small but mighty," says Alex Deva of The Flea Theater.
Under the leadership of Executive Director Harriet Taub, the reuse center has grown exponentially to include an extensive online donation and recipient interface, training workshops, gallery space and artists in residence. A vigorous fundraising board, Friends of MFTA was established to assist financially with a spectrum of special projects.
Taub offers, Without question, the thing I am most proud of and they can put it on my tombstone, is that I helped start the Education Program at Materials for the Arts. When I began in 1998, MFTA was essentially a reuse center -- a place for members of the arts and cultural community to come and obtain free materials. These creative folks didn't need any instruction in how to transform the materials they found in the warehouse into sets and costumes for their plays and productions.
However, when the public school art teachers became members in 1998, they were looking for more traditional art materials -- tempera paint, watercolors, construction paper. It seemed obvious to me that in order to keep them engaged we needed to start training them on how to better use the materials we had available in the warehouse -- the hardware and buttons,ribbons and foam core.
I began teaching classes with Joy Suarez that focused on "no-sew" costumes and hats. These classes were transformational and we now have a year-round education program with professional development for educators, field trips for students, and in-school residencies. With our current curriculum, we continue to rely upon the materials in the warehouse as inspiration for its development. We feel we can now proudly call ourselves a fully dimensional creative reuse center and to that end are working hard to situate ourselves as the pioneers in the field.
We have been told over and over -- certainly for the 15 years that I have been here -- that without access to MFTA's free materials, many organizations would not be able to do the work they do. My predecessor Susan Glass liked to illustrate MFTA's impact by noting that if an organization did not need to spend money on infrastructural items like desks, chairs and filing cabinets, they could put their limited dollars towards staffing and programming. I hear this all the time. It is very rewarding. We are so lucky to be in NYC with limited space to store things and a deep pool of very generous business and individual donors. The ever changing warehouse inventory significantly impacts our recipient members and their programs. Thus, the quality of their production will be elevated and the participants will feel as if their work matters. The playing field is not leveled -- it is raised for everyone involved.
Harriet adds, As a program of the NYC Department of Cultural Affairs and working with the Departments of Education and Sanitation, we hope that the next administration will see the value and importance of our program and our budget will not be impacted. Our numbers are pretty solid. For every dollar it costs to run MFTA, we give away about five times that to our member organizations. That is a great ROI. Materials for the Arts is a New York arts organization where to quote Picasso, "Everything you imagine is real."
Related
Popular in the Community