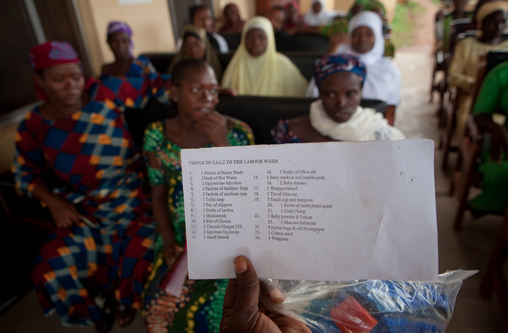 A midwife at a health center in Nigeria reads a list of essential supplies and medicines that pregnant women must purchase and bring to the center when they are ready to give birth. Oxytocin, which is used to prevent and treat excessive bleeding after childbirth, is included on the list because the center has been out of stock for months. PATH/Evelyn Hockstein

Traverse the halls of any clinic or hospital in Africa and you will undoubtedly find yourself feeling both inspired and overwhelmed. Bustling activity fills every corner: a midwife examines a woman in labor; a doctor diligently works to repair a new mother's fistula following a particularly difficult delivery; and countless administrators help keep the lights on, the beds clean, and the staff trained.
Sadly, many health workers and facilities perform this life-saving work without essential supplies -- particularly in the world's poorest places, like sub-Saharan Africa and Southeast Asia, which struggle with some of the highest maternal death rates in the world. Supplies -- the essential medicines and medical equipment frontline health workers need to successfully do their jobs -- are a vital part of the solution to saving the lives of mothers and newborns. And yet, they are frequently overlooked in the ongoing conversation about how to improve maternal health in the developing world.
If we want to see transformation in this area, we must ensure midwives have within reach the inexpensive medicines that will prevent a mother from suffering life-threatening complications during pregnancy and childbirth. We must provide women with contraception so they can plan their families. And we must equip health workers and facilities with everything from gauze and sterile tools to available beds when lives are at stake.
The US Agency for International Development (USAID) estimates that if oxytocin and misoprostol were available to all women giving birth, 41 million cases of severe bleeding would be prevented and 1.4 million lives would be saved in a 10-year period. Experts at the Guttmacher Institute also estimate that by providing women wider access to modern contraceptives and family planning services, maternal deaths would reduce by one-third.
As the United Nations General Assembly meets this week to strategize on how to tackle some of the world's most pressing issues, I have one request: put maternal health supplies on the agenda. We cannot speak about improving maternal health worldwide -- let alone, make discernible and lasting headway on the Millennium Development Goals -- without including supplies as a critical part of the conversation. All the skilled health care workers in the world can't deliver the care women need if a clinic's stock is empty and the next round of supplies is weeks away. Reliable availability of maternal health medicines and supplies will ultimately strengthen health care systems and make frontline health workers more effective.
An agenda for global action
The newly formed UN Commission on Life-Saving Commodities for Women and Children, which is helping to identify and overcome the main obstacles that are preventing widespread access of several reproductive and maternal health supplies, is making strides toward elevating this issue to the global stage. However, there is more that can and must be done.
A new report from PATH, Safeguarding pregnant women with essential medicines, offers a targeted agenda for global and national advocates, policymakers, and program implementers to increase the quality and availability of oxytocin, misoprostol, and magnesium sulfate -- three medicines that prevent and treat the leading causes of maternal death. With political support and additional funding for proven, low-cost maternal health supplies and the systems that support their delivery, we have the power to transcend the barriers, drive important improvements to save millions of women, and establish a cycle of health and prosperity.
Healthy mothers have a powerful ripple effect. To save a mother is to save a family. And to save a family is to lay the foundation for stronger communities and more stable nations. We have the incredible opportunity to help break the cycle of poverty and build brighter futures for women and children around the world, and we must commit to making maternal health supplies a priority to set this transformation in motion.
PATH is an international nonprofit organization that transforms global health through innovation. PATH takes an entrepreneurial approach to developing and delivering high-impact, low-cost solutions, from lifesaving vaccines and devices to collaborative programs with communities. Through its work in more than 70 countries, PATH and our partners empower people to achieve their full potential. For more information, please visit www.path.org.
REAL LIFE. REAL NEWS. REAL VOICES.
Help us tell more of the stories that matter from voices that too often remain unheard.