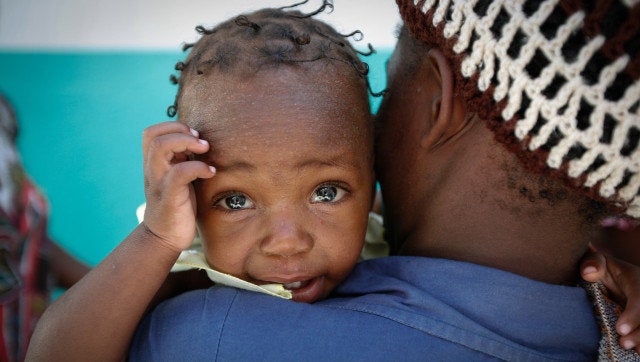 In three short years we will reach the deadline for achieving the Millennium Development Goals.
The international community has certainly made incredible inroads since these targets were set by world leaders in the year 2000 to significantly slash extreme poverty and disease.
Child mortality rates have fallen in all regions of the world in the last two decades -- down by at least 50 percent in Eastern Asia, Northern Africa, Latin America and the Caribbean, South-eastern Asia and Western Asia. Maternal mortality has nearly halved since 1990.
But it's too soon to pat ourselves on the back and say job well done. Despite these gains, the majority of developing countries are still expected to fall short of the MDG targets for reducing maternal and child mortality by 2015.
That dry sounding phrase, "falling short of targets," means dead women and children. Lots of them -- nearly 19,000 children under five and about 800 women during pregnancy and childbirth, every day.
A report just released by The Partnership for Maternal, Newborn & Child Health sheds light on the reasons why more progress is not being made to end these needless deaths.
The report looks at commitments made to advance the Global Strategy for Women's and Children's Health, which was launched two years ago by United Nations Secretary-General Ban Ki-moon as a roadmap to enhance financing, strengthen policy and improve services on the ground for women and children in the poorest regions of the world.
The Global Strategy originally called for US$88 billion to be committed to women's and children's health by the MDG deadline. More than US$55 billion has been committed to date, of which at least US$ 20 billion represents new resources mobilized by the Global Strategy since its 2010 launch. But stakeholders will need more money to finish putting the plan into action.
New commitments will need to be directed to more of the places where they are desperately needed. And the right interventions will need to be funded to make best use of the resources available.
Donors tend to focus on the same countries, usually those receiving the most development assistance, as these countries usually also contain a significant proportion of the world's maternal and child deaths. More attention is needed in countries like Azerbaijan, Congo, Sao Tome and Principe, and Turkmenistan, which are not on track for either MDG 4 (reducing child mortality) or MDG 5 (reducing maternal mortality) and have yet to receive much help from the international community.
More will also need to be invested in the prevention and treatment of three major, yet largely neglected, childhood killers: diarrhea, pneumonia and malaria. And investments in reproductive, maternal, newborn and child health could be better integrated with other sectors that are critical to improving women's and children's health, such as education, water and sanitation, transportation and information and communications technologies.
Global stakeholders point to shortages of skilled health workers as another major barrier to improving women's and children's health. What is especially concerning is that they not only identify financial and human resource constraints as holding back efforts to put commitments to advance the Global Strategy into action, they also say these challenges are keeping them from following accountability recommendations.
Fortunately, the Global Strategy's emphasis on private-public partnerships has already begun to foster innovative approaches to tackle human resource issues. The World Health Organization, UNFPA, UNICEF, UNAIDS and the World Bank, for instance, have started working with Johnson & Johnson to train health workers (including nurses, midwives and general practitioners) in Ethiopia and the United Republic of Tanzania and encourage the sharing of clinical knowledge among East African countries.
Working together through the Global Strategy, we have seen how sound planning, sufficient resources and, above all, political will, can make a significant difference in the lives of millions.
But the global community can still do a much better job keeping its promises to women and children.
Thanks to the recommendations of the Commission on Information and Accountability for Women's and Children's Health, which was created by the Global Strategy to provide guidance on reporting, oversight and accountability, we know how to get better at showing our work. And, the first report of the Global Strategy's independent Expert Review Group will spotlight what's working, and what isn't.
We need to make sure those recommendations are followed and encourage better reporting on progress at the country level, where accountability belongs, actively engaging governments, communities and civil society, with support from regional and global actors.
We already have many tools at our disposal, including health sector reviews and human rights frameworks, which can go a long way to strengthen accountability. Parliamentarians and media also have a powerful role to play. And citizens can assert their collective voice and influence to hold their governments and other stakeholders to account.
We know what needs to be done. We know what we have been doing so far is already working.
Let's step up our efforts to save millions of more lives by 2015, and beyond.
Once preventable maternal, newborn and child deaths are history, then we will have accomplished something truly worth celebrating.
This blog is published in collaboration with a larger campaign spearheaded by U.N. Secretary-General Ban Ki-moon and conducted by Heads of State and Government; Heads of U.N. Agencies; CEO's; Leaders of Civil Society Organizations; and other global leaders who have demonstrated their leadership in the health field, in support of Every Woman Every Child. Learn more at www.everywomaneverychild.org.
Calling all HuffPost superfans!
Sign up for membership to become a founding member and help shape HuffPost's next chapter