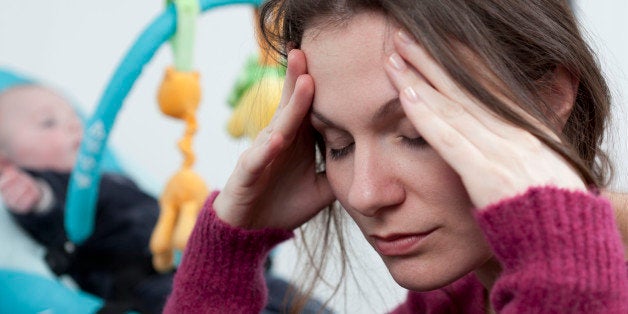 Why would a new mother spend any time alone? Isn't she happy to spend every moment with her baby? Doesn't she have, now in 2015, a husband or a wife to support her, to help her out with her tasks, to listen to her and lighten her burdens?
We often speak of the father's loneliness, faced with the new symbiotic mother-child pair that forms from birth. We seem to ignore however, or to overlook, that several aspects of the experience of motherhood place a new mother in a state of great loneliness.
"Isn't motherhood supposed to be the most beautiful thing that a woman could ever experience?"
Firstly, loneliness stems from the uniqueness of the experience of motherhood compared with fatherhood or parenthood in general. It's the mother's body that is inhabited for nine months, with all the changes --pleasant and unpleasant-- that follow. Then it's the mother's body that feeds the baby (for at least six months, if you follow medical recommendations regarding breast feeding). Despite the range of books, blogs, and other sources that provide advice on how to handle these changes, the mother has to actually go through these stages on her own. Who can she tell that she actually feels invaded, dispossessed, exploited? Isn't motherhood supposed to be the most beautiful thing that a woman could ever experience?
Here's a second cause of loneliness: the social and medical ideals related to motherhood. The mother is charged from pregnancy with several burdens and responsibilities that she cannot neatly share with anyone else. Breast feeding --which is certainly a wonderful decision, I don't dispute that-- is an excellent example. And in order to keep up with the routine (eight breast feedings a day, 35 minutes on average), the mom is encouraged to conserve her energy, to eat well, to sleep according to the baby's sleeping cycle, etc. Once she has completed all these tasks, she's left with maybe half an hour per day to brush her teeth (three times a day, three minutes on average). Everyone around her retains the freedom to come and go as they please and to spend their time however they choose. This can make her feel isolated, misunderstood, and alone.
The same feeling can arise from comments made by peers, and especially by other mothers- when they find, for instance, that she wants to go back to work "a little too soon," or put her "much too young" baby in day-care, etc.
"Our feminist mothers taught us to be wary of the myth that motherhood is a complete plan for a woman's life."
A third, more complex, source of loneliness is tied to ambivalent desires that the mother might feel, and that are often difficult to admit (even to herself). These include: desire for freedom, independence, time to herself, or the desire to throw in the towel...these desires might coincide with the desire to be there for her infant, to be a good mother, to offer the love and attention that she feels she can offer.
This configuration is further complicated by the maternal history from which each woman descends. The way that her mother and her mother's mother were mothers influences the woman and her experience. Let me explain. Since the baby boomer generation and feminist struggles, the "myth" of motherhood has been largely called into question: Compulsory or optional? Worthwhile or too expensive? All-round positive or all-round negative?
Source of social appeasement or additional inequality? Compatible or incompatible with plans for a professional life?
Our feminist mothers taught us to be wary of the myth that motherhood is a complete plan for a woman's life. They taught us to want more, to strive to build an independent and fulfilling path for our lives. At the same time, a collective fantasy encourages us to desire motherhood, pushes us to think that any feminine life plan would not be "legitimate" without motherhood. (Don't the photos of pregnant stars staring back at us from the covers of magazines mean to tell us that these accomplished women aren't happy until they finally become mothers-- only to then fit back into their skinny jeans a week after giving birth?)
All these desires are certainly real when a woman feels them. But when she feels them all at once, where can she find resources to help her understand and manage her ambivalence, her doubts, her uncertainty? Where can she find them in a society that still doesn't offer the material and cultural conditions that allow women to be able to choose to want it "all"?
This piece was originally published on HuffPost Quebec and was translated into English.