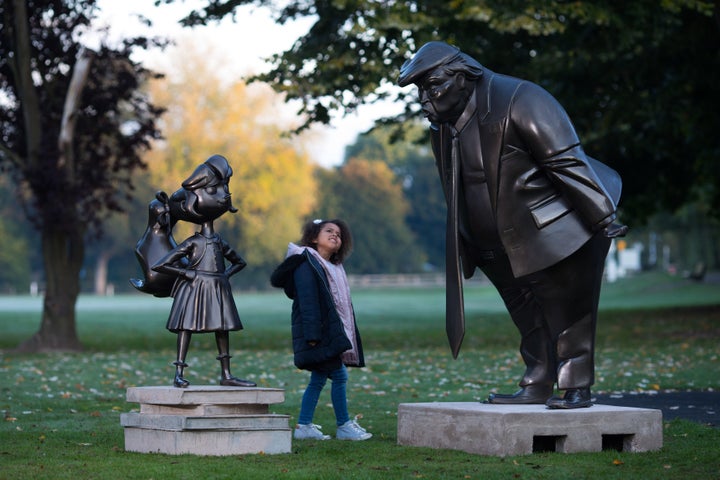 It's been 30 years since novelist Roald Dahl introduced the world to Matilda, the telekinetic child prodigy who'd become a hero to young readers everywhere. And to celebrate the milestone, she's facing off against a new foe: President Donald Trump. 
Statues of the beloved character from the 1988 novel and the president were unveiled near the grounds of the late author's longtime home in Great Missenden in Buckinghamshire, U.K., on Monday. 
Ahead of the book's anniversary The Roald Dahl Story Company, which manages the author's literary estate, asked fans to decide who Matilda would stand up to from today's world. The proud bookworm famously took down her school's tyrannical headmistress Miss Trunchbull in the book and its 1996 movie adaptation. 
Nearly 42 percent of survey respondents believed Matilda would be squarely in the anti-Trump camp, with others pitting her against U.K. Prime Minister Teresa May and TV personality Piers Morgan, according to The Independent.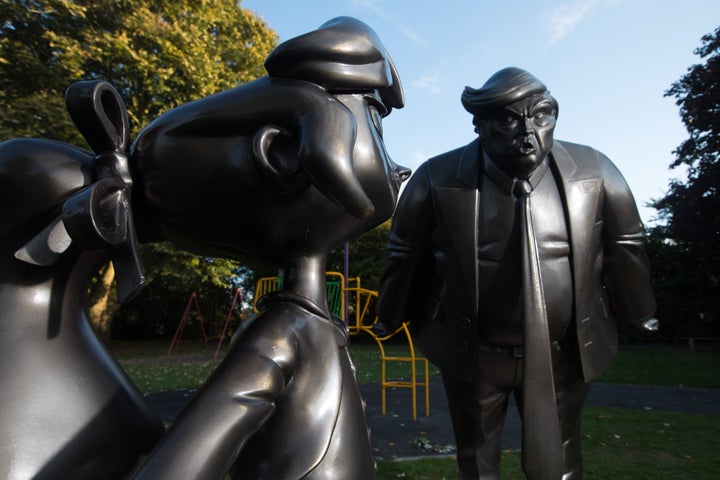 The survey polled 2,000 people in the United Kingdom, according to CNN. 
"Matilda demonstrates that it's possible for anyone, no matter how small and powerless they feel, to defeat the Trunchbulls in their own lives ― a message that feels more relevant today than it did 30 years ago," Bernie Hill, marketing director for The Roald Dahl Story Co., told The Independent. 
The statue shows Matilda fittingly atop a pile of books, including a copy of Moby Dick, with her arms proudly resting on her hips and her head held high. Trump leers above her, reminiscent of the viral photo of the president watching an 11-year-old boy mow the White House lawn. 
 "It's not surprising to hear that Donald Trump has been voted the figure she would be most likely to stand up to in 2018 ― many clearly see in him some similar traits to the fictional headmistress Miss Trunchbull," lexicographer Susie Dent, who was involved in the project, told The Telegraph.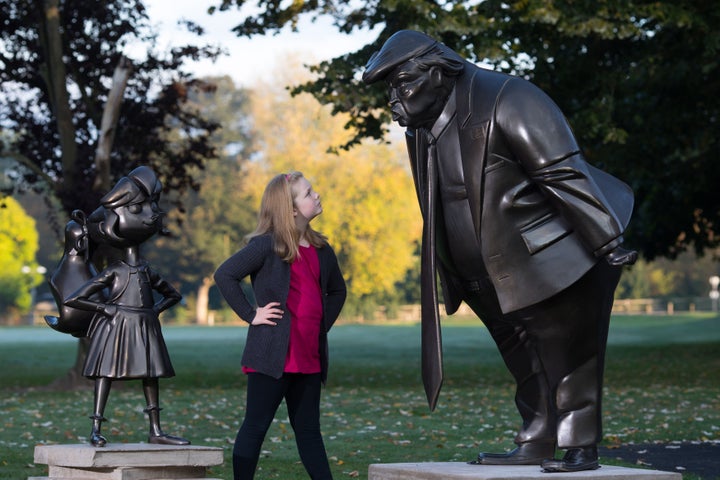 Fans also weighed in on who the now-30-something Matilda would befriend. Actress Emma Watson and Duchess of Sussex, Meghan Markle, came out on top. The character would be either a schoolteacher, U.N. ambassador or librarian, according to the survey.
Mara Wilson, who played the titular role in the film adaptation, reflected on Matilda's legacy all these years later. 
"I absolutely looked up to her," the former child star said on "Sunrise Live." I felt very strongly about injustice form a young age and I loved the fact that there was a character who also did who wanted to fight injustice and stand up to bullies and found experiencing the joys of learning and reading for their own sake."
"I felt like I didn't really see a lot of brave intelligent girl characters in books," Wilson added. "She was my hero." 
Calling all HuffPost superfans!
Sign up for membership to become a founding member and help shape HuffPost's next chapter