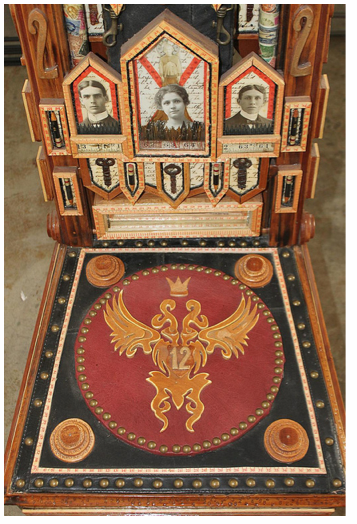 Artist Matjames Metson creates evocative fine/folk art that is truly American at its soul, the dark, lost, yet still hope-filled side of America that generates sense out of chaos, beauty from despair. Employing intricate woodworking, assemblage and collage, Metson crafts his pieces by hand, using chairs, cigar boxes, corks, credenzas, keys, knives, mousetraps, nails, old photographs, pencils, toys, vintage wooden rulers, wooden matches, and other objects that tell a myriad of stories.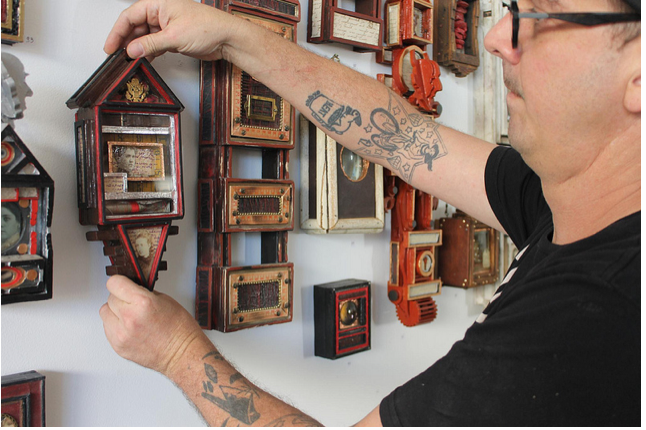 Metson's work, ranging from small works to installation pieces, will be on display at Coagula Curatorial in Los Angeles' Chinatown through August 4. "Method Attic" is Metson's first solo show in Los Angeles, though he has exhibited in groups shows at La Luz de Jesus, including the prestigious La Luz de Jesus 25th Anniversary show, and at the Los Angeles Craft and Folk Art Museum, along with teaching CAFAM workshops on collageing as storytelling.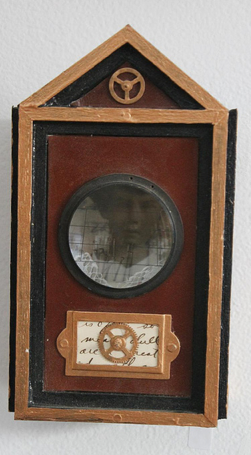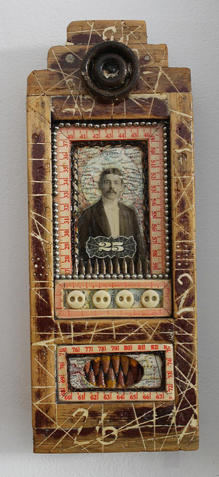 With readings by Slake magazine poets like Iris Berry and John Tottenham, the opening also highlights Metson's graphic novels which were published in Slake, including his story of Hurricane Katrina and its aftermath, "Survivors Guild," based on his own experiences in New Orleans during that disastrous Labor Day weekend in 2005 and after.
Living in the Tremaine district of New Orleans -- a rough neighborhood by any standards -- Metson lost his entire studio, all his art and his way of life during Hurricane Katrina. He survived with only his dogs and clothes on his back. FEMA was unable to assist him, but a friend in Los Angeles flew him out to LA where he eventually found a $7 an hour job which allowed him to rent an apartment with just enough money left over to buy kibble for his dogs.
"My dogs came first, they had to eat."
Metson survived for two years by sharing dry food with his dogs, and then one day met a woman who changed his life. They fell in love and now share a home which is also Metson's studio, filled with his artwork and the material he uses, all of which is sent to him by friends and fans. On my first visit to his studio in May, a tall stack of cigar boxes stood behind a door waiting to be transformed into delicate, at times disturbing pieces, many of which, when completed by the time of my second visit, featured photographs, newsprint and Metson's signature, seemingly random, numerical sequences. A series of chairs were waiting for the Coagula show, including a complexly carved, painted and collaged chair with pencils, photographs, stamps, keys and large wooden bees; and Metson's William Burroughs chair, which showcases Burroughs' obsessions. This time the numerals Metson uses are not random; Burroughs writings helped spawn the Dischordian movement in esoteric philosophy and popular culture which embraced the number 23.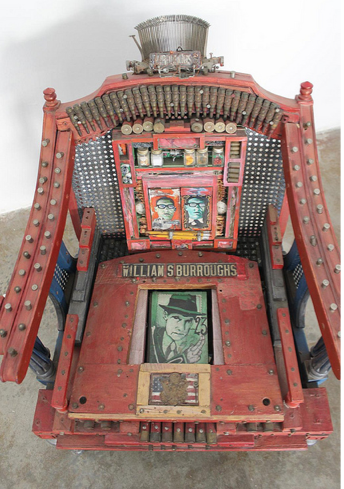 A large series of interconnected boxes, painted red and black with a kaleidoscope, opens up like a Fabergé egg, revealing hidden secrets. Another features a faded doll surrounded by mirrors behind a glass door, the cabinet ornately decorated with rulers which bear the imprint of having been made in California and images that evoke lost eras of Los Angeles history.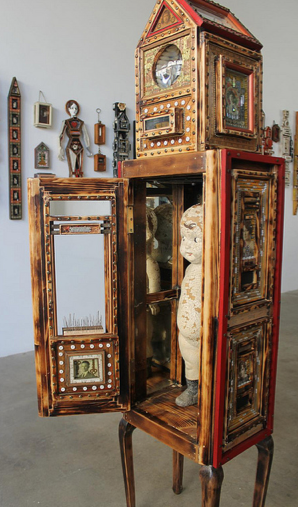 Coagula Curatorial gallery owner Mat Gleason says:
"You could literally look at this art for a week and still find plenty of new stuff."
Metson's intricate re-purposing of discarded and forgotten objects creates ephemeral dream-like worlds of all sizes, dreams where arcane symbols, numerals, bullets, forgotten toys and family photographs transform through inspiration and the skill of the storyteller/craftsman, affixed to graceful yet sturdy foundations. In his work Metson has created elaborate pieces grounded in underbelly and heart of America which engage and challenge.
Matjames Metson: "Method Attic"
Opens Saturday July 28, 5 p.m. to 11 p.m.
Closes Saturday August 4
Music by Matt Wrightson Trio, readings by Slake contributors
Previews Thursday July 26 and Friday July 27 noon-5pm, and by appointment
Coaguala Curatorial
977 Chung King Road
Los Angeles, 90012
(424) 2-COAGULA
Calling all HuffPost superfans!
Sign up for membership to become a founding member and help shape HuffPost's next chapter